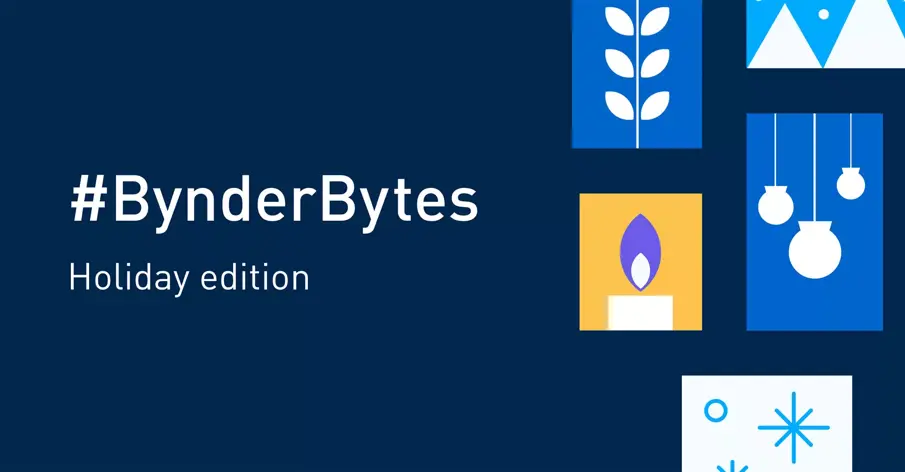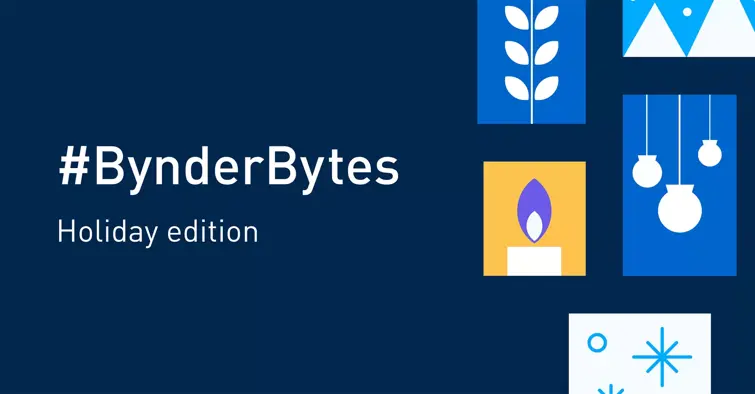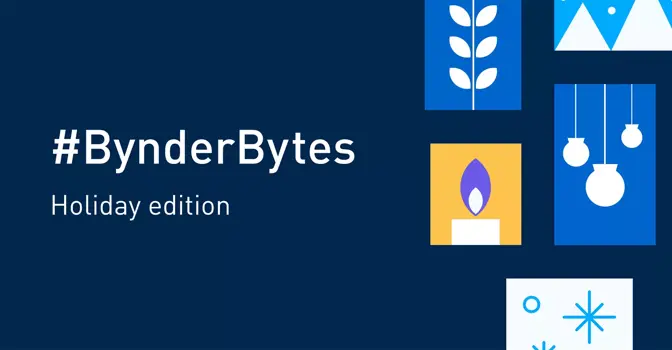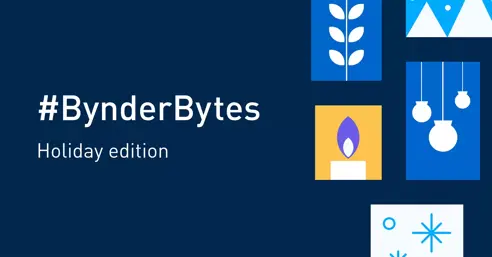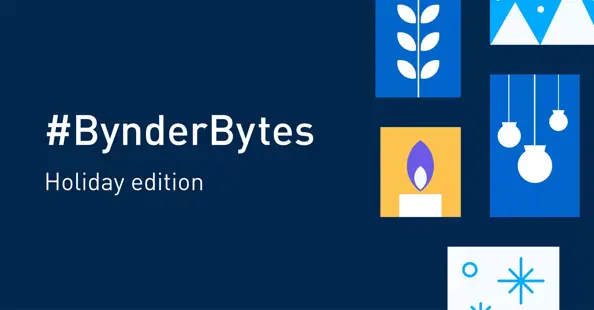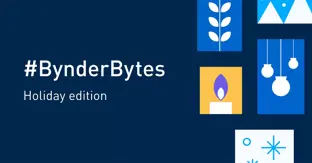 Christmas is definitely hard to miss. Have you noticed the recent downpour of televised seasonal ads, the tidal wave of end-of-year emails, and the billboards yelling "HAPPY HOLIDAYS FROM..." at everyone's face? In fact, seasonal campaigns are part of Christmas just as much as cranberry sauce and the empty promise to never get drunk on eggnog again.
At Bynder, we love the happiest time of the year just as much as everybody else. So this year, we've decided to join the hordes of virtual carollers and send our seasonal greetings to everyone on socials. After all, with Bynder's very own Studio, we've got just the right tool to do this at scale, quickly, and inexpensively.
The ugly numerical truth behind asset creation
Ask any creative in any company what they think of seasonal campaigns and you will notice a slight twitch in their eyelid. They might deny it and say they really love the idea, but the spasm is there for everyone to see. A real testament to how they feel about dishing out hundreds of nearly identical brand assets trying to please every marketer in the (virtual) room.
Their uncontrollable physical reactions are more than justified; we've actually done the math in a recent blog. Let's say you've got an upcoming seasonal campaign launching in six different markets, and each regional campaign needs three social media images, two email banners, and two promotional videos.
They all require consistent brand elements to align with the brand's guidelines, but at the same time, each asset needs to be customized accordingly for different channels, languages, and audiences. All added up, that's 42 assets that need to be created and brand-approved to meet the high-quality, consistent standards expected of the brand—enough assets to drive anyone from 🎅 to 🤬 in less than the time it takes to say eggnog.
Creative agencies are often contracted to protect the mental wellbeing of thousands of in-house creatives around the world—but at what cost? A single thirty-second marketing video produced by a video production company or creative agency can cost upwards of $1200 and takes days to get—now, multiply that by the number of assets you need for a single campaign if you're in for a shock.
What is #BynderBytes?
This year at Bynder, we've decided to create a seasonal video campaign on social media called #BynderBytes—a small collection of holiday-related trivia.
#BynderBytes is a collection of four short, bite-sized videos; each created in-house. If you're not part of a creative or design team, you might be forgiven for thinking that all it takes to create four videos is… well, four videos.
But we've done the math again, and in our case—with four regional markets to cover, three social channels, and an ad hoc email to customers—that gives us a grand total of 52 brand-approved video assets (and $62K if we were to outsource), just to say merry Christmas.
Luckily for our creatives—and our finances—we had an ace up our sleeve.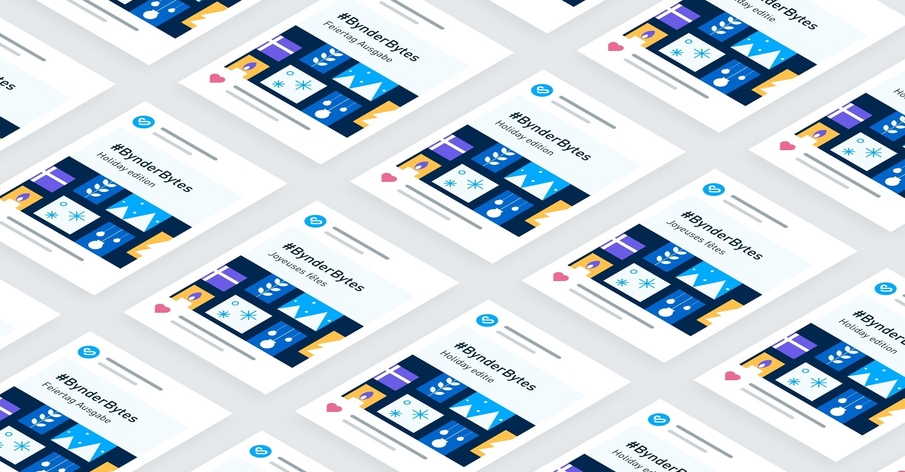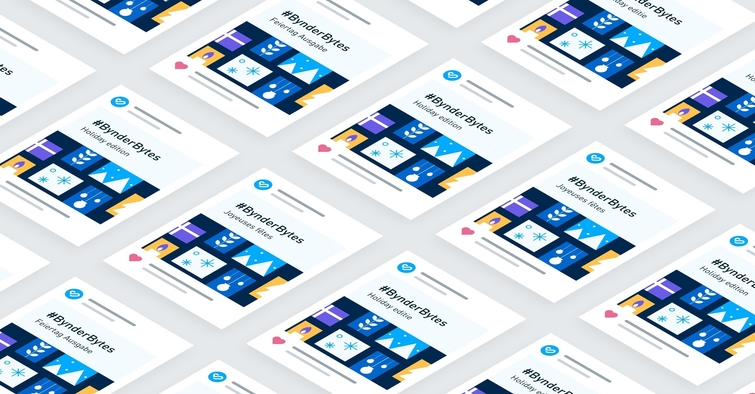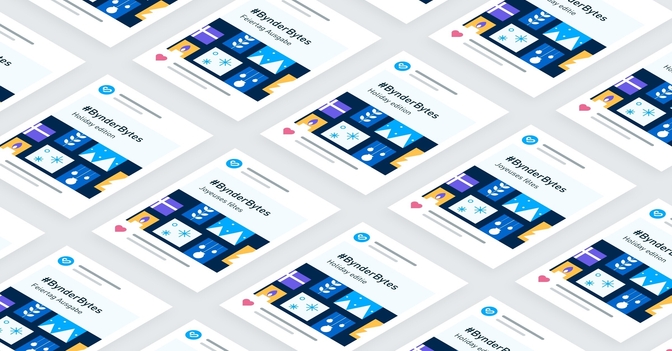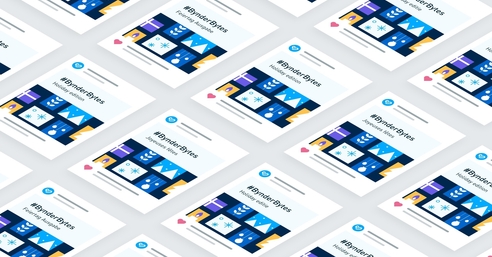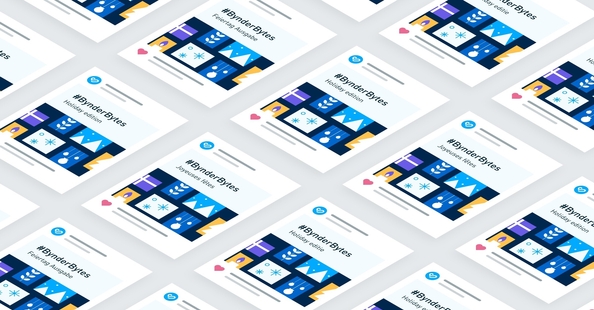 We used Studio to scale and automate our video content production
Automation is the word of the day. You've heard it applied to everything from marketing to finance and insurance—just to mention a few. But have you heard of creative automation and what it can do for your company?
In short, creative automation is technology for scaling and automating certain aspects of the content lifecycle to enable high-volume content creation for high-volume demand.
That means tech shortcuts to prevent creatives having to reinvent the wheel every time they need to produce variations to the same asset (i.e. swapping out a title on an email banner; localizing a customer brochure), so they can spend more time on the important stuff, i.e. creative work that requires original, innovative ideas—something you can't automate (at least not yet.)
Bynder's Studio allows marketing teams to meet the need for high-volume video output by enabling anyone to create, edit, and localize sets of videos for each market, channel, audience, and format—without requiring editing skills or extra creative resources.
In broad terms, this is how Studio works: creatives create on-brand, editable video templates and lock specific elements that should never be changed—based on the company's brand guidelines. Then, marketers are free to adapt, tweak, localize, and produce as many on-brand variations of each asset as they need—independently and without any additional skills.
We've asked our creatives and marketers to give us an overview of what creating a campaign with Studio looks and feels like. See for yourself how easy it was to create 50+ video assets for the #BynderBytes campaign in the video below 👇.
How Studio supports creatives
The creative process always starts with a creative brainstorming session—our creatives used a mood board to identify elements such as the style, colors, and creative direction they wanted to pursue. Based on these guidelines, our superstar designer, Marco, created a final template idea for each social channel.
The style guidelines are vital, we often act as the "style police" within the company. But with Studio, I don't have to worry about anyone not adhering to our guidelines.
Marco Del Noce
Digital Designer
The baton was then handed over to our Video Magician, Adria. He turned the draft he received into a template in Studio and, before making it available to everybody else, he locked those style and brand elements that should not be edited by anyone other than the design team.
I created one template that has allowed my teammates to create more than 15 different videos in less than a day. None of them are videographers, yet they didn't require any help from me. That's just never happened before. Awesome.
Adria Berrocal Forcada
Video Producer
If you've ever had to write copy on a doc or sheet, you know how sterile that experience feels: not knowing what the final product will look like and mentally preparing for negotiations with the designers. Well, Yours Truly was one of the people involved in this campaign, so here are a couple of lines on this experience:
Working right in the template made me the designer of my own copy. I was twice as creative as I played both with the copy and the way it looked. But most of all, this time there was no never-ending, often frustrating back and forth with requests for slight tweaks.
How Studio empowers marketers
With the templates ready, marketers could now access VBS to add and localize the copy on the fly—and either download the final videos or upload them directly into the Bynder DAM waiting room.
The #BynderBytes campaign gave our field marketers the opportunity to get hands-on in the creation of each variation necessary for their regional markets. All they had to do was to access Studio, click a button to generate a new video, and start editing.
Our marketers are a remarkably talented bunch, yet video creation and editing are most definitely not what they're famous for. But Studio is designed to be used by anyone; it requires little or no training and empowers marketers to work on their campaigns independently.
It was my first time using Studio. I found it very intuitive and incredibly fast, I've managed to generate 8 videos myself in less than 5 minutes.
Allan Ménard
Field Marketing Manager
The #BynderBytes videos quickly made their debut on socials in time for Christmas—all 52 of them. And yet, no creatives were harmed in the making of this campaign. In fact, It only took them a single workday to create the templates in Studio and lock the elements. Our marketers did all the rest based on their go-live schedules—while counting the $62,400 that were saved on this campaign alone with Bynder's Studio 🤑.
Think Studio can help your company save money, create, and localize on-brand video content at scale? You're probably right! Let one of our experts show you how with a free demo 👇.
---

---