Bynder & ESG - Environmental, Social, and Governance
At Bynder we are committed to creating a healthy and inspiring work environment that enables our stakeholders to thrive. We align our policies and use United Nations Sustainability Development Goals (SDGs) as a guideline for our reporting. We have adopted and are implementing procedures that focus on the areas important for our business and the various stakeholders we interact with. We have developed methodologies that assist us in quantifying and explaining our journey towards achieving our goals in line with the SDGs and have policies and papers on environmental and social fields.
Certification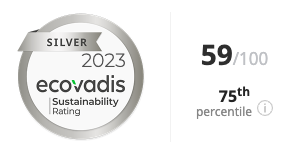 As part of our goals to enhance our ESG initiatives, we underwent an assessment by EcoVadis, an industry expert on ESG. We were ranked silver according to the Ecovadis certification, ranking us among the top 25% of rated companies.

Environmental
Our business and actions aim to reduce the environmental impact by taking measures aimed at environmental sustainability. We ensure our suppliers and business operations reduce their environmental footprint by taking climate-focused actions.
Goal: Usage of affordable and sustainable energy (SDGs #7)
Goal: Ensure sustainable consumption and production pattern (SDGs #12)
Goal: Take actions to combat climate change and its impact (SDGs #23)
Social
We acknowledge the role human and social capital play in our business. We improve our business practices to ensure they are equitable and promote growth. We offer a conducive work environment and opportunities for learning and development. We embrace diversity, equity, and inclusion and provide a safe environment for work. We ensure that our employees earn a fair living wage and feel they are a part of the company's decision-making process.
Goal: Provide a healthy and safe environment while undertaking activities/policies that ensure the well-being of all (SDGs #2)
Goal: Learning opportunities for all (SDGs #4)
Goal: Embracing gender equality (SDGs #5)
Goal: Promotion of inclusion and a decent and productive work environment for all (SDGs #8)
Goal: Making the workspace safe and sustainable (SDGs #11)
Governance
Bynder is committed to ethics, social benefits, and embracing equality in our corporate and management governance structure. We seek to ensure that our actions are anchored in the best corporate governance practices by being ethical and responsible.
Goal: Ensure sustainable consumption and production patterns (SDGs #12)
Goal: Promote peaceful and inclusive societies for sustainable development, access to justice for all, and effective, accountable, and an inclusive institution at all levels. (SDGs #16)
Related Articles & Policies