Studio
Scale and automate your video content
Meet the growing demand for video with an integrated solution in the Bynder platform to create, adapt, manage, distribute, and analyze your video assets.
Book a demo
Download Studio features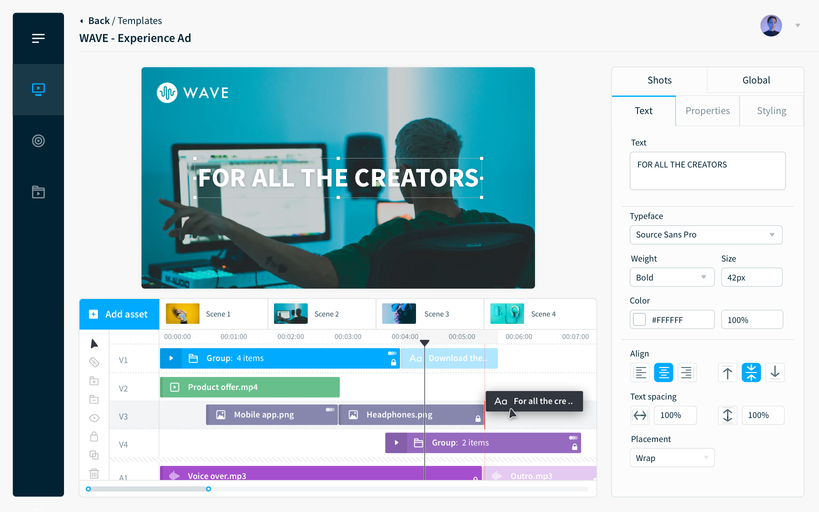 How Bynder's Studio helps you scale video content creation
Create on-brand videos without specialist skills
With so many digital channels to stamp your brand presence on, it's no longer feasible to rely on creative professionals each time you need to make minor variations to your videos.
Studio allows anyone to create, edit, and localize sets of videos for each market, channel, audience, and format.






Faster, automated distribution
Ditch slow upload/download cycles.
Integrations with key digital channels such as YouTube, Facebook, and Instagram allow you to automatically transfer video assets to any format while safeguarding layout.






Data-driven video campaigns
Get the data you need to A/B test and measure the impact and value of your video campaigns with ad performance data.
Data insights help you to analyze video performance from Facebook and Instagram, so you can continually optimize new and existing campaigns.
On-brand video creation for everyone
Scale video output to boost brand growth
Speed up time to market and scale creation
---
---
---
More products and add-ons
We provide tailored solutions to fit the needs of each and every brand. Our add-on modules offer features and functionality to complement Bynder's core digital asset management solution, which you can learn more about below.
---
What is Studio?
Bynder's Studio is a cloud-based solution for creating, adapting, managing, and distributing video content, integrated within the Bynder platform. It is available as an optional module as well as a stand-alone solution.
What are the features of Studio?
Studio provides on-demand video creation and modification tools to quickly create and update high-quality marketing videos without any editing skills.
Transfer your timeline from your favorite offline editing application (Premiere, FCP Avid) via the XML importer
The easy to use timeline editor allows marketers to create videos from scratch. Simply drag and drop video, image or text elements, change the order, and/or tweak element durations
Maintain brand consistency using brand presets to quickly apply (motion) brand elements to your video project
A comprehensive set of predefined animation and transition presets remove the time-consuming detail work, yet provide enough flexibility to bring your brand alive
Store and manage successful video designs as templates to speed up the creation process and maintain brand consistency
Scale the video creation process using batch creation tools, and automate data-driven creation based on external data feeds
Easily transfer your video creatives to any format while safeguarding layout
Distribute your videos directly to Facebook, Instagram, and YouTube
Optimize creative using insights into video performance data from Facebook and Instagram to improve existing campaigns or guide the creation of new ones
What are the typical use cases of Studio?
Localization: adapting content to local markets and languages
Format variations: resizing creative assets to fit multiple online and social media ad formats
Testing and optimization: creating content variations to enable creative optimization within ad platforms
Channel marketing: enable distributors, resellers, and other third parties to create brand-compliant content for their territory or region
Segmentation and personalization: image and copy variations to better target specific customer segments
E-commerce: data-driven asset creation for scale and automated content updates, i.e. price changes triggering automatic updates to advertisements that feature the affected products
See what Bynder can do for you