Digital Asset Management
The centralized way to organize and distribute media files
Known for its user-friendly interface, best-in-class customer service, and innovative functionality, Bynder's Digital Asset Management solution is the leading platform to safely store your digital content in the cloud.
Start 30-day trial
Download features overview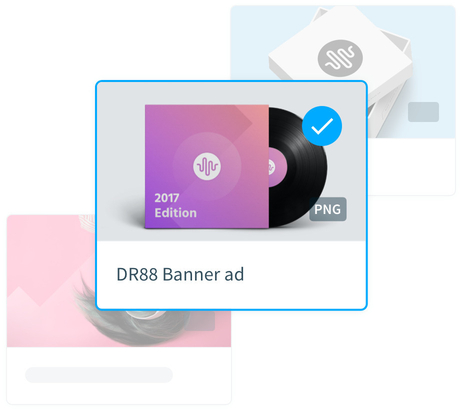 The simple solution to manage your digital content
Bynder gives organizations a platform to manage brand, campaign and product assets consistently and confidently.
Single source of truth
Provides all departments with one central location to store brand, campaign and product assets, making them directly available for users across the world and reducing the risk of incorrect assets being used.
Increase productivity
Simplifies everyday processes such as searching for files, understanding asset usage rights, and sharing large files, enabling you to reduce time, risk and hassle when working with digital media.
Safeguard your assets
Protects your assets with built in security controls such as two factor authentication, user rights and access settings, allowing you to stay in full control of your brand, campaign and product assets.
Create consistent experiences, drive brand trust
All content can easily be accessed and distributed at the right time, on the right platform and ultimately to the right person, ensuring consistency across digital touchpoints and increasing trust in your brand over time.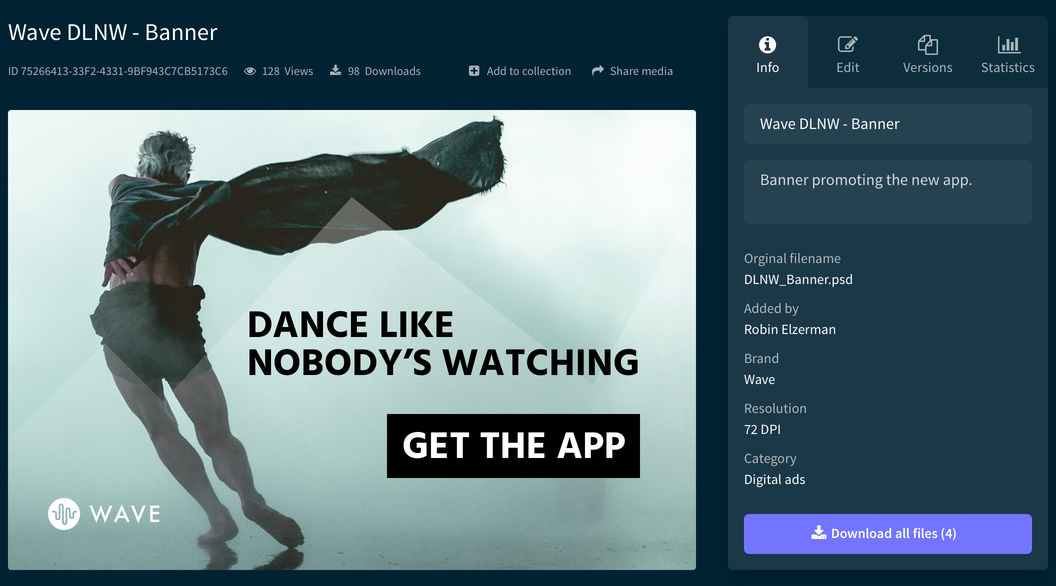 Organize
Find content faster by centralizing assets in a single source of truth. The filter structure can be fully configured to your business lingua and provides faster access to the right on-brand content.
Share
Share content easily and securely straight from your DAM with internal and external stakeholders. Create collections to share or just share straight from the asset detail view.
Distribute
Deliver consistent content experiences by integrating and automating content distribution from your DAM to customer endpoints, such as your website or ecommerce site.
Safely manage your files
Users can revoke access to collections and add watermarks to content to prevent unauthorized distribution of media files.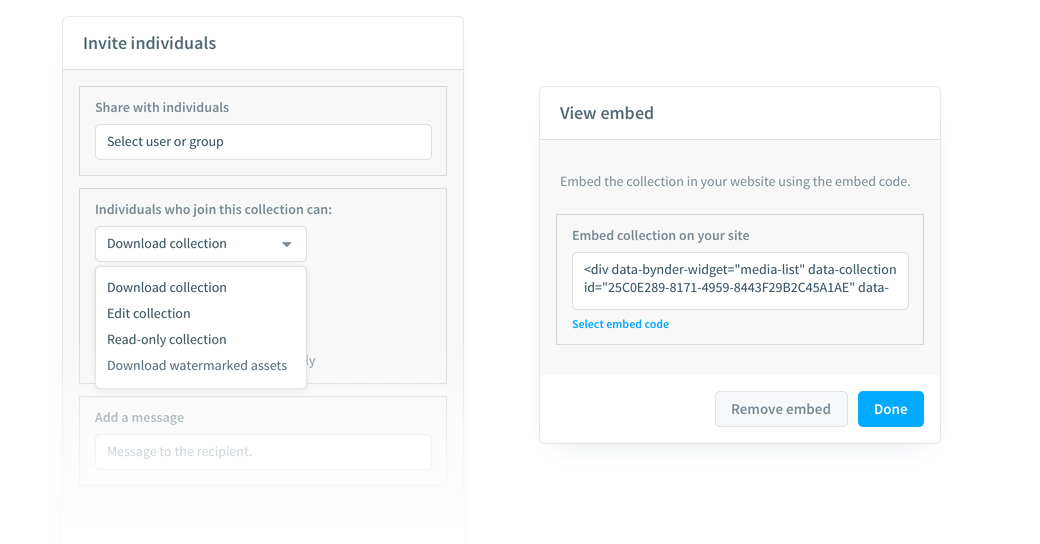 Share files with externals safely
Teams can share the right content, the right way by choosing which level of access to give to external parties. Set an expiration date or revoke access to have full control over shares.
Transfer files easily
Share files from the DAM or from your computer with internal and external stakeholders through Collections or Bynder Express.
Distribute content effectively
Distribute and embed media directly from the DAM to eliminate manual work and ensure the most current versions are used across all channels.
Amsterdam-based Bynder truly shines with its user interface and usability, which got high marks from its reference customers. Usability is a top priority for many buyers.
The Forrester Wave™
, Digital Asset Management for Customer Experience, Q4 2019 report by
Forrester Research Inc.
Implementing DAM is easy if you have the right service and support
Our dedicated Services and Support team delivers a world-class experience to 1800+ clients across 55 countries.
---
---