DAM in the DX [1/4]: Crafting amazing digital experiences with DAM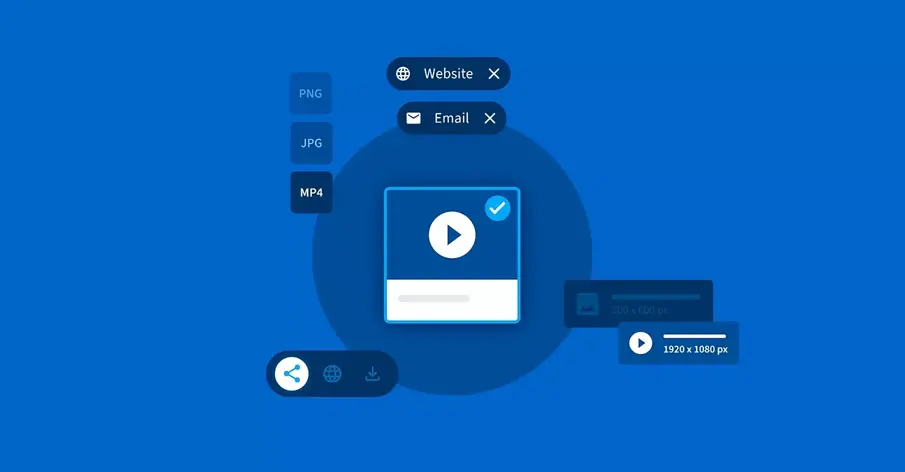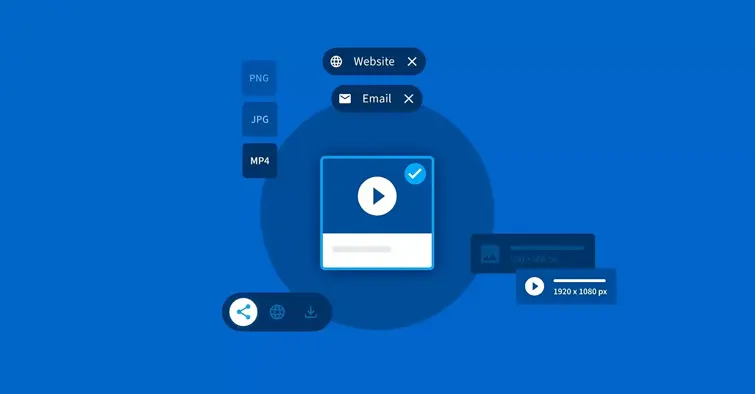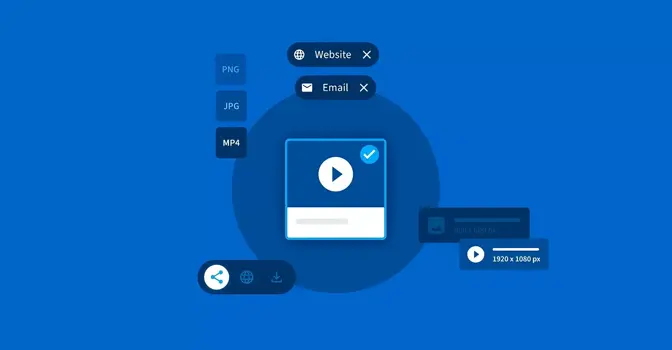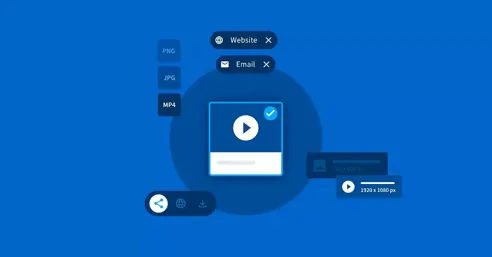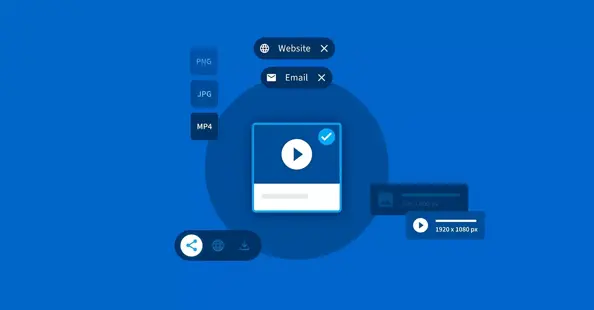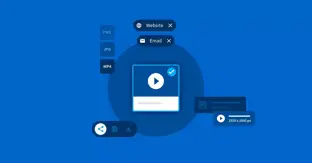 So you want to craft amazing digital experiences for your customer, but also for your internal workforce. All of that starts with understanding the tools and integrations you use, how to maximize them to their full potential, and how it plays into your overall content marketing strategy.
This four-part mini-series will delve into the power of DAM in helping you to create a "smooth operating" digital ecosystem—with DAM as the digital nucleus.
Great digital experiences don't just appear out of thin air—they are carefully crafted by masterful storytellers, marketing technologists, and those who know how to expertly blend the management of the digital content lifecycle with digital experience.
Digital asset management is at the heart of the digital experience (DX), allowing your organization to tell compelling stories with digital content that wins.
Blending that content with a great customer experience is no easy task however. There are many steps in taking content from ideation, to publication, and eventually to the consumer. Companies are now faced with working on a digital supply chain to route appropriate content to the right consumer, at the right time—with digital asset management helping them to achieve that.
So, how does a company go about creating great customer experiences in the digital realm? Well it starts with your internal workforce: by adopting an effective DAM integrations strategy that smooths out the friction between stages of the content lifecycle, your audience reap the rewards too. With a well-oiled digital ecosystem, you can create, personalize, and share content to the right customer at the right time and in the right context.
Redefining customer experience
Ultimately, customer experience is about truly connecting and engaging with people. It encompasses all touch points that a customer has with a company, including, but not limited to, how that relationship evolves over time. So think emails, online shopping experiences, as well as social media communications.
Getting the right balance is the tricky part; in our constantly-connected digital world, you can't afford to miss a touch point, but you also can't bombard your customers with content that's irrelevant, ill-timed, or irrelevant to their needs.
An effective internal digital ecosystem is integral to gaining and maintaining consistent customer engagement. By approaching each customer touch point as a single cog in a much larger machine, it helps your team to deliver a consistent, unified customer experience.
We are all content creators
These days, every industry has something in common: we're all becoming content creators, choreographers, and consumers of digital assets—whether we're aware of it or not. Trying to manage masses of digital content has become the new norm for marketers, brand managers, and content creators across the globe.
Consider the all too familiar scenario: you're a company dating back decades, littered with legacy systems, pockets of dispersed content in shared network drives, shadow-IT storage applications, and personal desktops. You may or may not have a digital asset management system. If you do happen to be one of the fortunate few that has identified a DAM system as a key operational component to your business, you may have found that it's not quite 'sticky' enough in your organization. Sure, people know it's there, it gets used to some degree, but it's missing links to other systems which would help you cut down on repetitive, manual, and tedious work that—to be frank—none of us want to do!
You may think you have a buy-in problem, but it might be that you have a lack of meaningful and time-saving integrations. But before diving into the types of integrations you should have, we need to take a step back, and consider the lifecycle of digital content and digital assets in your organization. This will help to hone in on opportunities for integrations that will make your process go smoothly, enabling quicker time-to-market and content that impacts your customer at the right time, and on the right platform.
What is the digital asset lifecycle?
The lifecycle of your digital assets includes everything from conception to publication. Digital assets touch many hands before going live—including retouchers, agencies, copywriters, legal, and all the rest. From creation to publication, a digital asset can go through many rounds of review, metadata application, embargo, archived status, retouching, editing, sharing, and more.
But they can also go through many different tools as well. Understanding the lifecycle of digital files in your organization is essential to help recognize which integrations are needed the most. Typically a digital asset progresses through the following stages: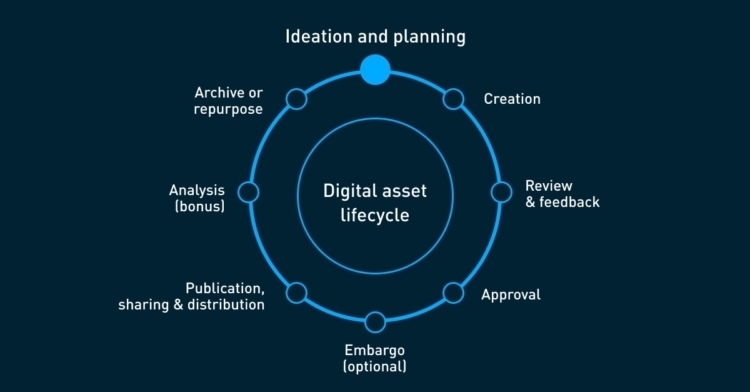 What is integration anyway?
Integration is the act of bringing together smaller components into a single system that functions as one. In an IT context, integration refers to the end result of a process that aims to stitch together different, often disparate, subsystems so that the data contained in each becomes part of a larger, more comprehensive system that, ideally, quickly and easily shares data when needed.
[
Search CRM
]
The modern digital worker buzzes in and out of various digital systems throughout the day, but there's a common thread seen in most companies: we are moving content, information, and digital files along the asset lifecycle path. We push content to market, and collaborate in the digital workplace with its vast web of metadata, files, systems, processes and people—the parts of the whole digital experience.
When work is interrupted because we need to spend time doing manual and repetitive tasks such as reuploading files, reentering metadata, or redoing any type of work, the need for a more efficient process naturally leads you to explore integration options.
What are the goals of integration?
Integrating a digital asset management system within your digital ecosystem ultimately aims to:

Reduce manual, repetitive work for your team
Automate work processes that don't require human input
Reduce the opportunity for error
Save time for working on more important tasks
Reduce the costs of digital content creation and publication
Improve time-to-market with your digital content and campaigns
Enhance customer engagement with on-time, relevant, and context-specific digital content that targets the right channels and markets
At a more general level however, the goal of integration is twofold: creating a positive customer experience, and enabling your team to work more efficiently.

Check out a range of solutions Bynder currently integrates with here
What are common issues with integrations?
Making integrations work for you in a productive way is no easy task. There are some common pitfalls to be aware of when it comes to integrations, including:

Not clearly defining the scope or documenting business requirements clearly
Not budgeting for the cost of integration
Lack of technical expertise, or overly reliant on outsourcing to build your integrations roadmap
Failing to consider the complexity of its setup—not everything is plug and play, some integrations are custom-built through APIs
Overlooking the uniqueness of each system and potentially introducing bugs or botching the data in systems
How does the asset lifecycle fit into the digital experience (DX)?
If digital assets are not properly approved, routed and shared through the asset lifecycle process, you run the risk of launching content at the wrong time, on the wrong platform, or potentially, the wrong content altogether.
DAM in the digital supply chain
DAM systems have a primary purpose for organizations: manage the complete lifecycle of their digital files.
Yet it's not just about the system itself, it is also about the process of actually managing the content, and the people involved internally: how do they factor into the whole digital supply chain? Mark Leslie, a senior digital asset manager at global sports brand, Adidas, suggests that we must look at the digital supply chain to fully understand the digital content lifecycle:
Digital asset management sounds like it's all about technology and software, but I think it's more about getting work done. You're familiar with our supply chain, right? How we source our goods and get them out to customers? That is our PHYSICAL supply chain. DAM deals with virtual goods—files, documents, assets—which represent our company's products digitally. This is our DIGITAL supply chain: DAM.
Mark Leslie
Digital Asset Strategy Team Leader at Rock Central [
LinkedIn Pulse
]
Keep this in mind: you've got to have a well-oiled digital supply chain if you want to develop a great rapport with your customers in the digital realm. And it doesn't have to be all about APIs and plugins between different digital systems, sometimes keeping it simple can be just as effective.
There's more than one way to look at integrations
To realize the true value of integrations, think about integrating processes, not just products. For instance:

Campaign planning /PR concept integrations with content creators
Photography studios and internal premedia/retouching workflow integrations
Metadata alignment between SEO/e-commerce/website team integration and digital asset managers

Also, user-generated links between data, content and systems across your digital ecosystem are a type of integration. Although rudimentary, they have their part to play. Typical examples include:
Inputting a link to a digital file from one system to another
Writing a link in your DAM system metadata for where the file is published
Embedding collections of digital content on your website directly from your DAM
While it may not be as flashy as commercial-grade plugins and API scripting, remember that links are what the modern web was built upon. Links are powerful, and offer a breadcrumb trail for context. A link can let you know where a master file lives, what system has further data on a file, and even link back to ad-hoc documents outlining ideas and the creative process for content creation.

These are all attempts at linking content across digital systems, but the really powerful integrations also link relevant metadata and content based on logical rules that reflect your business processes. These are the types of integrations that can really take your work to the next level.
How are other organizations managing their digital ecosystem and integrations?

There are plenty of case studies available online if you'd like to check out what other organizations are doing. These case studies are a good way to think of new ideas, reflect on best practices, and also think about new integration ideas for your own digital ecosystem.

Before you can map out what integrations are needed for your business though, you should think about the existing level of DAM maturity at your organization.
Measuring DAM maturity
The DAM Maturity Model can help you to audit your existing digital asset management practice within your organization. That way, you have a benchmark to audit on a quarterly—or even yearly—basis.
The DAM Maturity Model questionnaire—spanning across fifteen dimensions and four categories that define the digital asset management ecosystem—has been downloaded by over 3,000 companies worldwide. Data from this questionnaire suggests that many organizations still struggle with integrations, with just 4.6% of companies believing they work with integrations optimally.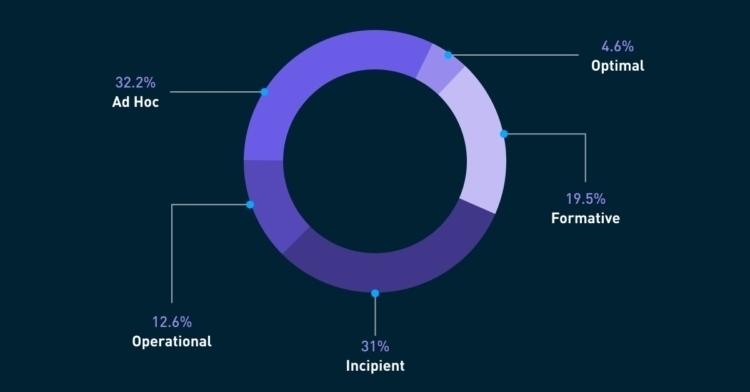 While there is no one best digital system, a solid API can make all the difference. David Diamond writes that:
Integrations are built on what's called an application programming interface (API). Don't choose a DAM that doesn't offer a published API—doing so will greatly limit your expansion options later.
[
DAM Survival Guide
]
So, while there is no one DAM platform to rule your digital integrations ecosystem, there are most definitely key features, that go beyond simply offering an API, that are integral such as web hooks, reusable UI (user interface) components, and SDKs (software development kits).
In order to identify these much needed key integration features, a digital ecosystem integration strategy is needed for your organization.
The digital ecosystem is just that: an ecosystem
When you map out your integrations strategy, the idea of the digital ecosystem as a living, interconnected system is important to keep in mind. In the digital ecosystem at your organization, you likely have many systems, tools, people, processes and data. The key to a well-oiled machine is optimizing processes across all of these separate elements.
Don't miss Part 2 of our "DAM in the DX" series: Building a business case for DAM system integration
---

---