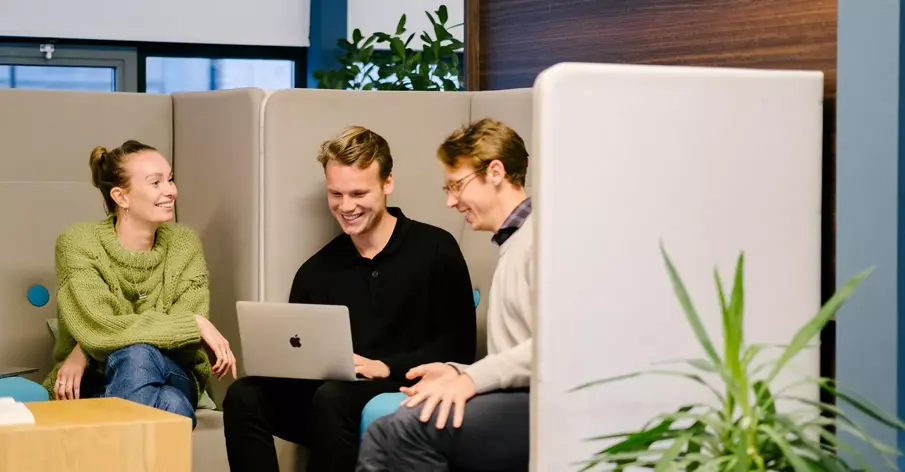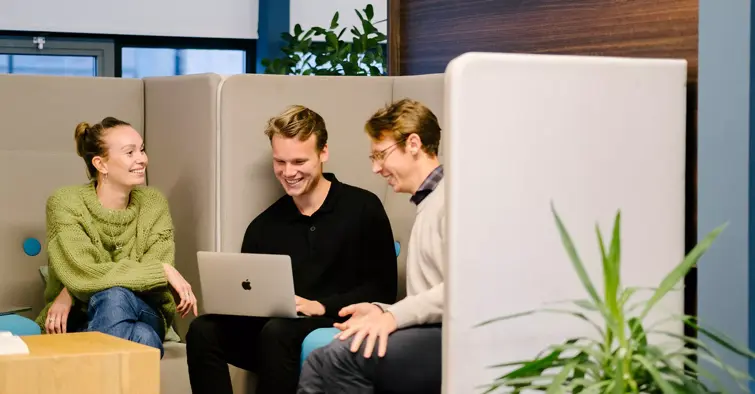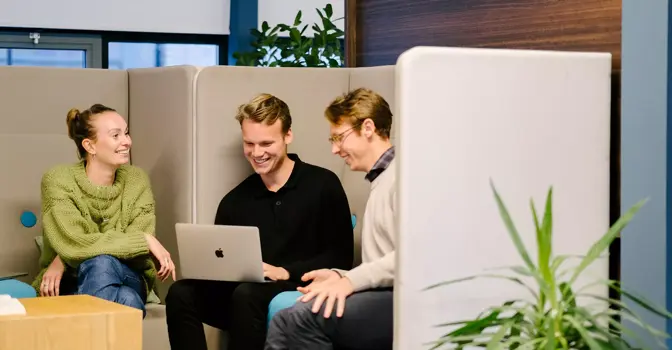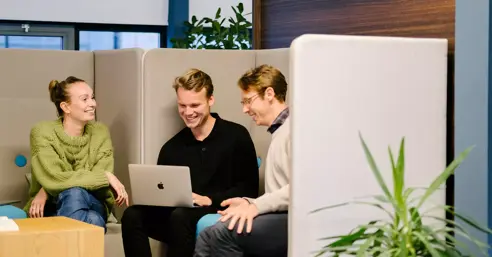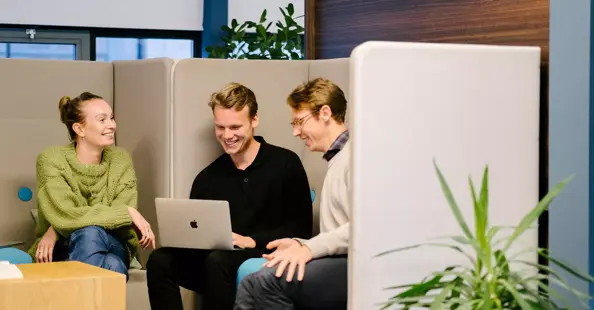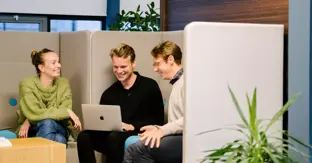 Anyone can create content.
Creating content is easy, whether it be throwing together a blog post or recording a tutorial video via a smartphone. There's no need for an in-depth content strategy, the identification of buyer personas or a competent tech eco-system to reach across customer touchpoints. You can effortlessly create a piece of content and share it on your desired social channel. The problem? It's not going to get results.
Creating content is straightforward. Creating compelling content experiences that resonate emotively with prospective customers requires a little more thought and pre-planning.

But hang on a minute; what on earth is a content experience?
We thought you'd never ask!
The 'content experience' isn't just one specific thing you can pick out and wave around in front of prospective customers. It's an all-encompassing term for every marketing interaction a potential buyer has with your brand. It helps educate, inform and inspire them, driving them towards a point of action. The best kind of content experiences are ones that stand out with an integrated, cohesive approach that exceeds customer expectations and turbo-charges engagement and revenue. Content experiences are more than just standalone blog articles telling people how good your product is; they're aligned strategies that pinpoint crucial moments in the customer journey and create the canvas to paint a seamless, conjoined experience out of smaller, individual moments.
As you'll discover as you delve into this article, if brands don't keep up with the pack, they run a real risk of being drowned out by the digital noise of their competitors. We've sprinkled seven must-know stats throughout this article that show first-hand why content experiences are now an essential part of any digital marketing effort. But before you indulge in them, here's a handy graphic to give you the lowdown on what does (and maybe more importantly doesn't) make a great content experience: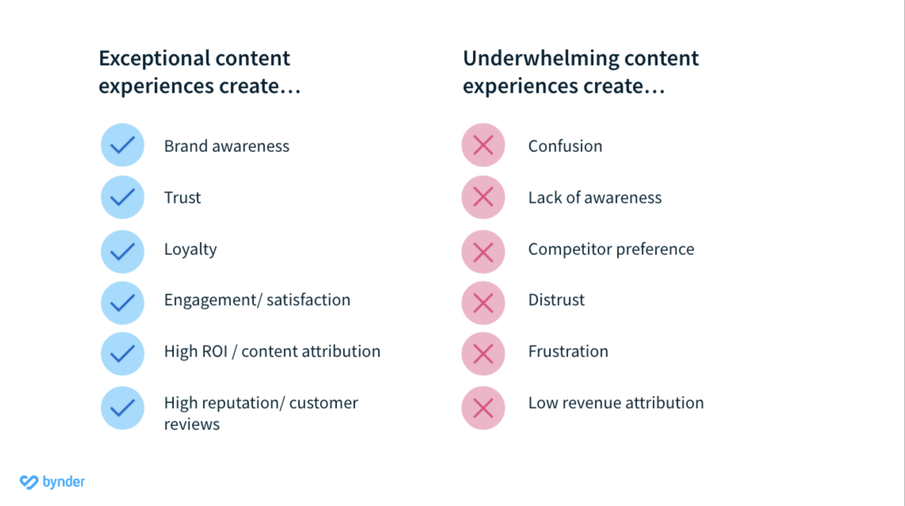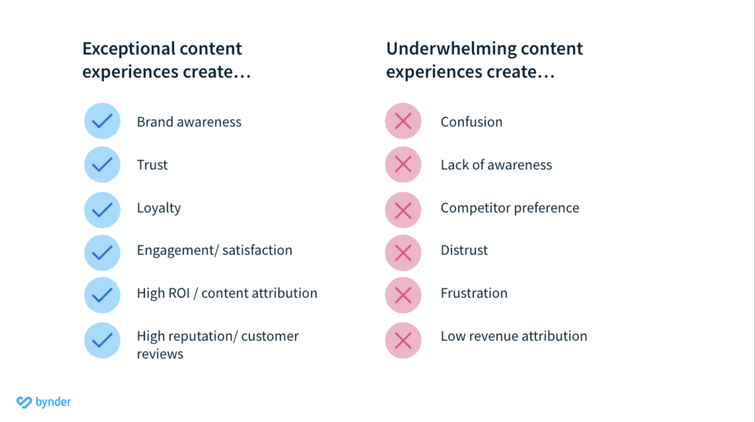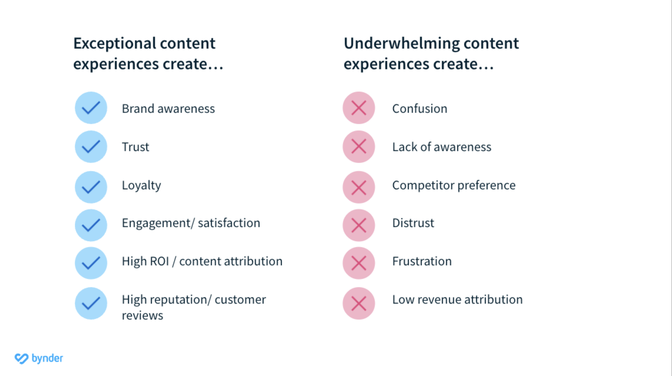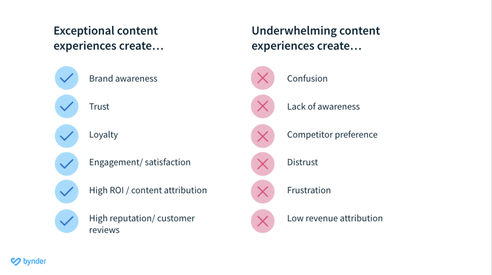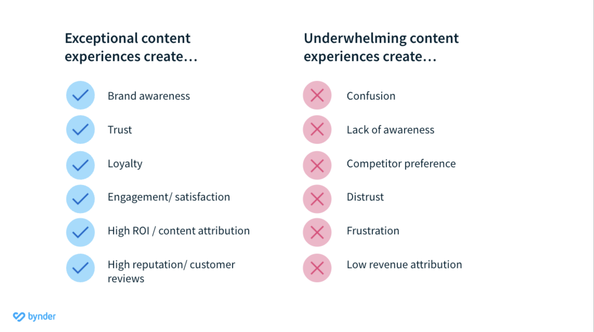 Analyze your content
Pumping out as much new content as possible, only to find that most of it is regurgitating information you've covered previously, is a quick way to lose your position as a thought leader. After all, who wants to read the same news twice?
Consumers no longer just want to adopt a product and then disengage from the brand forever. Holistic, engaging content experiences have become an essential marketing tool to attract and retain customers, notably since the pandemic emphasized the need for digital touchpoints. In fact, 88% of customers say that the experience a company provides is just as important as the product or service they offer. It's a common train of thought that the line between offline and online will get increasingly smaller in the future.
A thorough content audit that analyzes and assesses your existing content offering is an essential start to any content experience battle plan. It's an excellent way to see what your brand has talked about previously and see what content could be repurposed into a fresh, engaging content piece. Repurposing old content, whether one article or multiple items, saves valuable time that would otherwise have to be dedicated to research.
Powerful content experiences rely on exciting, engaging content to hook a prospect and keep them committed. Does your content archive include some incredible information and metrics but would bore even the most avid consumer to sleep? It could be time to repurpose.
Delve into content operations
Investing heavily into digital marketing isn't a silver bullet that'll cut through the digital noise, as many organizations have realized over the last two years. Digital customer touchpoints are ever-increasing, and so is the expectation for engaging, exciting content. The result is a demand for a massive volume of varied, relevant content across all channels, while also maintaining a consistent brand narrative and driving readers to a point of conversion.
The harsh reality is that the balancing act between content volume and value is far too often overlooked, with the content lifecycle tossed to the bottom of the to-do pile. And this has a considerable impact, with 65% of customers expressing frustration over inconsistent experiences or information presented across channels.
Content operations is a relatively new kid on the block in the digital marketing world. Content operations cover the people, processes, and technology involved in creating, managing, and distributing content. Content operations is a fundamental part of the content lifecycle. Without a content operations strategy, it's easy to get absorbed into a quagmire that sees content being produced with no plan or purpose. Which, let's be honest, is a colossal waste of time.
Deploying a synergized content operations strategy in your organization significantly boosts your content engine's lead-generating firepower. By uniting the trifecta of people, processes, and technology, your brand can harness the power of a united and aligned content engine.
As the digital landscape continues to grow, so does the content volume flooding the market.
For a deep dive into the world of content operations, treat yourself to our free guide.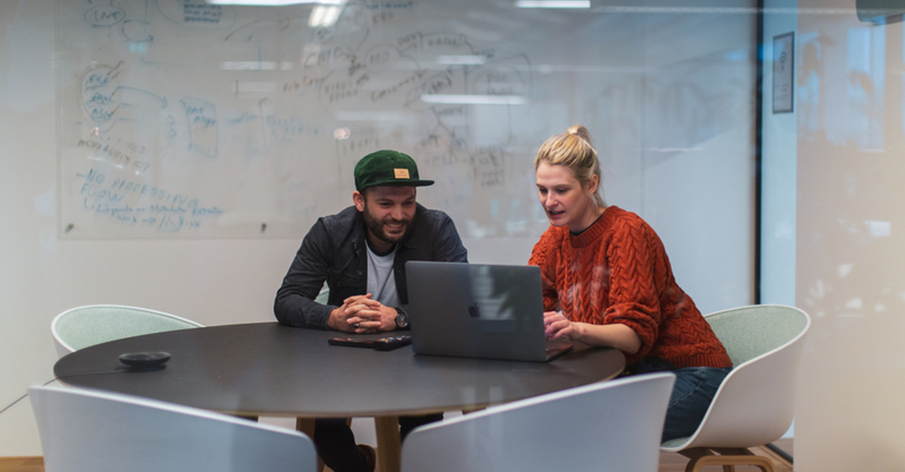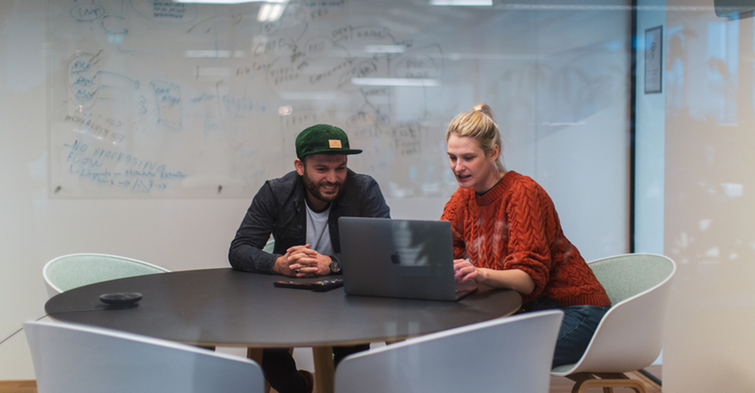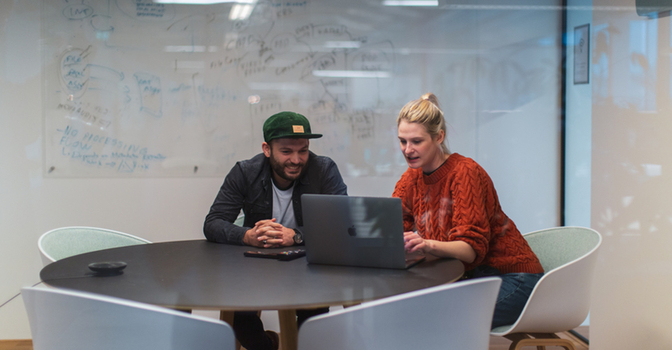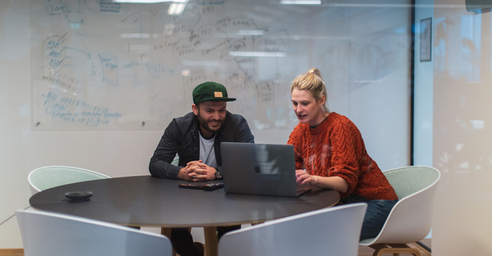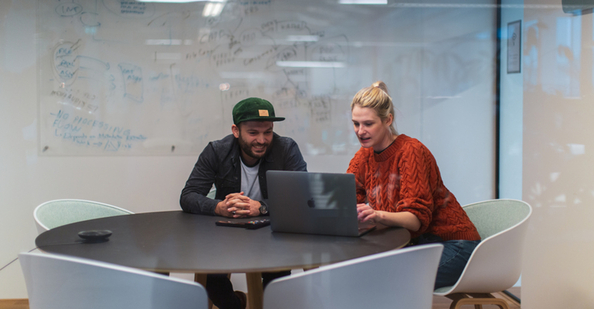 Align across the organization
"Coming together is a beginning. Keeping together is progress. Working together is success." - Henry Ford.
While your brand may not be in the automobile business, the wise words of Henry Ford are a perfect song sheet when it comes to aligning your content lifecycle and the broader business goals of your organization to create exceptional content experiences. Alignment and content can sometimes be a complicated relationship, but it's one that we aren't going to need a tv show host to break down and rebuild for us.
We've already mentioned the proliferation of content and the drain on resources that can happen with poor coordination. Check out this real-life example to see how Rich's Products totally transformed its brand identity. Rich's Products broke down siloed teams to form a united, synergized content engine, which is absolutely crucial to delivering powerful content experiences that have real value.
Aligning your content strategy with your brand messaging and your sales narrative is a keystone in the bridge that crosses the gulf of dull content and an exciting content experience.
86% of buyers will pay more for a better customer experience, which translates directly into their online experience of your content. The link between marketing and sales has never been more prevalent. Extending the narrative of your brand story into your content and across your customer touchpoints has become a significant step toward breaching the competitive waters of not just E-commerce but digital marketing in general.
Set up for tech success
At the heart of any good content experience is a robust tech stack that facilitates and enhances the work that the talented individuals using it do. The ability to create, manage, and distribute assets from a central location, especially in the age of high-volume, high-quality content, is essential to maintain omnichannel synergy.
In a recent survey, 85% of respondents said the ease of sharing and distributing digital assets is essential for the success of digital experiences in their organization. And a staggering 4 out of 5 respondents from the same survey said their teams would benefit from a centralized source of truth for their assets. Evidently, brands that fail to invest in an integrated tech ecosystem force themselves into an uphill battle in an already over-congested digital space.
Marketers face three main content-related challenges of accuracy, timeliness, and relevance: issues that a connected tech ecosystem smoothes out easily. A DAM (digital asset management) solution turbo-charges the content lifecycle, making it 83% faster to find and distribute assets than a non-DAM way of working. With a DAM system at its core to store and manage creative assets, organizations can personally tailor their tech arsenal to suit the demands of their creatives, marketers, and of course, their prospective consumers. Studio from Bynder is a powerful tool to automate content creation at scale, without jeopardizing quality—a huge asset for diving content output.
44% of organizations highlight that an inability or difficulty to integrate their back-office tech with their broader tech stack seriously inhibits their ability to run effective omnichannel campaigns. DAM integrations with content management systems (CMS) and product information management (PIM) tools make it even easier and faster for marketers to access and share the content they need when they need it. Plus, with the high content volume required for compelling content experiences, these integrations are a vital link between a streamlined production process and driving conversions towards a point of action. By managing these content volumes from one, central place without needing to dive in and out of separate systems just to manage them, marketers can save serious time while making campaigns punctual, relevant, and powerful.
Create diverse, localized content
Delivering relevant and localized content at scale has become one of the essential concepts in effective digital marketing. In fact, even back in 2020 (I know that's only two years, but it sure feels like a lifetime!), 81% of C-level executives expected to shift more of a focus onto customer interaction, with 66% expecting to put a heavy emphasis on the customer as an individual.
With content chaos and the ever-increasing competition across all customer touchpoints, personalization has become an essential tool in any digital marketer's arsenal. 98% of marketers agree that personalization advances customer relationships, driving loyalty and brand authority. Personalized, optimized content is at the very heart of any content experience worth its salt, with a growing expectation from prospective consumers that everything they encounter from a brand should already be personalized towards them. No, really! Already in 2020, 66% of consumers surveyed suggested that encountering content that wasn't personalized to them would drive them away from making a purchase.
Creating a diverse range of content at scale while remaining on-brand is where tools like Bynder's Brand Guidelines and Content Workflow come into a league of their own. These brand-protecting tools help marketers make localized content fast without needing to jump through countless hoops to get it to market.
All good things come to an end, this blog included. But while you wipe away the tears at the prospect of finishing a blockbuster of marketing prose, ask yourself-what common thread runs through these stats and facts?
A connected tech ecosystem. Just like this: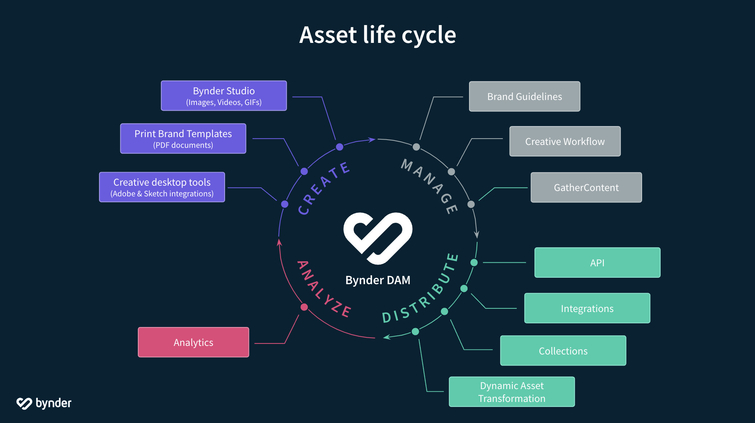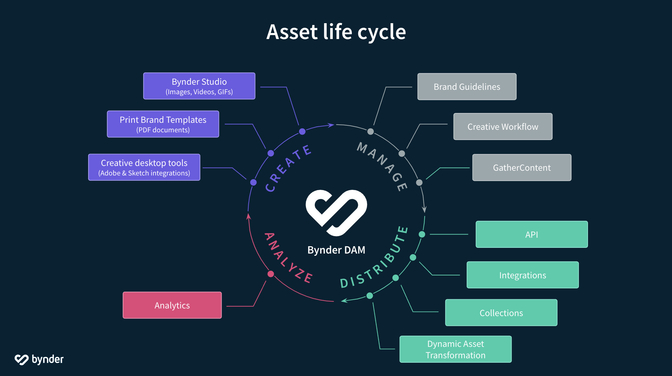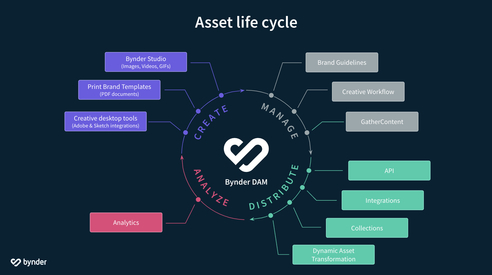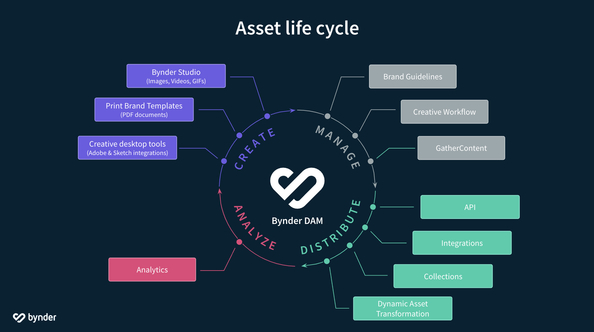 Delivering the right content to the right people at the right time underpins the entire principle of content experiences. Enabling marketers to have the capacity to be reactive in the market while remaining focused on your brand story and delivering a consistent experience to the consumer is all made possible by connecting the dots and offering an adequate tech solution.
And it just so happens we offer a very good one
---

---