A 5-step guide to an effective content development process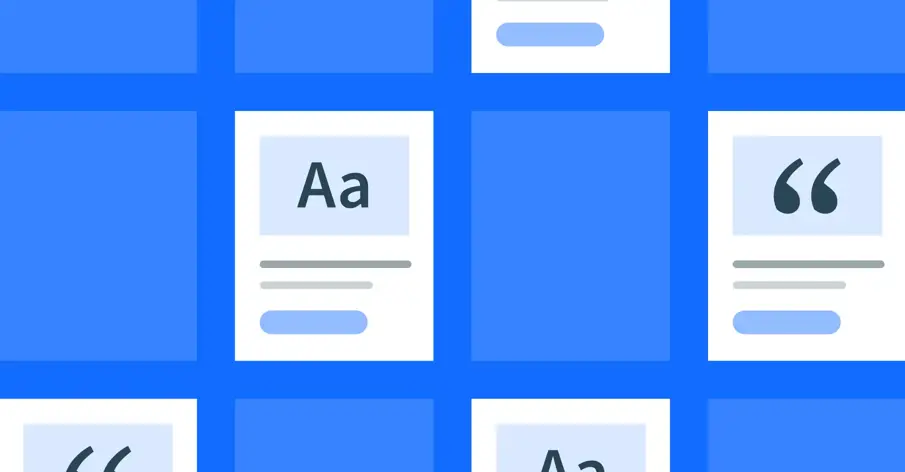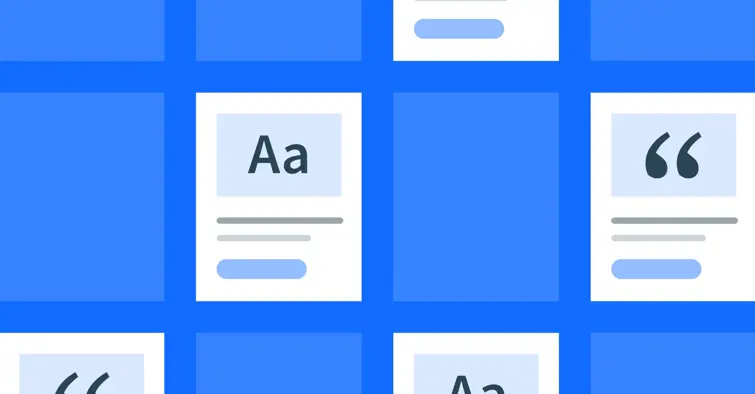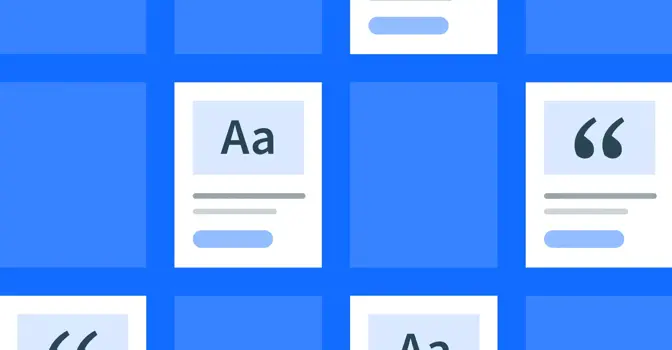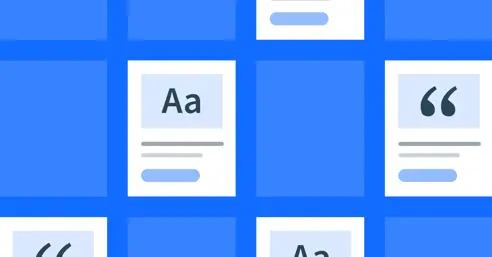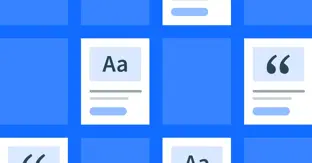 The content development process can be overwhelming, yet more companies are jumping on the content marketing wagon — why?
Because it can be so rewarding. According to research conducted by Demand Metric, content marketing typically costs 62% less than traditional marketing but generates three times as many leads.
What's more, 62% of B2B buyers say that they engage with three to seven pieces of content before making that first contact with a salesperson. This means getting your content right is critical; these days, your prospects and customers expect a consistent and informative experience by default.
The combination of new digital channels, types of content, and audience preferences has created new complexities and challenges for organizations — and will continue to do so, well into the future.
In this blog, we'll take a closer look at what content development is, share our step-by-step content development process, and show how you can implement it for your business — all whilst making the process as hassle-free as possible.
What is content development?
Content development is the process of conceiving, planning, producing, and distributing content to reach business goals. This term is synonymous with content marketing and includes the entire lifecycle of content — from its conceptualization to its impact on readers (a.k.a. potential customers).
A few benefits of investing in content development include:
Improved efficiency: Carefully planning and executing a content strategy increases your chances of success. You can target your ideal audience and create content that meets their needs and solves their struggles. Having a plan also keeps you consistent, which helps you maintain traction and build trust with your audience.
Better progress monitoring: A content development plan makes it easier to analyze your progress and make adjustments as needed. You can monitor the key performance metrics and track how well your content is performing — helping you meet and exceed your targets.
Effective collaboration: With a content development process, everyone in the team is on the same page. Your team will know what to do with each piece of content and what to expect from its performance. Again, this raises your overall chances of success.
We know it works, you know it works. And a little later, we'll examine how you should approach content development in the correct way.
Who uses content development?
Content development is an immersive process that requires putting yourself in the customer's shoes.
The following roles demand knowledge of content development:
Content strategists: As those chiefly responsible for brainstorming ideal content formats, planning briefs, and analyzing content success, content strategists are at the forefront of content development.
Heads of content: Heads of content often have a broader role than strategists but are also involved in strategizing and executing content plans.
Project managers: Project managers oversee the content workflow and ensure that all involved parties work efficiently.
Content creators: Anyone steeped in content creation is involved in the content development process. They'll need to understand their audience and develop a strategy to match them.
Social media marketers: Social media marketers also engage in content marketing. They, too, must understand the process.
Bloggers: Lastly, bloggers regularly interact with their audience via comments and feedback; priceless audience research that can help them nail the content development process.
Five steps for a successful content development process
Whether you're starting from scratch or auditing your current content development process, our 5-step content development strategy will help you make your planning a success.
1. Set content goals
Before you even think about topics or audiences, consider what you want your content to accomplish. At what stage in the content marketing funnel would you like to meet your potential customers?
For example, if you'd rather create content that raises product awareness for your audience, try blog posts, infographics, ebooks, and whitepapers.
Want content that drives sales quickly? You might need to invest in creating some testimonials, customer success stories, and live demos. Other content like email newsletters, case studies, and podcasts can work for several funnel points depending on the subject angle.
As you set content goals, you'll also need to decide how to measure content marketing success. Some commonly used metrics are:
Blog traffic
SERP rankings
Social shares
Lead generation
Number of sales
Client retention
Remember to set SMART (Specific, Measurable, Achievable, Realistic, and Time-anchored) goals for your content development process. Also, besides having an overarching content marketing goal, you may need to set goals for each piece of content.
2. Conduct audience research
You'll need basic information about your audience to set content goals. However, once you have your goals, it's time to take a closer look at your audience and their needs — and how both aspects intersect with those goals.
Many experts recommend creating a buyer persona, and research has shown buyer personas to be highly effective. A buyer persona is a specific, detailed profile of your target audience.
HubSpot states that marketing personas make websites two to five times more effective for targeted users. Your buyer persona should answer the following questions:
Who is my content made for?
What is my audience's main pain point?
Where does my ideal audience live and work?
Which social media platforms do they prefer?
Who does my target audience follow on social media?
Which sites does my audience typically visit?
How would my ideal audience prefer to have their pain point solved?
To build a compelling buyer persona, use audience research tools like SparkToro to study audience behavior online. Send surveys to existing customers and potential customers to discover their preferences.
Lastly, consider mining customer interviews and interactions from colleagues in Customer Services and/or Sales to see how well your product is already solving pain points — and where improvements might be made.
3. Hone your content strategy
We know our goals and our audience. Now what?
Next, it's time to dive into developing a solid content strategy.
Content strategy is a major part of the content development process. It involves researching, planning, and executing content ideas.
Decide which types of content you'll be sticking with:
Will you focus on social media posts or long-form content, or both?
If you're creating long-form content, will you be publishing more helpful how-to posts or thought leadership articles?
Will search engine optimization (SEO) play a significant role in your content marketing?
Which channels will you use to distribute your finished content?
This would also be a great time to set up a content calendar, start creating content briefs, and decide on a brand voice for your articles.
In-depth keyword research using tools like Ahrefs and Semrush will also make your pieces stronger.
Finally, you'll need to decide whether you'll be using in-house resources, freelance writers, or an agency to make all this content you've dreamed about a reality.
4. Write
Now, you're ready to start writing.
In this age of search engines, basic SEO best practices such as incorporating your keyword into your meta title, URL, and meta description make a massive difference to search engine result page (SERP) rankings.
But, don't get carried away writing for the search engine robots focus on readability and sharing helpful information.
Use storytelling and make your content actionable by using examples, illustrations, charts, and other elements.
Ensure that your audience learns from each piece of content, and that you're not simply regurgitating competitor content.
To make the most of your written content, you'll need to collaborate with multiple team members. For example:
While the content strategist creates the brief, an in-house or freelance writer will likely write the content
Ideally, there'll also be an editor on hand to review and fact-check any draft content
To best ensure that everyone knows when it's their turn to contribute, it's wise to use a content hub that supports seamless collaboration. While some teams may perhaps use spreadsheets or Google Docs, Bynder's Content Workflow is a centralized content tool that allows you to automate this process effectively by using content templates, developing content workflows, and accurately assigning collaborator roles.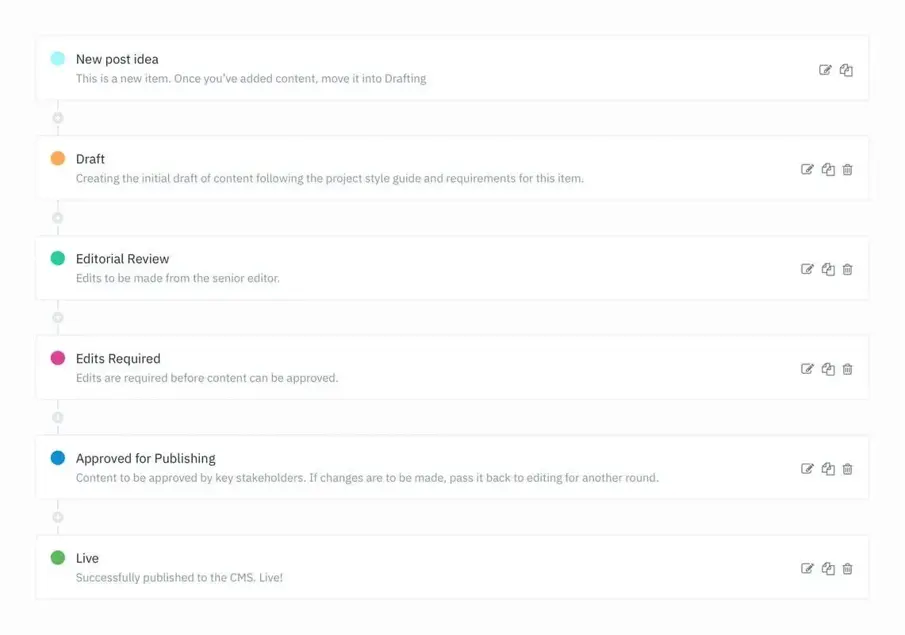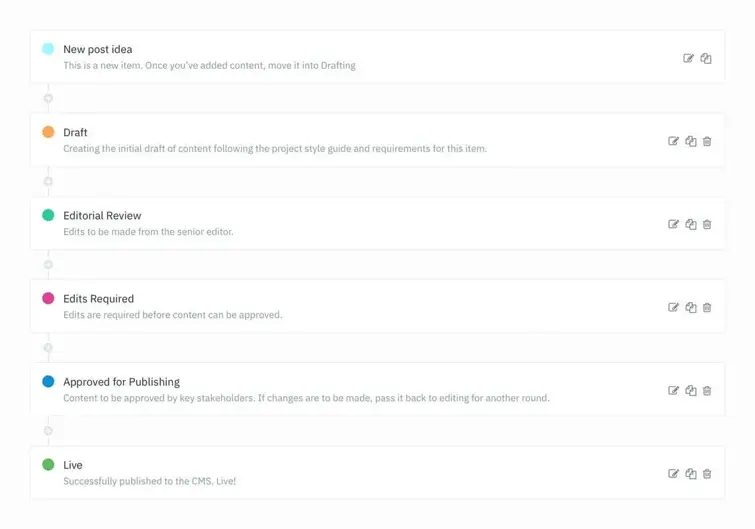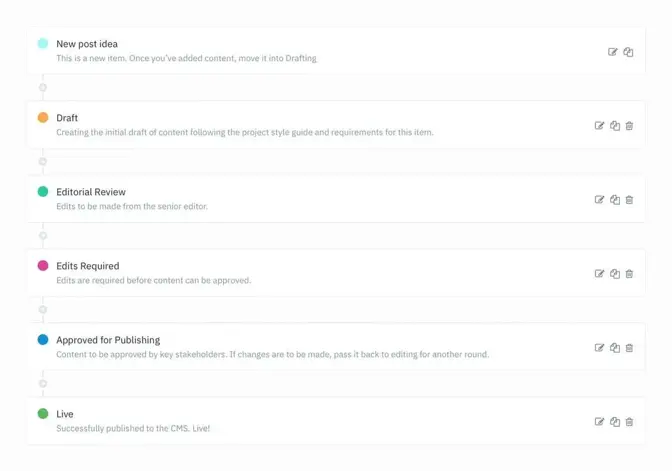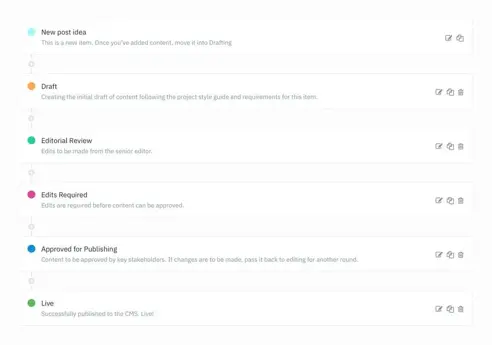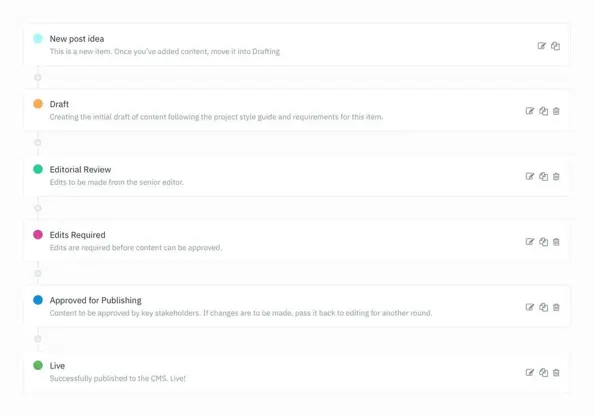 Bynder's Content Workflow blog post workflow makes it easy for multiple team members to collaborate.
5. Publish and distribute
Don't be fooled: hitting 'publish' is far from the final step in the content development process. Still, it's an important step that Bynder's Content Workflow can also facilitate because, with it, you can import your content straight to your content management system (CMS) with zero hassle.
Once the content is live, use your pre-determined content distribution channels (see step #3 above) to promote it. Get the most out of your content by repurposing it. Convert podcasts to blog posts and blog posts to LinkedIn posts. Make YouTube videos using content from past articles.
In short, repurposing content will get more eyeballs looking at the fruits of your labor.
As you publish and distribute, be sure to track each piece of content to see how it performs. You could also think about dedicating some time to outreach activity in order to gain quality backlinks from other sites relevant to your audience.
Content marketing is a 'trial and error' process, and requires that you continuously tweak and refine your strategy over time. The best content, however, comes from weeks — or even months — of planning, research, and goal-setting!
The future of content development
Regardless of your role — whether you're a writer, marketer, CMO or strategist —you'll soon notice the benefits of operating solid content workflows at your organization... The days of using six different tools to ideate, plan, and produce content are long gone!
What's more, the pressure on brands to deliver relevant, high-quality content consistently and continuously is greater than ever before. Audiences and customers demand not only more content but increased content availability across a larger number of channels.
With Bynder's Content Workflow you can create customized content workflows, assign tasks with deadlines, and even integrate your content creation process with third-party apps like Slack and CMSs like Craft and Drupal.
Content Workflow allows customers to unite their teams, exploit the full potential of their marketing content, and bridge the divide between their brands and customers.
Ready to get started? Begin your journey towards smoother management of the end-to-end content lifecycle by registering for a demo of Content Workflow today.
---
---