How does Brandfolder compare with alternative DAM solutions?
Brandfolder alternatives 2023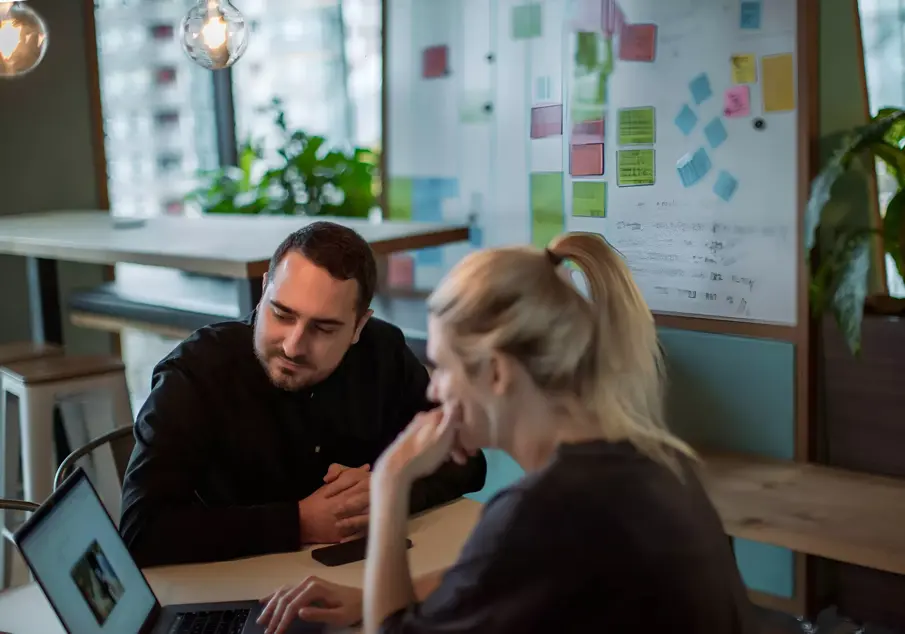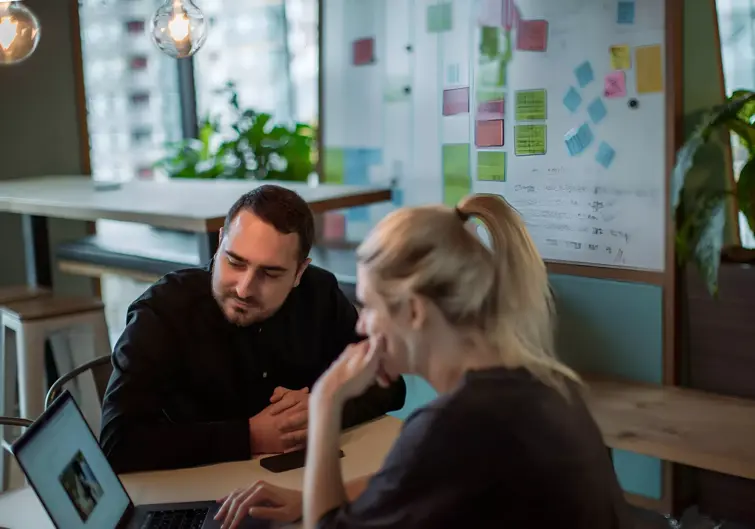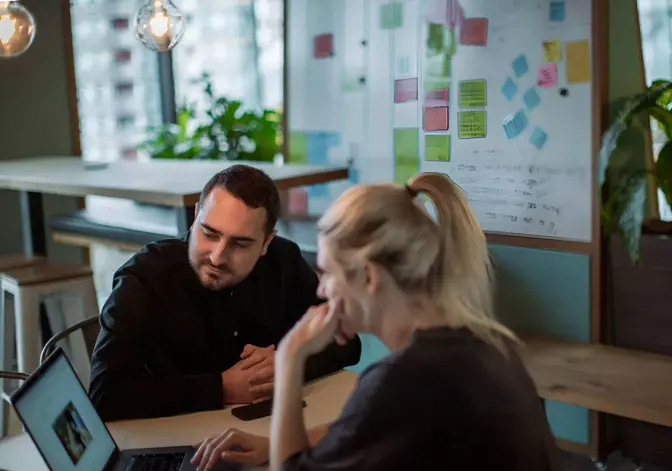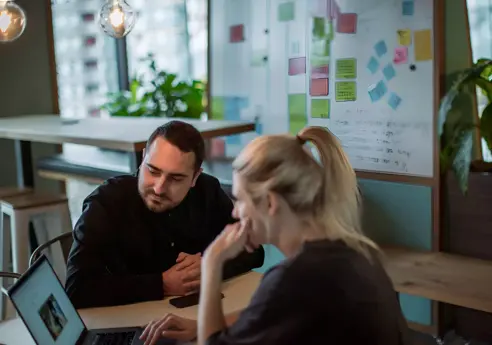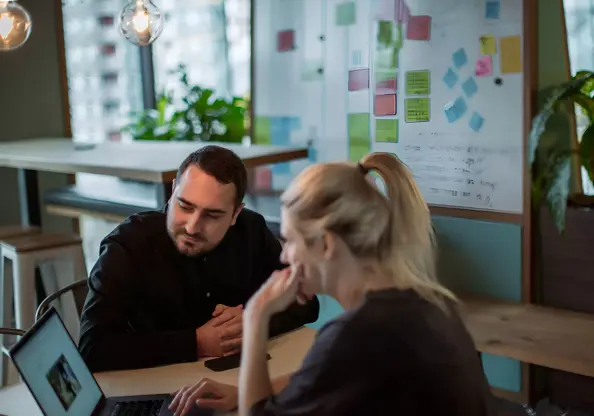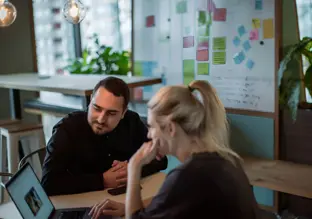 With today's brands vying to deliver exceptional content experiences that stand out from the crowd and keep consumers coming back for more, digital asset management solutions are increasingly seen as must-have investments to create, manage and distribute content at scale. In fact, Bynder's 2023 State of Content Report revealed 85% of marketers intend to position DAM at the heart of their digital ecosystem.
For companies looking to invest in DAM, it can be tricky to know which solution is right for them. Digital asset management platforms come in all shapes and sizes, typically tailored to the unique needs and goals of any given company. To help you make the right decision, this article will provide an overview of typical digital asset management features and functionalities, along with Brandfolder alternatives, including Bynder.
What are the must-have features of a digital asset management system in 2023?
From simple file-storage solutions to robust, multi-modular platforms supporting the content lifecycle from creation to publication, digital asset management solutions don't follow a one-size-fits-all approach. However, there are certain features and functionalities that are a must-have.
Intuitive organization and search: Find the right files fast. DAM solutions should be equipped with a customizable taxonomy to describe files and content, so users can search with terms specific to the organization and its use case.
Bulk uploading and downloading: Save time with the ability to upload or download assets en masse.
File-sharing (including collections): Quickly and securely share digital assets directly from the DAM, both internally and externally – including collections of files for bulk-sharing.
Control access and usage rights: Access and usage permissions enable organizations to restrict how digital assets are used by users. This protects confidentiality, prevents unapproved content from being published, and ensures there are clear rules regarding how any given asset is used.
Asset versioning: Users only have access to correct, up-to-date versions of assets while having visibility into the different iterations uploaded to the DAM.
Asset detail overview: A screen that centralizes and displays all the information and supporting metadata for any given asset.
Integrations: Create a seamless, interconnected digital ecosystem by connecting DAM with other technologies via DAM integrations (i.e. your CMS, PIM, or creative tools). See common DAM integrations.
Typical add-on features
The best digital asset management platforms also have additional features and modules that complement the core DAM features and support the wider content lifecycle.
Automated asset optimization: Automate the resizing, editing, and optimization of digital assets for better SEO performance and a smoother user experience. Learn more about how it works.
Built-in brand guidelines: A digital home for your brand identity integrated within the DAM, so you can ensure everyone stays on-brand when using digital assets and communicating your brand's story.
Creative project management: Manage, track, and collaborate on creative projects from start to finish, ensuring better coordination, fewer bottlenecks, and faster time to market.
Built-in content creation tools: Scale and automate the creation of digital assets, such as images and videos, while sticking to brand guidelines with editable templates. See how it works.
Read on: 5 DAM must-haves for 2023
What are the top Brandfolder alternatives in 2023?
When weighing up DAM options for your organization, there are a few online authorities that offer an independent analysis of DAM vendors on the market – G2, Gartner, and Forrester are great places to start. Read on: How to compare digital asset management software. Below is a list of Brandfolder alternatives, beginning with a detailed comparison of Brandfolder vs Bynder.
1. Bynder: Ranked #1 in G2's 2023 Grid Report for digital asset management
G2 is one of the world's biggest software review sites, providing product ratings by users, for users. In their 2023 Grid® Report, we've received the honor of being rated as the top-ranked digital asset management provider based on our high customer satisfaction and industry-leading product features.
Here are some of the customer satisfaction scores as rated by G2 users:
Quality of support - 92%
Ease of use - 91%
Ease of doing business with - 93%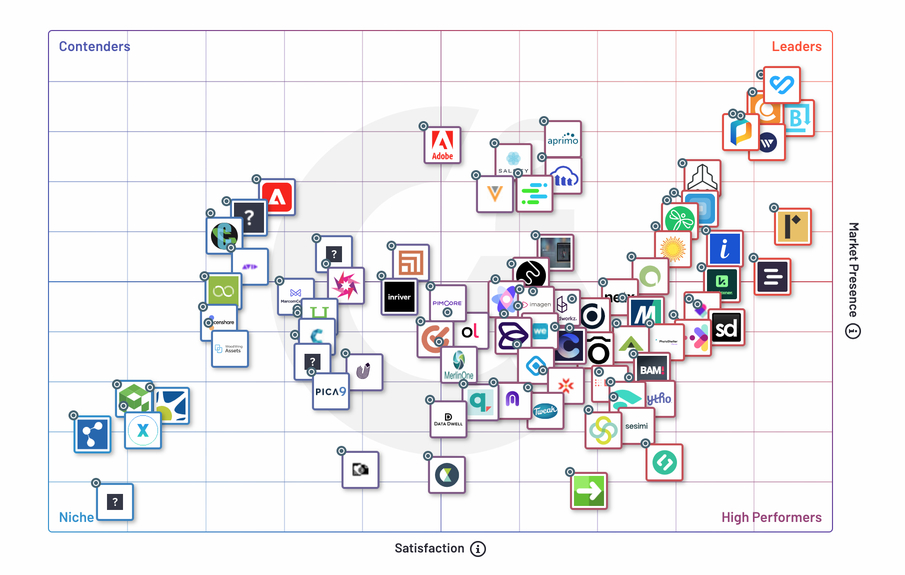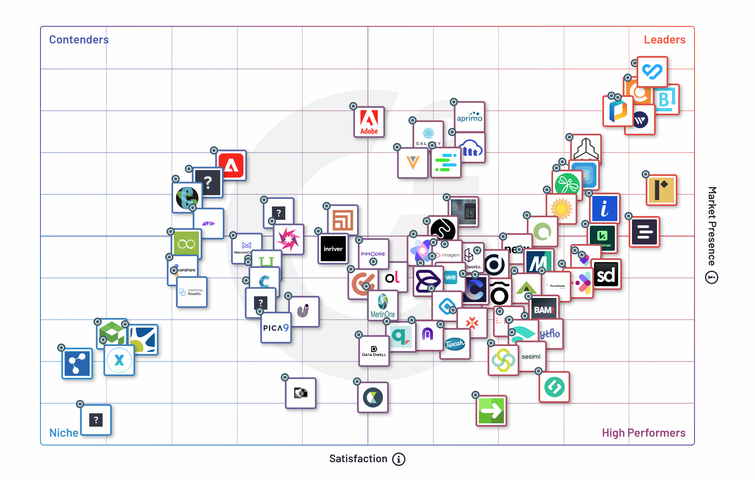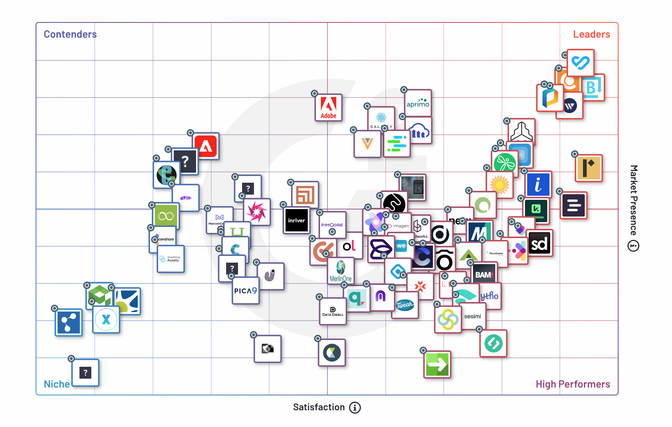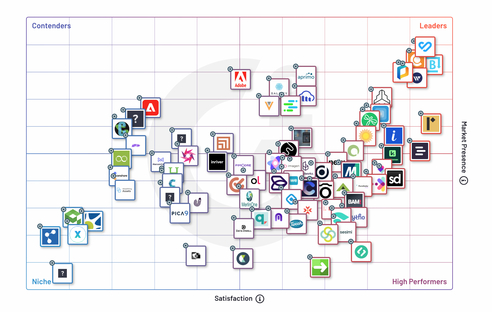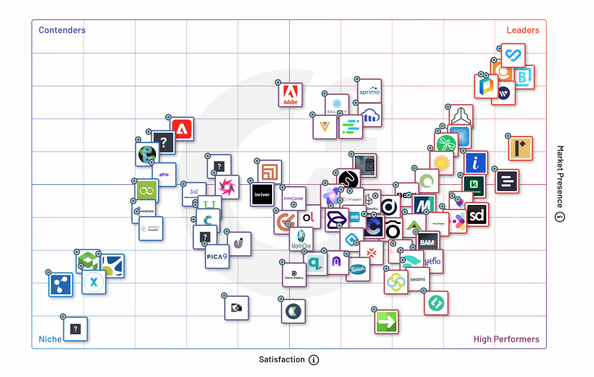 Brandfolder vs Bynder: Bynder's top-rated features
Over 4000 organizations worldwide selected Bynder as their DAM of choice. Here are just a few reasons why G2 and others see Bynder as a best-of-breed solution for your digital asset management needs.
The single source of truth for all your digital assets
Bynder is the only SaaS-based DAM that is multi-tenant, offering a single source of truth for all your brand, campaign, and product-related assets. Its robust functionality, intuitive UI, and wide range of integrations help global teams store, manage, find, and deliver assets more efficiently for a world-class customer content experience.
Bynder offers us a dynamic platform for connecting with our stakeholders both inside and outside the company. It's our central resource for creating, managing, and sharing assets for over 100 AkzoNobel brands.
Sarah Roozendaal
Brand Manager at
Akzonobel
Award-winning onboarding
Unlike other DAM vendors – including Brandfolder – Bynder provides you with three teams of customer advocates offering personalized, long-term support – compared to self-guided onboarding (i.e. pre-recorded training videos) like other DAM providers. By applying industry best practices that have been refined over time, Bynder ensures the solution is properly adopted within your organization, tailored to your unique business goals.
Bynder's onboarding, development, and launch support have been nothing short of outstanding. Our digital assets are in great hands, and our users are thrilled with the tool as well. They have been incredibly attentive to our business and we can't recommend them enough.
Matt Melanson
Digital Media Designer at Arterra Wines Canada
Creative Workflow: Simplify and streamline the creative process
Creative Workflow enables teams to easily collaborate and communicate with both internal departments and external agencies during the creative process – including faster content requests, reviews, and approves – so you can go to market faster.
Built entirely in-house instead of leaning on third-party providers, Bynder's key strength in creative project management capabilities is its ability to handle both small and global enterprise use cases, with millions of users and assets. Bynder can also work with InDesign files, along with Photoshop and/or Illustrator compatibilities.
Running our workflows through Bynder has revolutionized the speed and structure of the production of assets.
Farzana Ali
Creative Service Manager at
Schroders
Content Workflow: Scale editorial content production like never before
Content Workflow is an add-on module enabling organizations to create any type of editorial content at scale using structured text and their approved assets directly from the Bynder DAM—breaking down silos between creative and marketing teams and reducing production time.
Studio: Automate digital content creation with on-brand templates
Studio empowers your teams to create on-brand content in the form of images, videos, and GIFs in minutes directly within the Bynder DAM platform. The creative automation capabilities allow your content designers to build templates that can be personalized and adapted quickly by other stakeholders—no design skills needed.
When it comes to Bynder vs Brandfolder, Bynder Studio allows you to create both image and video assets from scratch in the platform, including in bulk, to meet the demands of high-volume output. Bynder also supports more file formats during import, including PSD, Adobe XML, and Sketch.
With Studio, we have enabled the entire organization to meet the high volume demand that we will need at times. We are set up for success and scale and it truly feels like we are ready to meet the demand.
Danielle Giroux
Creative Director at
Clio
Dynamic Asset Transformation: Optimize asset delivery for better digital experiences
Developed entirely in-house, Bynder's Dynamic Asset Transformation (DAT) connects to the DAM content engine to fully automate the asset optimization process for better SEO performance and visitor experiences. Features include automatically minimizing file sizes, resizing images, enhancing imagery focal points with intelligent AI, and reducing load times. DAT's on-the-fly asset transformation capabilities eliminate the need to manually resize images for every channel, saving time and ensuring a consistent brand experience across websites, emails, mobile, and more.
Brandfolder's corresponding image optimizer is instead a separate product powered by a partner, Fastly, which means they have less autonomy over product development and how it can be tailored to specific customer needs.
Industry-leading security and compliance
Bynder's globally-accessible solutions are upheld by strict policies that govern how all data is handled, ensuring your data is always in a safe pair of hands. Bynder is ISO 27001:2013, ISO 27018:2019, and ISO 22301:2019 certified and GDPR, CCPA, and HIPAA compliant, pledging to protect your privacy at all times while ensuring you don't end up a statistic of security error.
Compared to Bynder, Brandfolder misses out on certain certifications such as ISO, HIPAA, and PCI-DSS compliance, which might be an issue for organizations with customers that require a high standard of security and data privacy, such as legal or healthcare companies.
See how Bynder helped to streamline communication for Queensland's largest healthcare provider in the wake of COVID-19.
Other Brandfolder alternatives in 2023
Aside from Bynder, here is an overview of other Brandfolder alternatives within the digital asset management space.
2. Widen Collective (Acquia DAM)
Widen (now an Acquia company) is one of the longest-running DAM vendors out there, offering a cloud-based, full-service digital asset management suite that particularly appeals to mid-to-large-sized businesses. In their own words, Widen "helps marketing, sales, and e-commerce teams find what they need, coordinate workflows, and publish content."
Widen's 'Portals' capabilities are a strong USP compared to other vendors, with the ability to easily create multiple DAM environments within one solution – a big plus for organizations managing a portfolio of sub-brands and/or use cases. However, as Widen is not SaaS-native, the UI and UX aren't always the most intuitive for customers.
3. Canto
With over 30 years of experience in the digital asset management industry, Canto is another strong player offering "one location for all of your digital assets.". SaaS and cloud-based, Canto boasts a rich offering of integrations with other technologies and tools – including YouTube, Twitter, Slack, Mailchimp, and plenty more high-profile names. Its pricing is also competitive, and may appeal particularly to smaller-sized businesses.
However, Canto's features and functionalities may be a little on the lighter side for those organizations looking for a more comprehensive solution with complex use cases.
4. Aprimo
Aprimo is a best-of-suite solution enabling organizations to "manage content planning, creation, and distribution all in one place to get on-brand, personalized customer experiences to market faster." Aprimo describes itself as an "AI-powered content operations platform" and therefore has a strong focus on automation.
While highly customizable, the custom add-ons can take a lot of time to implement, with additional costs quickly adding up. Aprimo is also light on features compared to many other vendors in the DAM space, making it less than ideal for larger businesses.
5. Adobe Experience Manager
Another best-of-suite solution, Adobe Experience Manager "combines digital asset management with the power of a content management system." AEM boasts a comprehensive suite of products tailored to marketers and creatives, built entirely in-house.
This makes it an attractive choice for larger-sized enterprises, especially if they complement the DAM solution with adjacent Adobe products. However, this focus on native development makes integrating with tools outside its own ecosystem difficult, and its infrastructure can be costly and complex to maintain.
Wondering if Bynder is the right DAM for your organization? See for yourself
Over 4000 organizations worldwide use Bynder as their brand's digital home for delivering exceptional content experiences. From centralized file storage and secure asset sharing to better brand consistency and project collaboration, we have a tailored solution to fit the needs of each and every customer. Why not see what Bynder can do for you with a free demo?
---
---