How to build a fashion empire on Instagram in 5 simple steps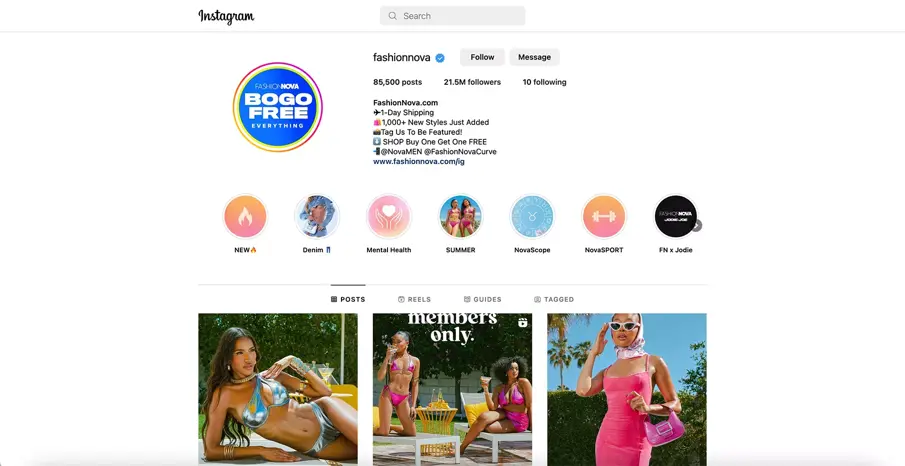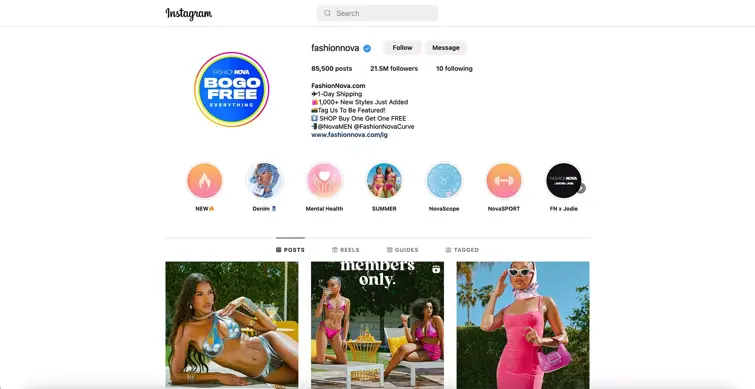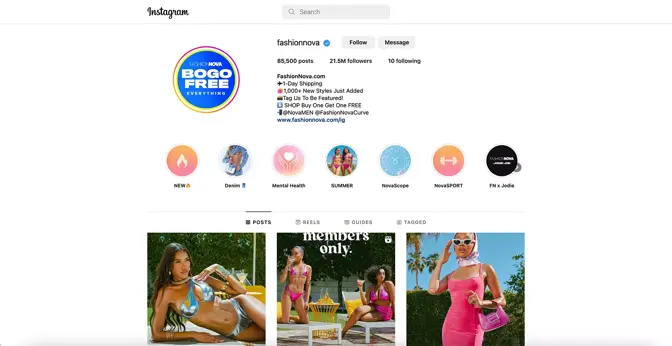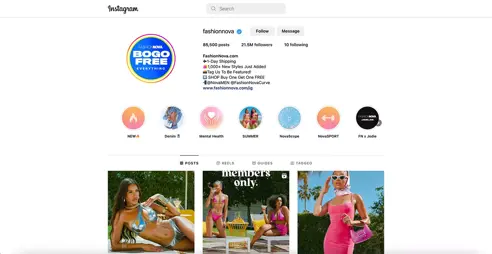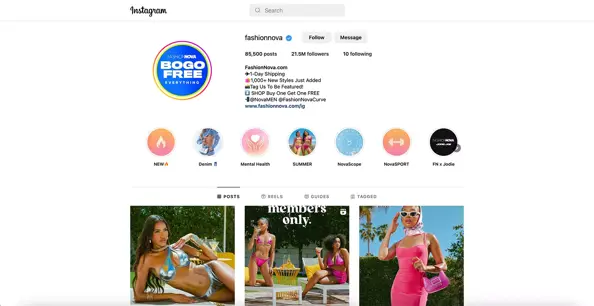 Clothes shopping at actual stores can feel as old-timey as strolling into a travel agency to buy plane tickets. So, while some women form book clubs, our circle of friends hosts online shopping parties (BYO bubbles and laptop) each month on payday, where we hit both the bottle and the 'Buy Now' button with enthusiasm. It's even more fun than it sounds.
While scrolling for inspiration, we've noticed a brand with a distinctive Kardashian-esque vibe taking over our social feeds one pair of distressed, super high-waisted jeans at a time.
Described as a "viral" fashion brand, the California-based Fashion Nova remains one of the most searched for on Google, and boasts an Instagram following of 11.5 million.
Fashion Nova know who they are and who their customer is. They make the sort of clothes your aunt would comment on at family get-togethers; for girls who would absolutely have a tart comeback up their on-trend bell sleeve.
And, while their branding is air-tight, what's most impressive from a marketer's perspective is the company's explosive growth by way of a ground game focused solely on social media. Fashion Nova is a textbook 'Insta boutique', and one of the most successful.
Wondering how they do it? Read on for our top five tips for building a fashion empire on Instagram:
1. Be where the people are
Millennials aren't watching the Super Bowl, roaming through high street stores, attending runway shows or thumbing through catalogues. They're on Instagram, with 18-25 year olds spending an average of 32 minutes on the app every day.
So, that's where Fashion Nova focuses its efforts. The brand itself was founded and scaled by obsessing over what It Girls wear on social media, and churning out wallet-friendly designs inspired by their feeds. Turnaround times are remarkably short—pieces are available a few days after the post is first seen—and a whopping 400-600 new styles are released weekly.
Fashion Nova's Instagram following is growing by 40, 000 per day, and its feed is about as subtle as a brick through a shop window. Each post begs to be double-tapped, commented on, or shared. A fresh snap, hashtagged to the hilt, is uploaded every 20 minutes. The ratio of words to emoji is preposterous.
Clearly, it's all paying off. With negligible above-the-line advertising spend, the four-year-old company has gone from zero to seven hundred employees real quick, and grew by a staggering 600% in 2017 alone.
The takeaway? Work out which platform your audience uses most, and how, and give it the lion's share of your marketing dollars and time. Sometimes, putting all your eggs in one basket makes sense 🐣.
2. Gather your squad
Fashion Nova clothes are modelled by uniformly curvy women, and, crucially, #NovaBabes—loyal customers and a gang of more than 5, 000 influencers sharing 🔥selfies from their beds, bathrooms, and beyond.
Most receive free clothes, but household names are paid. Collectively, the latter represent every layer of modern-day fame: from American rapper Belcalis Almanzar/Cardi B, to Baddie Winkle, Danielle "Cash Me Outside" Bregoli, and several members of the Kardashian/Jenner clan.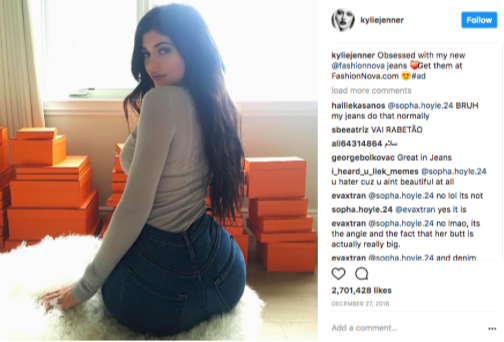 Just one post from Kylie Jenner—who recently made headlines for wiping $1.3 billion from Snapchat's market value with a single tweet—translates to a $50, 000 USD spike in sales. Let's hope Fashion Nova stays on her good side!
While you can't go sliding into Kylie's DMs, just remember: everyone's an influencer. You don't need the backing/backside of an A-lister to influence buying behavior—a recent study shows fans and brand advocates drive the most engagement at 8.0%, while celebrities sit at 1.6%. So, create a catchy hashtag, encourage and reward user-generated content, and build a tribe around your brand.
3. Accessorize with the right tools
Instagram, Facebook, Snapchat and Pinterest are developing a slew of Shopify-integrated products to support 'social commerce'—the use of social media in the context of e-Commerce transactions.
The most impactful is Instagram's 'Shop Now' feature, which until recently was only rolled out as a beta version for big brands like Warby Parker and J.Crew.
As well as providing a better UX, the rise of shoppable posts and in-app purchasing brings a time-honored tradition of brick-and-mortar shopping—the impulse buy—online. In fact, many offline activities now have online equivalents: consider ad formats such as Facebook's Carousel, which woo fashion lovers with an experience akin to flipping through a print catalogue or glossy magazine editorial.
If social shopping is so easy (and fun), will webstore shopping soon be deemed as dead as retail? Or—will physical retail always hold a special place in our hearts, while video (social commerce) kills the radio (webstore shopping) star?
It's too soon to tell, but in the meantime, here's a brilliant social commerce toolkit to get you started.
4. Tap into #millennial culture
Fashion Nova stands out because it taps into an online culture highly specific to 18-25 year-old women.
The team observes the audience's patterns of behavior, engagement and communication on Instagram to inform everything from their clothing design to content marketing strategy.
Consider the unapologetic, by-women-for-women sexiness of their creative. Or the collection names, which are essentially in-jokes between Fashion Nova and their #NovaBabes: 'Netflix and Chill', 'Evil Kermit', 'Internet Famous'.
They even make their own memes!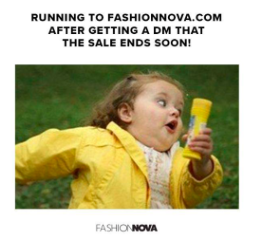 Take some time to learn who your customers are on social media—how they talk to each other, their sense of humor, the celebrities or influencers they admire, the pop culture references they make, even the hashtags and emoji they use. Do this, and your brand is set up to leverage an existing conversation, not start a new one.
5. Organize your (content) wardrobe
A social and mobile-first strategy demands great content, and with great content comes a great workload.
Imagine how many product shots are required when you're turning out 500 new styles per week! Even for much smaller outfits, creative operations such as content production, management and distribution chew up a lot of time.
Digital asset management software such as Bynder can help—a DAM professionally manages your creative files and makes the job of your brand/product manager, e-Commerce director, merchandiser or social media marketer that much easier.
Read more about how DAM and fashion are the perfect pair here.
Fashion Nova's meteoric rise to fame may not be replicable, but the tactics they've used to get there are. Take a leaf out of their book, and you could be laughing all the way to your online banking account.
---

---