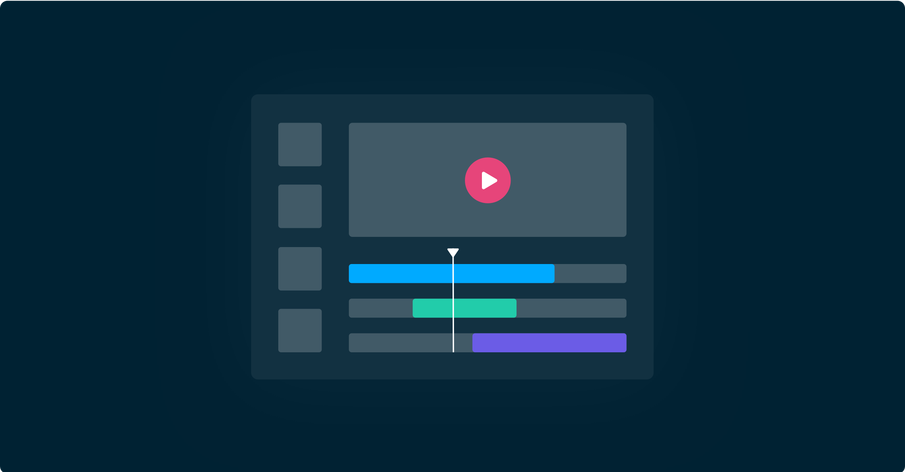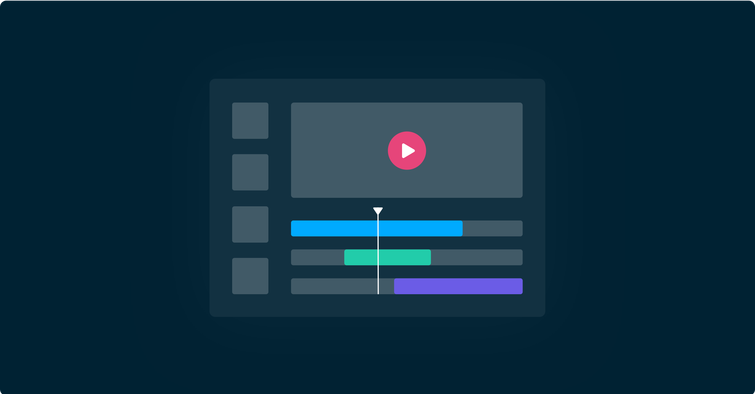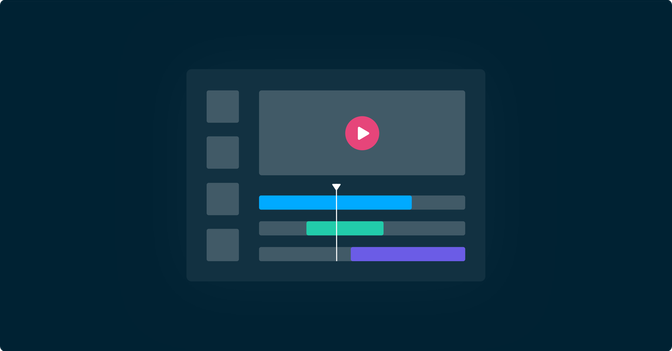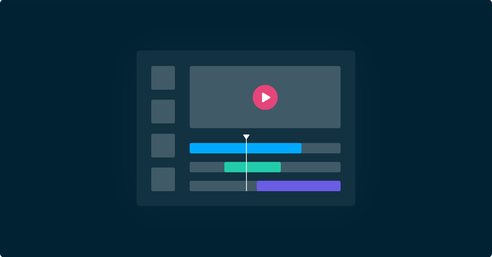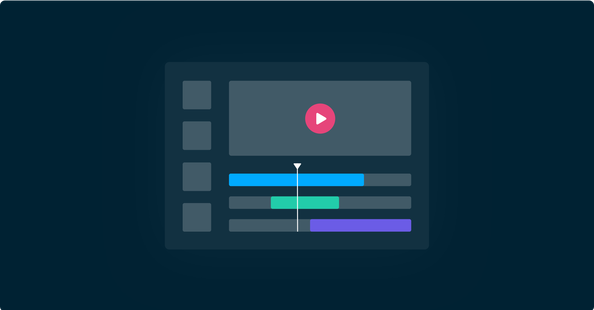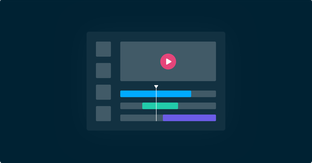 The shift to more video content is one of the most noticeable marketing trends in recent years. People are consuming videos more avidly than ever before and marketers have noticed—videos drive traffic, sales, and downloads; create leads and increase time spent on pages.
According to a recent poll, 85% of marketers already use video as a key part of their marketing strategy and 99% of these claim to continue using it in the future. Consumers prefer video content to any other form of content and video alone is right now the single best marketing tool to drive ROI, with a staggering 88% of marketers satisfied with the ROI of their video marketing efforts on social media.
But some companies struggle to incorporate video into their marketing strategies due to lack of expertise, lack of in-house creative resources, or lack of easy-to-use tools to create and distribute video content. Video asset management is the single solution to these problems.
What is video asset management?
Video asset management is a class of software designed to meet the growing demand for video. It combines video creation and modification tools to quickly create and update high-quality marketing videos, without any editing skills. Video assets are conveniently stored in a central library and can be retrieved, shared, and distributed across channels automatically.
Creating video content at scale is still challenging for many companies. By crafting each asset one at a time, as they have until now, they can't keep up with the exploding volume and the rapid turnaround that digital marketing requires.
Designed to simplify the whole creative development process, from creation to distribution, video content management software comes to the rescue of every company planning to increase their video output.
How does video asset management software work?
It all starts with the DAM
As with many other files aside from video, a digital asset management system like Bynder gives teams a better way to organize their content so that everyone's on the same page. Conveniently stored in the DAM, video assets are always up-to-date, on-brand, and accessible by the right people.
Bynder uses a powerful file-filter structure that is configured to your use case, helping you find what you need in an instant. Video files are assigned metaproperties upon upload, which can then be used to filter results when you're looking for that one particular video.
With Bynder, all files have version control. So, when a video is updated or edited, the original file is automatically overwritten, and there's no need to reshare. And by leveraging collections or setting permissions and expiration dates, assets are shared conveniently and securely without ever compromising brand identity.
A tool to empower marketers and creatives alike
As a cloud-based video asset management solution for creating, adapting, managing, and distributing video content, Bynder's Studio is fully integrated within the Bynder platform. Designed to make video creation attainable by anyone, regardless of skills, it rocks an easy to use timeline editor that allows marketers to create on-brand videos from scratch.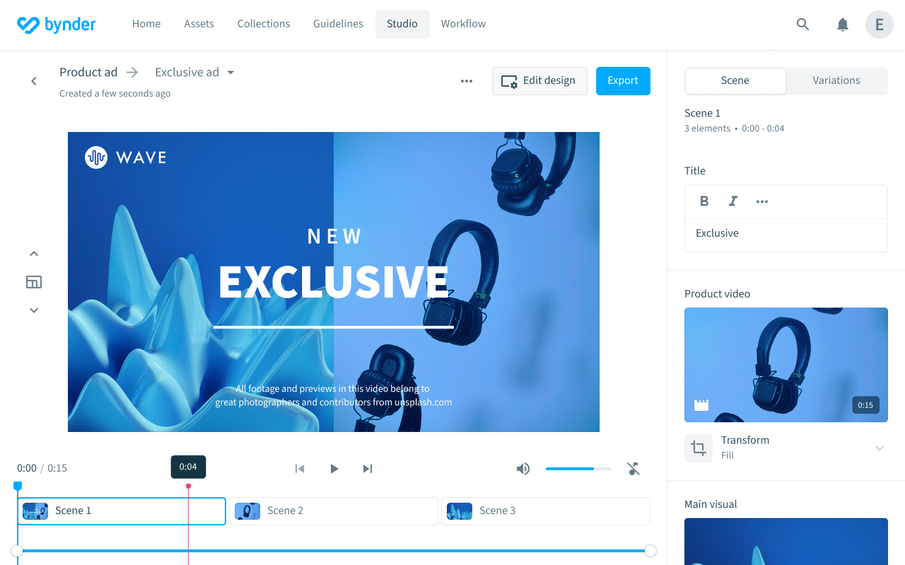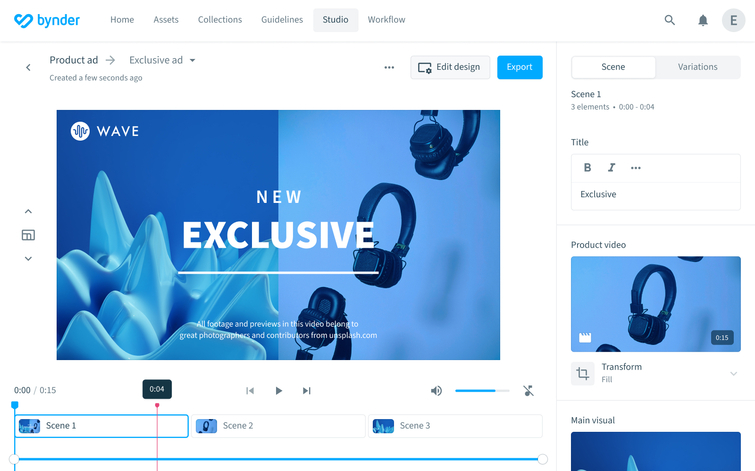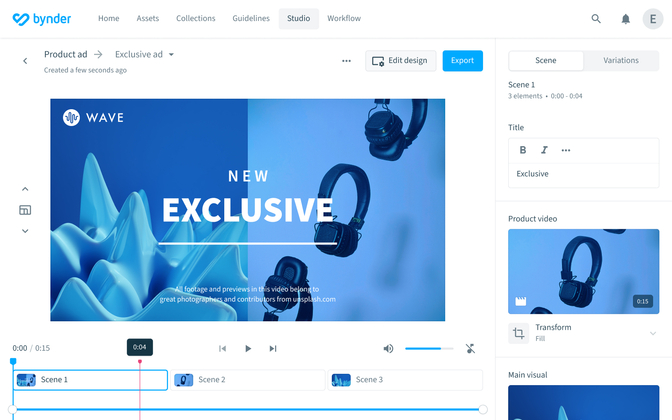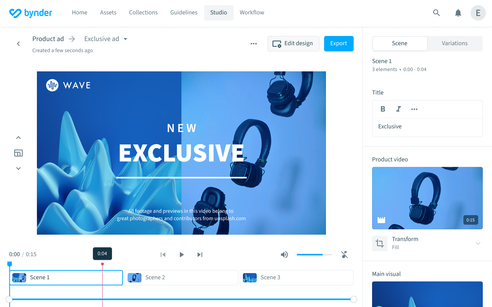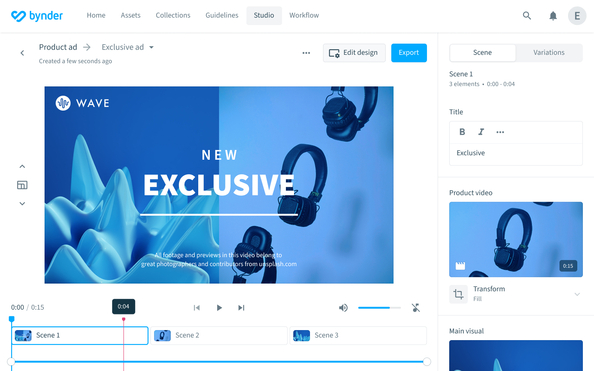 To keep up with market demands and boost the production of high-quality, on-brand video content fast, Studio is designed to scale the video creation process using batch creation tools, and automate data-driven creation based on external data feeds.
Distributing video assets manually is one of the most time-consuming processes in marketing and it can lead to mistakes along the way. Video content management tools like Studio automatically distribute your videos directly to Facebook, Instagram, and YouTube and use insights into video performance data from Facebook and Instagram to improve existing campaigns or guide the creation of new ones.
Watch Studio in action:
What are the benefits of video asset management software?

Video management software like Bynder's DAM and Studio comes with a number of features that benefit marketers at each stage of the video content lifecycle and allow them to:
Effectively test and optimize by creating content variations to enable creative optimization within ad platforms;
Quickly resize creative assets to fit multiple online and social media ad formats;
Easily localize and adapt content to local markets and languages;
Better target specific customer segments with image and copy variations that fuel segmentation and personalization;
Boost channel marketing by enabling distributors, resellers, and other third parties to create brand-compliant content for their territory or region;
Leverage data-driven asset creation and automated content updates.
Find out more about how Bynder's video asset management solutions can help your organization boost video content production at scale. Book a free demo now 👇
---

---