Digital transformation isn't just about tech stacks and workflows and operational efficiencies—it's also about experiences. 
Envious of the cool things you see your competitors doing lately? The fear of missing out (FOMO) is real—especially for brands who are looking to take market share and achieve growth in today's rapidly changing world. It's not just the marketing that makes brands envious—it's the fear of missing out on the right technology, the best hires, and the quickest processes. Seeing another company figure out digital transformation leaves one in both awe and envy.
Transforming customer experiences
But digital transformation isn't just about tech stacks and workflows and operational efficiencies—it's also about experiences.
Consider the way that businesses are using artificial intelligence to create new shopping experiences for their customers. E-Commerce giants Walmart and Amazon have both made steps towards transforming the customer experience. For example, Walmart recently rolled out a test store—the Intelligent Retail Lab, an AI augmented in-real-life (IRL) shopping experience. The main goal of the project is to free employees from manual tasks so they can spend more time engaging with customers and providing the best customer experiences. Contrast that to Amazon Go stores, which remove the store associate entirely, and offer a completely self-service customer experience. They are two different takes on how to transform customer experiences and are both excellent examples of digital transformation initiatives.
Before you get too much FOMO about not having AI-powered customer experiences or associate-free stores, it's important to remember that a solid foundation for these types of initiatives is key. No brand wakes up one day, CRM-less, DAM-less and MAP-less and approaches AI first.
The tech table stakes
Companies need not grab every new emerging tech toy to reach new customers (although the temptation is real). More tech is not necessarily a good thing. Companies should start with a solid foundational tech stack that allows for internal operational efficiency—DAM, CRM, MAP, PIM, ERP, CMS. Those are the tech table stakes.
Next, companies must use the rest of their resources wisely, doubling down on strategic investments to move the needle in the most impactful manner. But which way should your organization go? It depends. Organizations should consider these three models—adaptability, scale, and efficiency—to see which focus makes the most sense for them.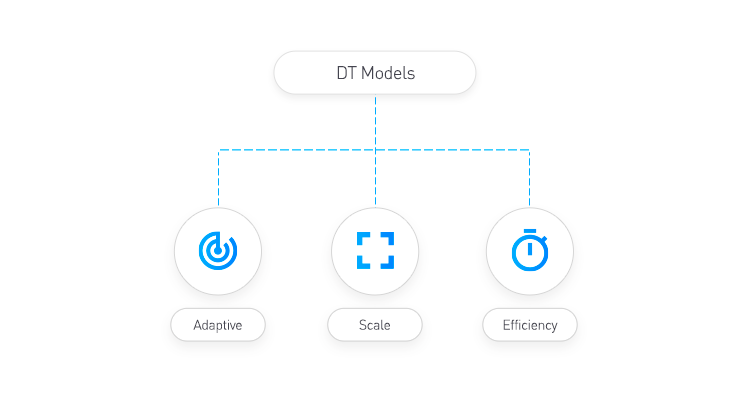 Now, let's look at some examples of brands that fit into each model and the benefits that they see from utilizing digital asset management for digital transformation initiatives.
ADAPTIVE: Brands poofing entire markets into existence
Brands that focus on the adaptive model for digital transformation are hyper-focused on disrupting and innovating—creating markets that might have never even existed before (think CBD oil or the cannabis market in the U.S., or plant-based synthetic meat manufacturing companies like Impossible Foods.)
These types of companies see increased speed to content and greater regulatory compliance as key benefits for utilizing digital asset management:
Speed to content: The latest content and digital assets are available 24/7, anywhere, enabling marketers to seize opportunities as quickly as they arise and distribute assets to sales and dealer networks.
Regulatory compliance: Digital rights management capabilities make it easier to enforce regulatory requirements on content and assets.
SCALE: Brands maturing and achieving hypergrowth
The main goal of brands focused on the scale model for digital transformation is growth in emerging markets (think clean energy companies like solar panels, electric cars, hybrid food-tech-transport-delivery companies like Uber Eats, Instacart or even gaming companies like Epic games, the makers of Fortnight.) These types of companies are focused on rapid growth and need tech and process management to empower employees.
They see increased self-service access and accountability as key benefits for utilizing digital asset management:
Self-service tech: Employees need the ability to access assets themselves, without having to hunt down files manually.
Accountability: Organizations scaling need official systems of record that keep the digital chaos at bay, allowing accountability and tracking of information and digital assets in a system of record.
EFFICIENCY: Brands competing in a crowded space
Brands focused on the efficiency model for digital transformation are used by organizations aiming to extract maximum profit in a stable market. These companies are trying to get the attention of customers in an already established market. Branding and marketing messaging are absolutely vital to capture attention.
Brands that utilize this model use best-of-breed tech like Salesforce, Workfront, Asana, and Bynder. See a specific example from the MarTech Conference Stackie Submissions for 2019 below: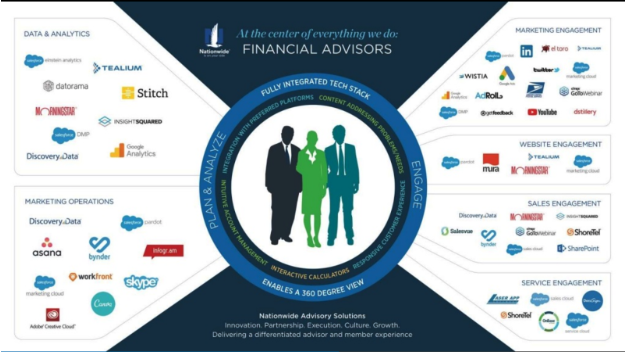 These types of companies see sales enablement and better content operations as key benefits for utilizing digital asset management:
Sales enablement: DAM for sales enablement means that sales teams have a content library at their fingertips in order to engage prospects with the right content at the right stage in the buying process.
Better content operations: Employees gain better oversight into what content exists and the DAM gives them the ability to easily create, store, organize, tag and share content.
Ready to end the FOMO? Request a free demo of Bynder and start realizing the benefits of digital asset management today.
---

---