A Game-Changer For Your Digital Media Supply Chain
A game-changer for your digital media supply chain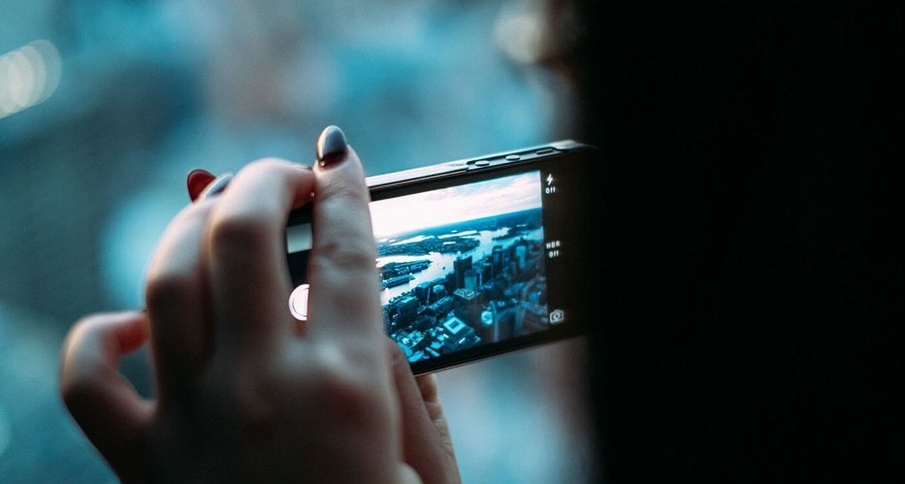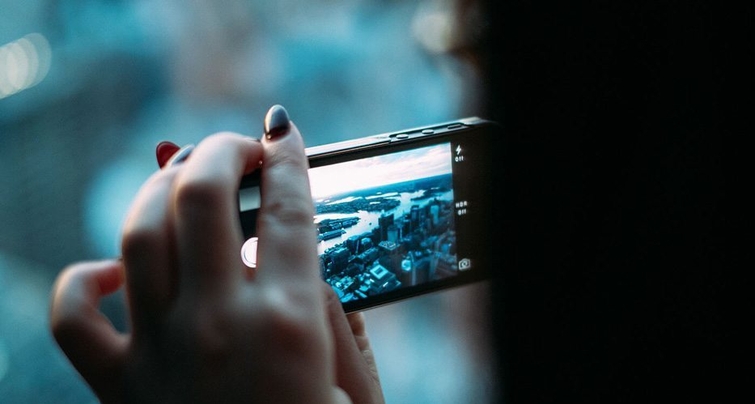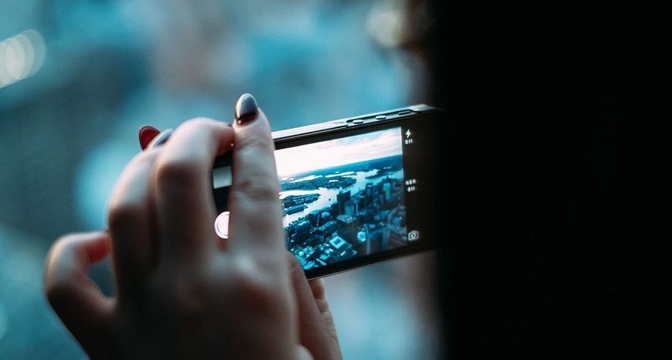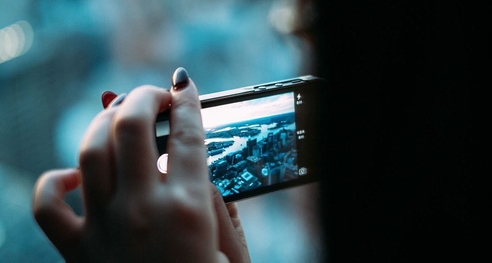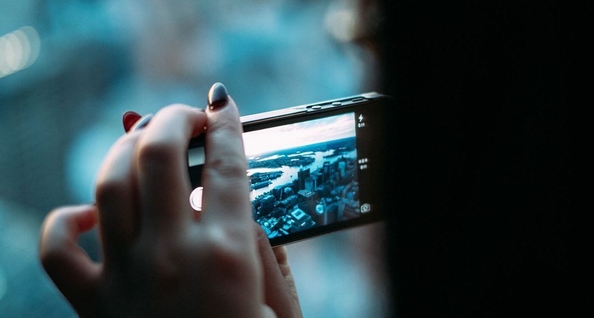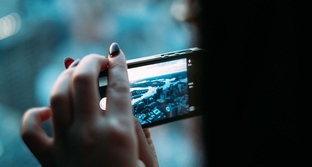 We live in a world that is becoming more and more digitalized. Having caught on to the trend, most corporations, both small and large, try to keep up and profit from the fast pace of advancement in technology.
Eighty years ago, publishing media was as simple as writing an article, printing it, and distributing it, yet this is no longer the case as print media is largely on the decline. Consumers have choices as to how they wish to receive their media, meaning companies nowadays have to focus on multichannel delivery. Of all the channels along which media is transferred from producer to consumer, digital media consumption is increasingly becoming the norm.
Digital Asset Management and Workflow
Organizations, in turn, are switching to online tools such as workflow and web-to-print, that provide a cheaper and quicker way to create, edit, and publish collateral. Having an integrated Marketing Resource Management solution can be even more advantageous as it allows for better searching, organizing, converting, tracking, and distributing of collateral. Incorporating a workflow tool into an exisisting Digital Asset Management system is crucial for any company that values efficiency. By ensuring assets are easily findable, firms gain a competitive edge as the time and money they save on administration can be spent on more valuable projects.
Here at Bynder, we like to keep our ear to the ground, which is why a year or so ago we decided that our Digital Asset Management (DAM) solution was only the first step to providing clients with effective management of marketing materials. This is how we ended up adding more and more features to the DAM, until we found ourselves with the multifaceted solution we like to call the Bynder Brand Portal.
The increased efficiency of communication facilitated by a workflow tool eliminates the need for long, attachment-laden email threads. Moreover, since Creative Project Management (Bynder's workflow tool) is heavily customizable, any type of job can be created and carried out exactly how you want it to be, making it an ideal setup for your digital media supply chain.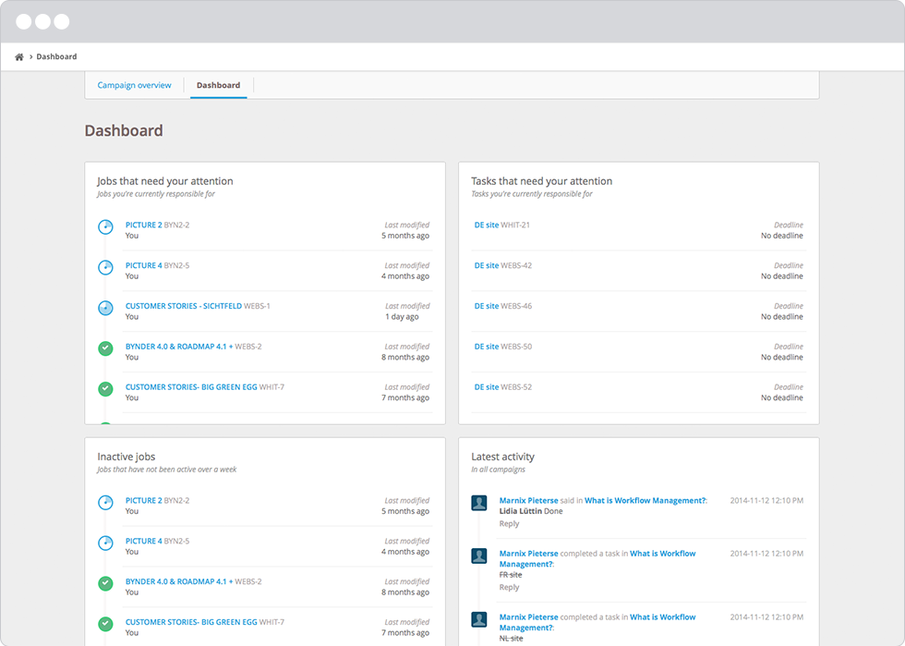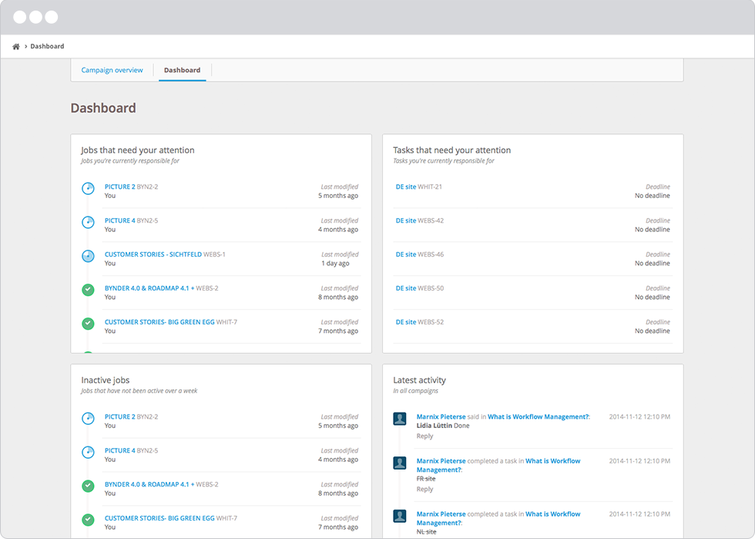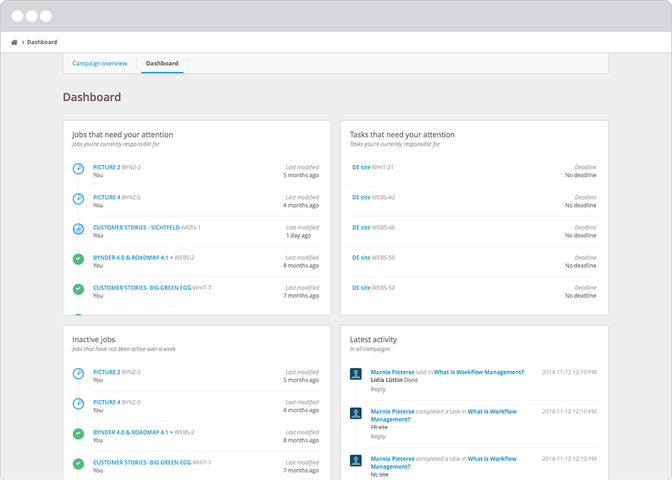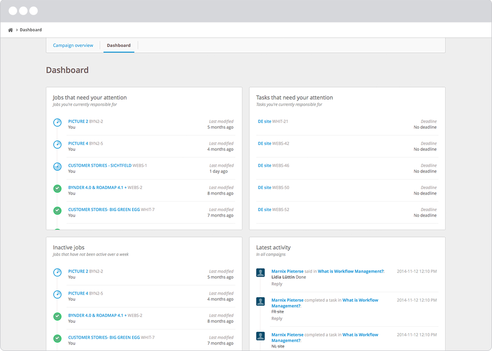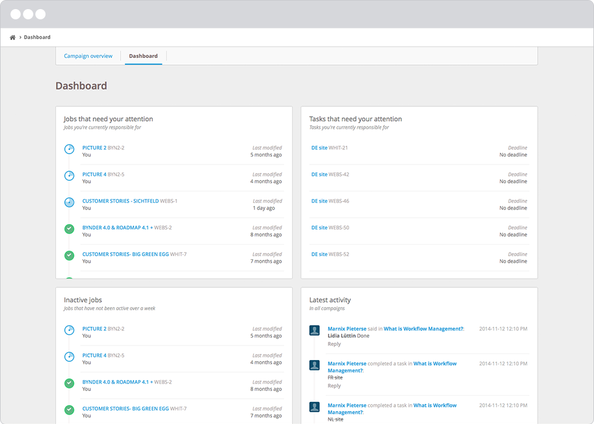 In order to better the digital experience for our customers even further, we recently improved the functionality of our Creative Project Management tool. It is now easier than ever to track the progress of your projects and search for jobs. The interface is now split into four categories: jobs that need your attention, tasks that need your attention, inactive jobs, and latest activity. We feel that such a change was needed to give a more thorough overview of everything that concerns you or needs your input, which jobs require your immediate attention, and what everyone else is currently working on. We are positive that you will love this usability update.
Streamlining Marketing Resource Management
From creation to distribution, digitally streamlining processes makes sense. In fact, in our experience, a company that already works with a Marketing Resource Management solution would find it almost impossible to switch back to the traditional (if antiquated) non-digital way of working. The benefits of a SaaS-based MRM solution greatly outweigh the disadvantages, which, in either case, are close to none. Built-in reporting features even ensure that budgets and team members can be allocated more effectively to projects. Meanwhile, the SaaS structure also allows for enhanced file security, which previously was a costly thing to ensure.
To learn more about Bynder's Creative Workflow, click here.
---

---