Google Waves Goodbye to Conventional SERPS: Will You Be Affected?
Google waves goodbye to conventional SERPS: Will you be affected?
It's here and it's happening.
On February 19th, Google confirmed that after years of testing, text ads in the right sidebar will no longer show in the desktop search results. The change will see the traditional ads replaced by a maximum of four text ads displayed above the organic listings, and an additional three at the bottom of the search results page.
So, what does this mean for advertisers and online marketing strategists?
In this Bynder blog post, we'll be summarizing everything you need to know about the new layout of Google's search results page—including how to best make it work for you.
Google; what did you do?
Text ads in the right sidebar are no more. The empty space may be used intermittently to show Product Listing Ads or Knowledge Graphs. With three or four ads displaying at the top, and three at the bottom of the search results page, the number of paid ads decreases from 11 to a maximum of seven.
When speaking of the update, a Google spokesperson said: "We've been testing this layout for a long time, so some people might see it on a very small number of commercial queries. We'll continue to make tweaks, but this is designed for highly commercial queries where the layout is able to provide more relevant results for people searching and better performance for advertisers."
Highly commercial queries, according to Google, are searches where people express a deep intention to buy. Think of a search query like 'hotel in Amsterdam'. Keep in mind, however, that Google's definition of 'highly commercial queries' might not be the same as your definition.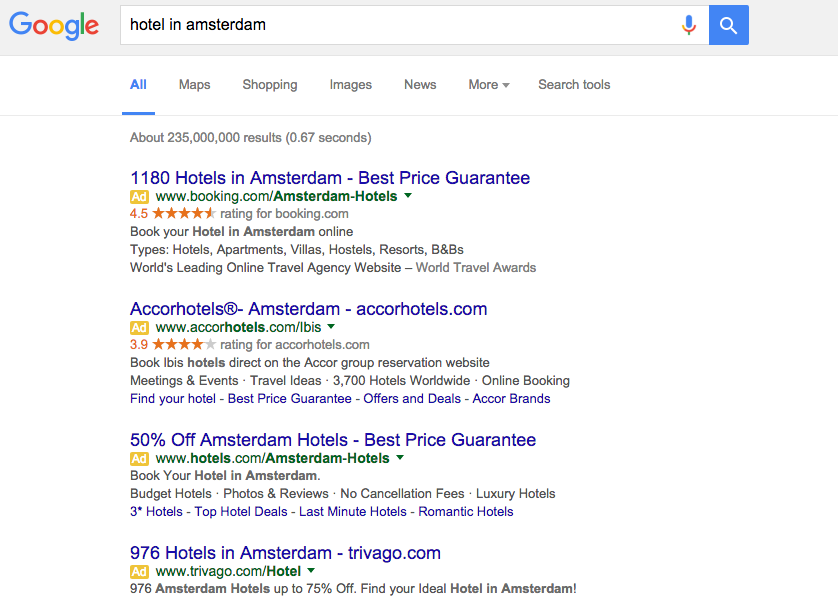 And why?
Good question. It's tempting to think that Google's decision was commercially driven—an easy way to increase CPC and thus, their revenue. But would Google really sacrifice its own user experience for this? From a user-friendly design point of view, how can the empty space be explained? Then again, decreasing the number of ads on the search results page means only the best advertisers will be shown— which is in line with Google's statement that '[…] the new layout provides more relevant results […] and better performance for advertisers'—meaning user experience should actually improve. Google's SERP change also aligns the desktop and mobile experience, as mobile never showed sidebar ads in the first place. Regardless, Google leaves us with a lot of unanswered questions.
What does it mean for online marketing strategies?
Google's major SERP update has been implemented globally and will affect all languages. However, as the change was officially rolled out just a week ago, it is too early to say what the exact impact is. It will most likely affect CPC, CTR, impressions and average positions for a large number of queries. Simple supply/demand calculations would expect CPC to go up, but what if advertisers don't want to pay that much?
With the whole space above the fold being filled with paid ads, organic results will be pushed down even further, especially when local or other forms of paid results are being shown, so what will this mean for CTR of organic results? Sounds like a good opportunity to focus even more on improving your SEO strategy.
It's been one crazy week in Google land. Removing the ads in the right sidebar of the search results pages created many questions and a variety of opinions. It might be too early to see the actual impact, but it's already clear that, unless you want to pay full price for your ads, a change in online marketing strategy should be top of your list.
Do you think Google's SERP change will affect you? Let us know in the comments below! Want to read more about Google? Check out our thoughts about Google's brand makeover.
---
---