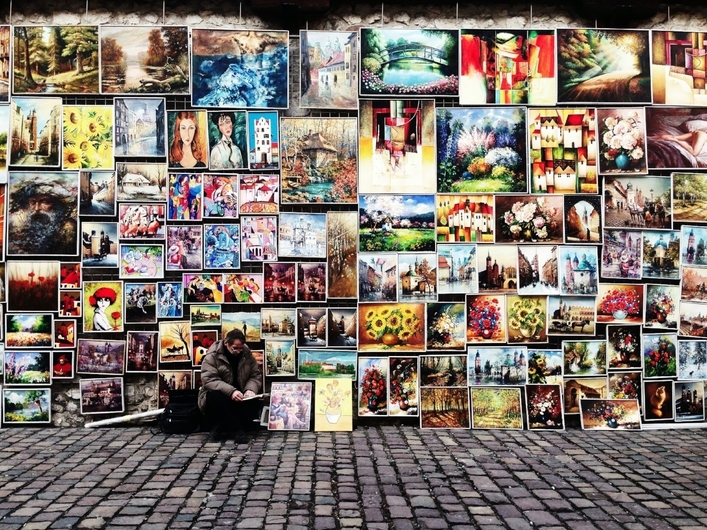 When you're staring at five thousand works-in-progress, to-be-dones, and final photography assets, it may seem like an impossible task to provide any sort of structure to how they're organized. You could spend all day tagging: both batch-tagging in bulk and individually tagging, without even making a dent in your collection.
We understand your frustration; maybe it's time to realize that no single person can do it all. But there are certainly ways to organize your images that don't leave you with the urge to throw your computer at the wall. Check out these five tips to better manage your digital image collections:
1. Create an in-house DAM team
A governance team of dedicated 'metadata taggers' can be a gamechanger to help you tag digital images, audit and manage file requests, and even archive or decommission digital media in your library.
This is a great way to manage the responsibilities of DAM if your company doesn't have a budget for a DAM-only staff. Those on the governance council can be assigned specific responsibilities and also dedicate a percentage of their time to working on DAM-specific projects.
Some typical examples of how companies could allocate percentages of time for DAM:
IT Project manager: 80% of time dedicated to marketing IT projects, 20% DAM projects
Marketing department team member: 70% Marketing activities, 30% DAM projects
Intern: 50% of time departmental projects, 50% of time DAM tagging
Don't have an intern? Well, if you want get the best DAM tagger around, you could bring in a student enrolled on a library sciences degree program for some specialist help with digital asset management tagging. In exchange for work, you could organize a program with their college to give course credits. Post your intern job description on sites like Simmons School of Library and Information Science Job Line, your local library school job board in your city, or even popular job sites like LinkedIn, Indeed and Glassdoor.
2. Applying metadata can be a collective effort
Why tag all those assets by yourself? Not only is it near impossible, but it's in your best interest to share the responsibility of this task with those who 'touch' the asset during its lifecycle. Creating metadata can take place at the planning phases of content, and also during the creation of content itself. By making sure that metadata is applied throughout the content creation process, it already has important metadata associated with it by the time the asset arrives in your DAM library, saving you a lot of unnecessary manual work.
Besides bringing in extra help, there are a number of creative ways to encourage others to be consistent with the application of metadata (besides integrations which we'll discuss in the next point.)
Leverage interns to help with metadata application in their downtime for a more descriptive record of the digital asset
Have a metadata tagging 'party' for teams to catalog backlogged content
Ask your retouchers and agencies to apply metadata. Build metadata application into your agency contracts. Make it part of the deal and outlined specifically in the contract in regards to application completeness and accuracy. Having agencies and photography retouchers enter important metadata for digital files can save your company valuable time and resources
No matter what your method of distributing metadata application to team members is, don't forget to train them on best practices for metadata application! Also, don't forget to build in audits for making sure that metadata is complete, consistent, and accurate.
3. Leverage integrations
And who says you have to do all this work manually? Besides tagging, there are a number of very time-consuming DAM tasks you may be faced with that can be handled with integrations.
Use integrations to cut out manual tasks, such as an integration with a stock photography website and your DAM tool (e.g. shutterstock)
Have an in-house developer write a script to check your DAM data against your master data management (MDM) repository
Use a free Google Analytics integration to combine your DAM data with in-page behavior: optimize what is featured on your homepage, what brand guidelines are frequently used, and what content performs well internally—set goals for your content
4. Automate your processes
Automating processes and metadata application can save time, reduce manual work, and help you manage your image collection. Standardizing file-names is also a great way to boost the findability of your files. Aside from that, consider these tasks too:
Automate your archive schedules by setting an auto-archive date upon upload
Map embedded metadata as a way to write to the DAM system upon ingest
5. Use a freemium DAM tool like Bynder Orbit to get started instantly
There's a very low barrier to entry if you want to get up and running with a DAM now. We launched a product called Bynder Orbit, so you can simply enter an email and start managing your digital image collection instantly. With Orbit, you can:
Upload image files directly from Google Drive and Dropbox, giving you one central home for your files
Use artificial intelligence tagging of your image collection, so you can search via keywords, instead of those all-too-forgettable filenames
Create your own metadata categories, options, and keywords
Create collections to share or even save searches as quick-access "Channels"
Check out the DIY DAM hub
If you're looking for more DAM tips and tricks, then check out our DAM best practices hub, which is packed full of DAM how-tos.
---
Lead Content Strategist
---