Marketing and IT need to hug it out
Technology drives marketing success today. Marketers currently have more than 3,800 technology solutions to help with just about any conceivable (and inconceivable) marketing challenge. And get this – Gartner predicts that CMOs will spend more on IT than CIOs by 2017!
With the growth of SaaS solutions, marketers have the freedom to shape their own technology destiny without much IT intervention. However, just because the marketing team can buy technology doesn't mean that they necessarily have the expertise to do so. And just because IT doesn't sign the contract doesn't mean they shouldn't be part of the process.
Marketers have a short technology purchasing history. Purchases are often driven by individual functions looking to solve specific problems – social monitoring, email marketing, content management, etc. These individual purchases often aren't guided by a coherent strategy that considers the interaction between functions or how they must work together to meet business goals.
Marketing's technology purchases still need to pass IT's muster for the company's security, the data's integrity and the infrastructure's efficiency and reliability. After all, IT is left to pick up the pieces of a buggy product by providing support, developing workarounds and implementing integrations.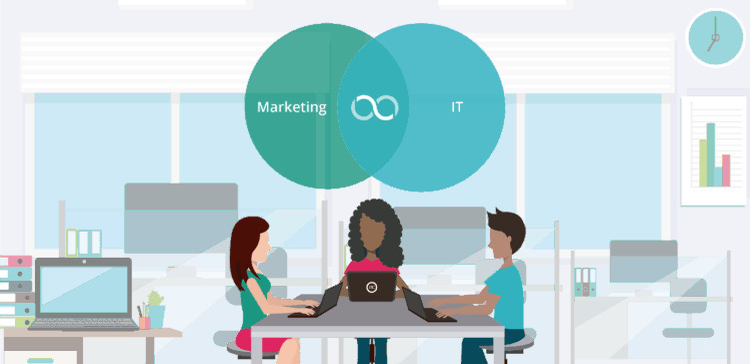 The collision of marketing and IT can lead to fireworks. Each function is being propelled outside its comfort zone and area of expertise. Marketing is thrust into buying and relying on technology, and IT is pushed to be more business- and customer-focused in its deployment of it. However, they have plenty to gain when they collaborate.
Marketing has a better chance of using technology successfully and getting tools that will more fully integrate with their marketing workflow when they seek IT's input. IT can avoid dealing with the aftermath of poor marketing purchases when they're involved in the decision-making.
Bynder gives marketing and IT acres of common ground with features to benefit each of these teams. It's a solution that can turn a potentially tense situation into a win-win. Here's how:
Streamline operations to accelerate workflow. Pre-built connectors help marketers speed operations and link to existing mission-critical platforms. Marketers get the self-sufficiency to access, update and publish content and images, then quickly refresh content across web properties with plug-and-play connections to CMS platforms such as Drupal, Sitecore and WordPress.
Ride the cloud. Cloud-based SaaS solutions give marketing the independence to get a centralized, available-everywhere platform with fast time to benefit, access to immediate upgrades and room to grow. For IT, it relieves the responsibility of handling traffic, ensuring information security and delivering fast performance.
Spread the love to other teams. Get direct access to creative platforms such as Adobe Creative Cloud and publish to social platforms with integrations to Hootsuite, Facebook, Twitter and YouTube. For IT, these pre-built connectors mean that the thinking about workflows and the marketing ecosystem are already baked in.
Future-proof the marketing tech stack. The Webdam API means that there's room to grow with the technology stack. That's something both marketing and IT can love. Marketing can take advantage of integrations with custom-built databases or marketing platforms. IT doesn't have to worry about every possible scenario for workflow impact or what the future holds; they can be confident that Bynder can connect to what's in place today and coming tomorrow.
Cloud-based solutions like Bynder give marketing and IT good reason to come together and hug it out. Marketing now gets the infrastructure they need to streamline their workflow while IT can focus on planning and implementing the technology without the headaches of hardware.
Kiss the departmental calamity goodbye and embrace the Kumbaya. Click for a Bynder trial.
---
---