How to select the right social media channels for your brand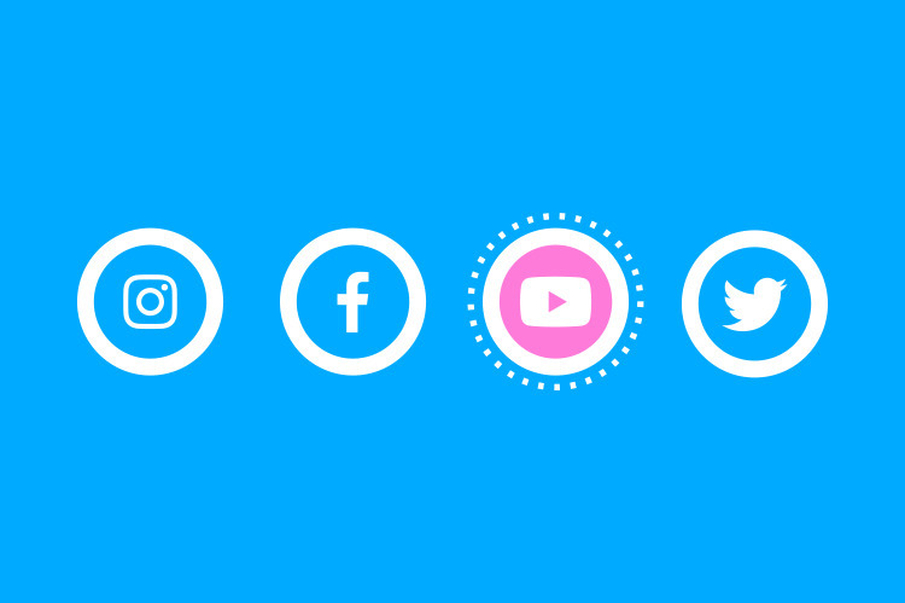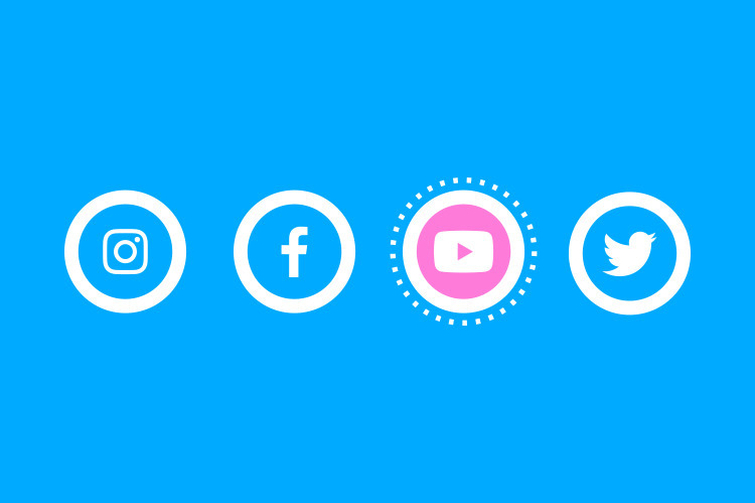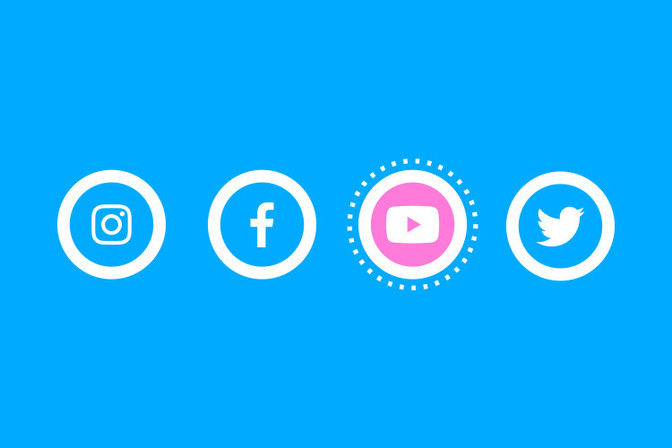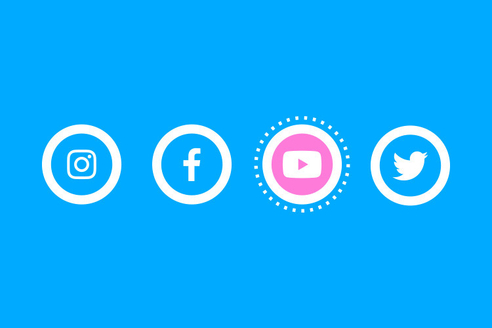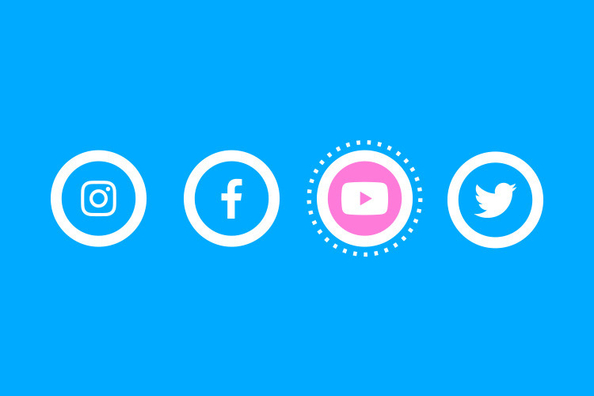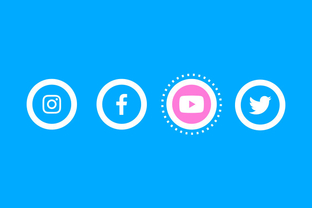 As social media continues to expand and evolve at a rapid rate, it's becoming increasingly difficult to hone in on the most effective platforms for your business and content. 54% of B2B marketers recently reported that they generated leads from social media, so it's well worth your time to invest in developing a strong social media strategy.
A general rule of thumb is to focus on developing a strong brand presence on three social media channels. But, which ones are right for you? Which is best for certain content? Twitter, LinkedIn, Instagram, Facebook, Tumbl… the list goes on and on. Fortunately, there's a fairly simple set of criteria that will help you craft the perfect recipe for your businesses' social media success. So before you begin to develop your social media strategy, here are some important points to consider:
Your goals
Without a clear idea of the results you want, your program may not reach its potential. People with written goals are 50% more likely to achieve than people without goals. A similar principle applies to business. Setting clear, measurable goals is one of the most powerful things you can do to increase your odds of success. Possible goals for your social media program could be: increasing conversions, driving website traffic, and growing direct engagement with your audience.
The goal-setting process may seem daunting at first if you're not sure where to start. 'Beginning with the end in mind' in business usually means beginning the process with an idea of the revenue goals that you want to reach. With those numbers at hand, you can work backward to fine tune your approach and set specific, measurable goals that will lead to the overall success of your strategy.
For example, if you know that 5% of revenue comes from social media, and your goal is to double the amount of revenue you bring in this year, then your revenue goal for social media would be 5% of your new revenue goal. Based on the social media revenue goal, you can determine how much you'll want to spend per social media ad, how much traffic you'll need to bring in, how many leads you'll need, and other possible metrics.
Your target demographic
Identifying your target demographic and discovering where they spend the most time online is key to selecting the right social media channels for your brand. Social media activity varies by age, profession, geographic location, and more, so do your research.
If your brand is trying to reach a certain demographic, consider this: the average Facebook user is under 30, college-educated, with an income of around $50K. The average Instagram user is also under 30, urban-dwelling, some higher education, with an income of around $30K. How will this information influence your social media strategy?
Here is some more demographic data to consider: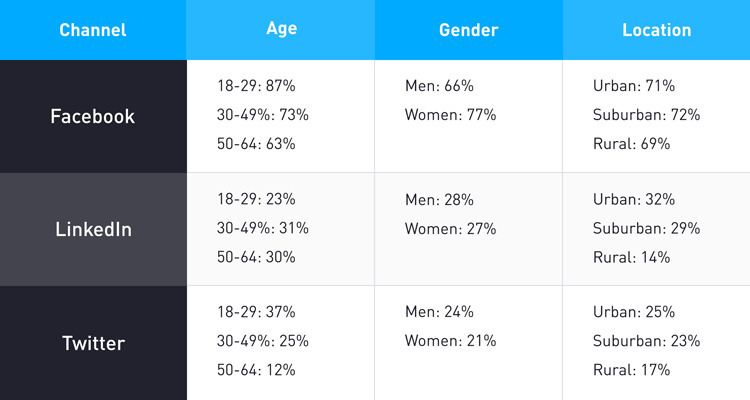 Source:
https://sproutsocial.com/insights/new-social-media-demographics/#twitter
B2B or B2C?
Your social channel selection will also be affected by whether your company is in the B2B or B2C industy. Tribilio's study revealed that 87% of B2B marketers use social media with top website traffic coming from:
LinkedIn: 64%
Twitter: 14%
Facebook: 17%
On the flip side, Salesforce shares the top three channels for B2C marketing:
Facebook: 94%
Twitter: 84%
YouTube: 76%
Niche players such as Pinterest, Instagram, and Google+ also play a significant role in marketing to a specific audience. Find out how to work with influencers in your social media strategy!
Budget
As the saying goes, one has to spend money to make money. Marketing departments are realizing the importance of a strong social media strategy and are increasing their budget allocation.
A survey by Duke School of Business found that while the average marketing department allocates 13% of their budget for social media, that number is expected to increase to 21% by 2019. BufferApp makes budgeting simple by explaining how to spend just $100 on social media marketing.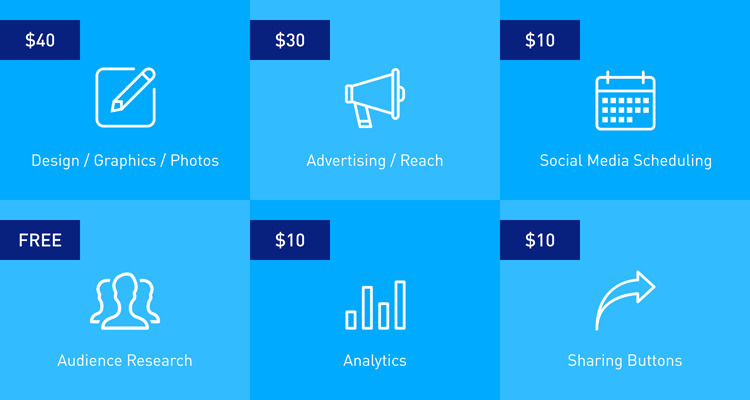 Once you have a clear set of answers to the criteria above, it will be much easier to choose the platforms that will serve your brand best. Use these as stepping stones for creating a solid strategy that clearly communicates your brand and helps drive lead gen activities. Jason DeMers offers even more insights in his article, "How to choose the right social media networks for your B2B business." He discusses strategies to determine which social networks your audience uses:
Note which of your current profiles gets the most traction
Measure profile growth by both followers and engagements
Evaluate website analytics to see which channel drives the most traffic
Examine the conversion success of that traffic
Determine what content format resonates best with your audience (written, visual, or video) since that can also influence which social network they frequent
Be aware of which platform is used by other companies in your industry
Why metrics are your best friend
It's important to remember to follow up your social media efforts with a close look at metrics to ensure you're achieving your goals, or to see how to improve your brand's relevance to your audience. Here's a quick snapshot of the top 5 social media metrics that your business should be tracking:
Reach
Engagement
Acquisition
Conversion
Activity
---
---