Customer spotlight: How fitness specialists Bowflex restaged their brand with Bynder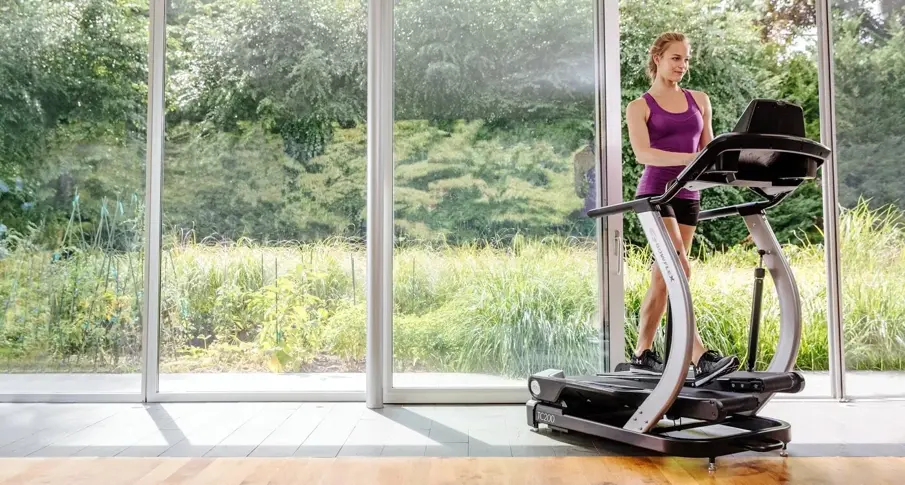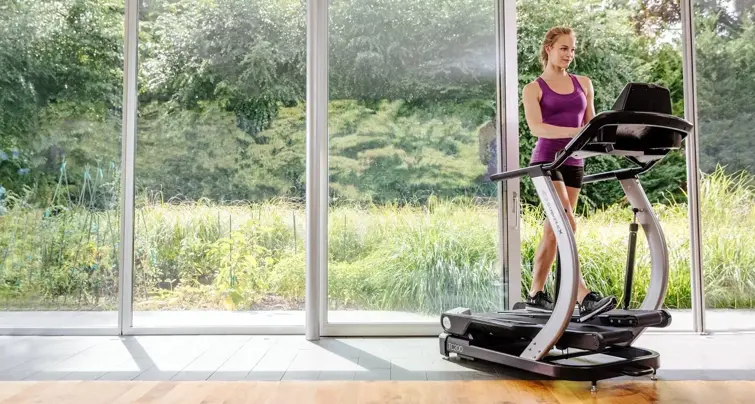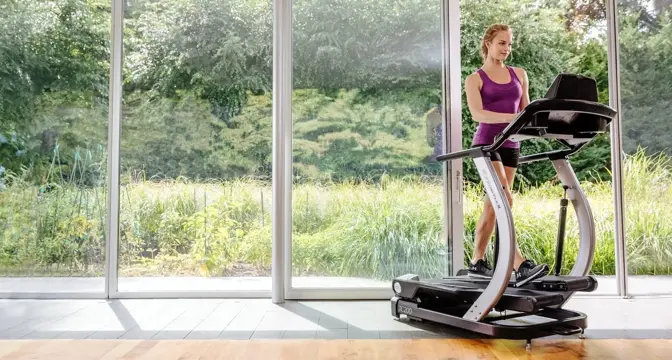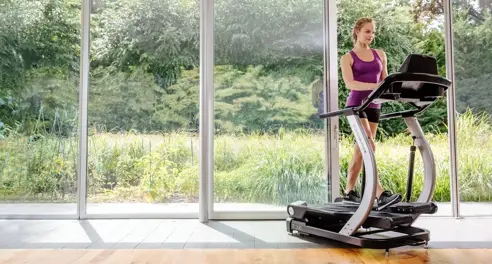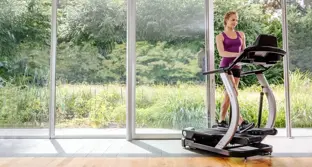 Before Bynder, all of our media content was stored on a local network drive. And not only was it not user friendly, but you couldn't scale it. So there really wasn't a growth opportunity as we continue to grow as a company in 2020.
Nautilus was set up over 40 years ago with the mission to help people live healthier lives. They began operations as a single entity, but over the years they have evolved into a diverse family of brands, including their renowned Bowflex. Since 1986, Bowflex has been developing innovative solutions to bring gym-quality products (and results) into the home.
Though they might be approaching middle age by human standards, they are keeping up with the times quite well. Which is exactly what they motivate their customers to do. And as proof that they can stand the test of time, Bowflex is bringing connectivity into its arsenal.
Connected fitness, that is really the most exciting thing that we've done.
Two years ago, we met with Michael Robinson, Creative Director at Nautilus. With him, we spoke about why they had chosen Bynder to help their creative teams work smarter and faster by storing assets effectively and making their workflow more efficient.
Today, we sat down with him again and learned how Bynder has allowed them to venture far beyond their initial goal. Bowflex's brand positioning, he told us, was heavily focused on TV commercials for its promotion. And, since modern times call for modern approaches, the brand was ready for a restaging to keep up with consumers' expectations.

Bowflex has counted on TV for all of our media. But as we've had new disruptors come into the market, we've been forced to look for a change ... Bynder's been key in making that possible.
Why was Bynder the right tool to achieve brand restaging?
To promote its new connected fitness model, Bowflex had to connect not only with their machines but with their customers at home in 2020. They needed to reposition the brand from TV to the web and, obviously, to social media.
For us at Bowflex, social has been growing in emphasis, especially for 2020. We're making social content monthly, weekly, and daily on new platforms like Instagram stories, for example, where we can push out live information and content to our customers.
At Bowflex, they know that the key to social media success is not just the number of people reached, but offering relatable branded content that creates trust and engagement. Bynder allows Bowflex to create consistent experiences that drive brand trust. All content is easily accessible at the right time and by the right people. This ensures consistency across digital touchpoints while increasing loyalty to their brand.
The core of what we're trying to do is to work on our customer experience. So as a brand, we've really been trying to stay in touch with what people think about us, looking at us as a premium brand that they can really be proud of.
Repositioning a brand like Bowflex involves repurposing huge amounts of assets while also creating new ones. At Bowflex, they found in Bynder a single solution to the multiple needs that come with a global brand refresh of that magnitude.
We have a ton of content we need to make and obviously Bynder plays a key part in all of that as every single market channel requires new content; from TV to the website, emails and, obviously, social media.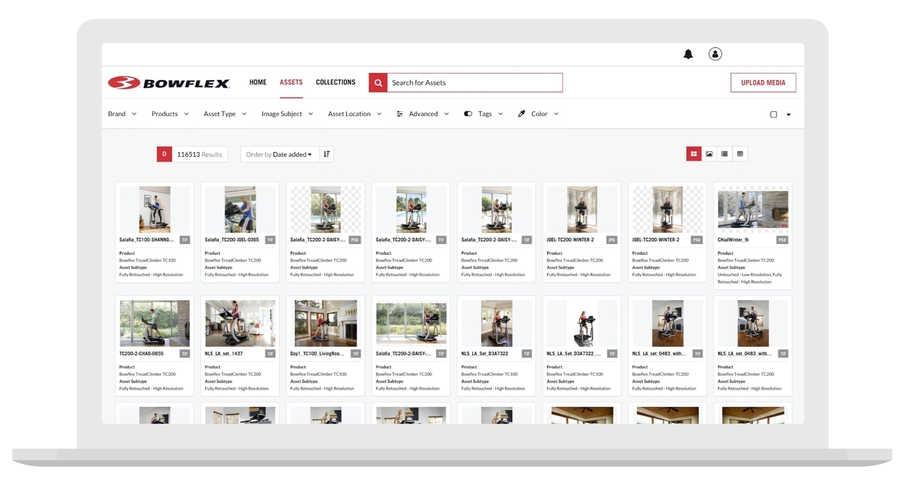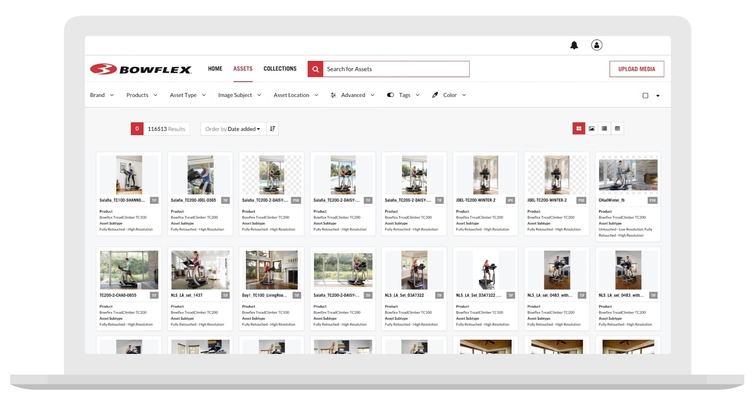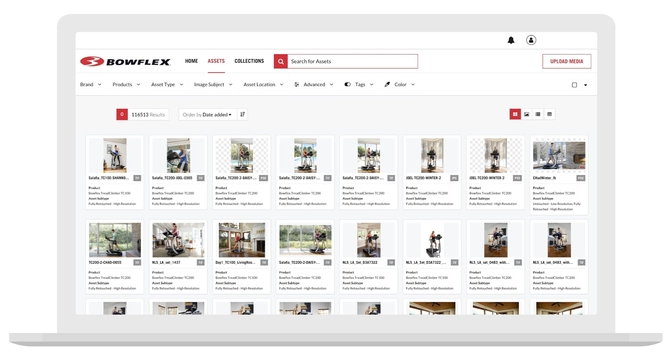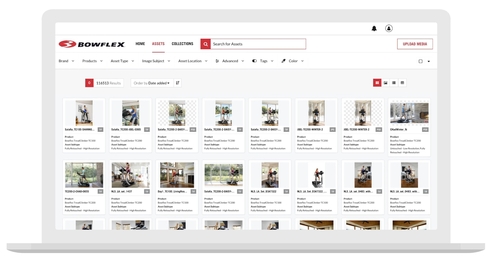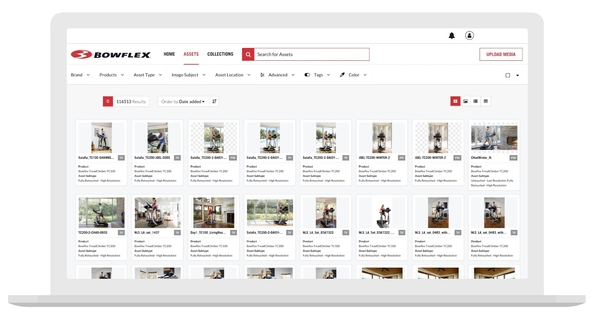 How did Bynder help Bowflex restage their brand?

With Bynder at their disposal, the creative and marketing teams at Bowflex can quickly and effectively tag, sort, label, approve, and distribute up to 5000 images and videos per photoshoot.
Thanks to how efficient Bynder is, within 30 seconds, I can tag, sort, and label them all so that my team can use them instantly. The same goes for videos. We post all of our finished video content on Bynder and we use it cross-team with the social media team.
Bynder made a global brand repositioning of this magnitude easy to achieve. By improving communication and content sharing with partners across regional markets, Bynder streamlined processes for increased efficiency and faster time-to-market.
Bynder's made this process attainable. The restaging of an existing brand like Bowflex is a really big deal. With Bynder I can use assets consistently and cohesively, both domestically and with our international partners, really quickly and really successfully. We're able to push that content out instantly, and everyone is on the same page.
What's next for Bynder and Nautilus?
At Bowflex, they have managed to effectively leverage Bynder for their changing goals and they have shown how the potential of this tool is only rivaled by the creativity of the people using it to solve their problems. But this is not the end of the story, according to Michael:
In 2020, the goal is to continue using Bynder to make our workflow more efficient. We originally launched Bynder with just the creative team, but it's exciting to see that every single team in the organization is using Bynder today ... The tools that Bynder has, be it a collection or its filters, really give people more opportunities to come together across different departments and collaborate. Collaboration is really powerful. And we're using Bynder to make that more efficient in 2020.
See what Bynder can do for your brand
Over 4000 brands rely on Bynder to boost their branding efforts: from brand consistency and project collaboration to centralized file storage, we have a tailored solution to fit the needs of each and every customer. Why not see what Bynder can do for you with a free demo?

---

---