Why content workflows are important — and how to create one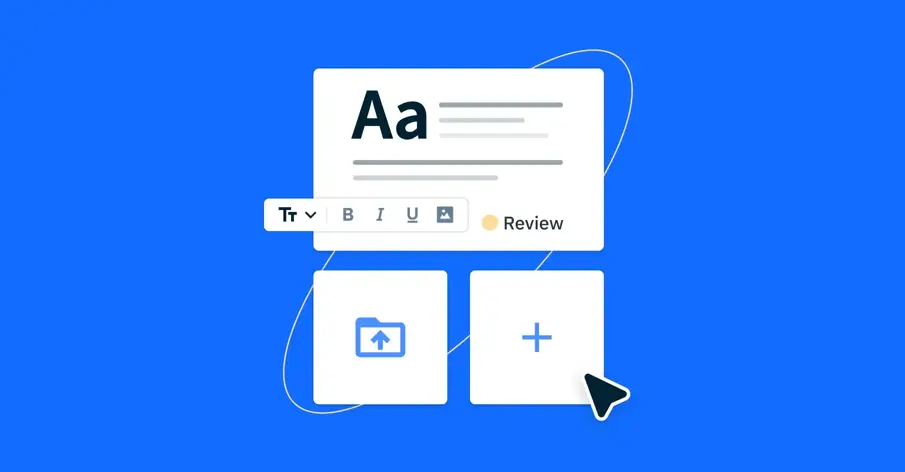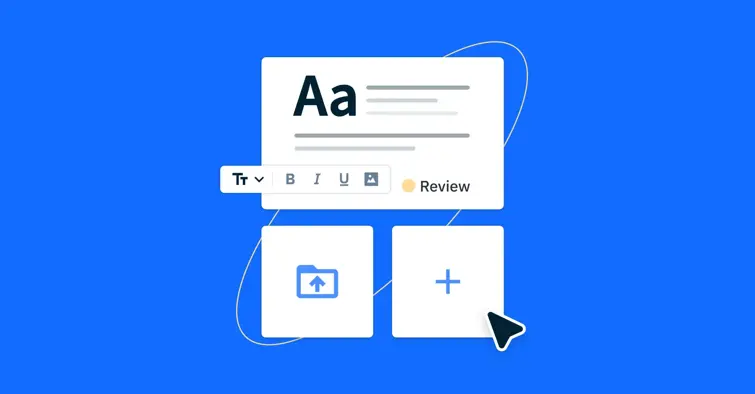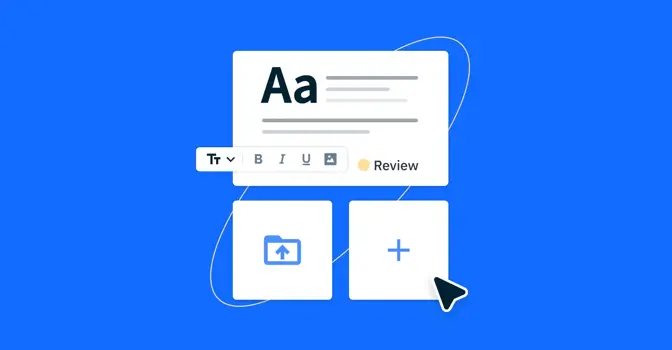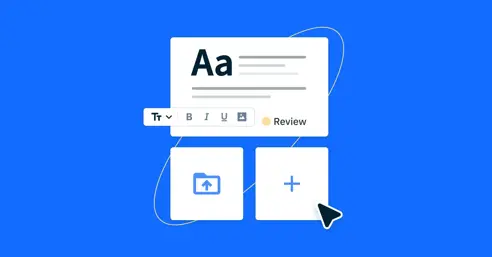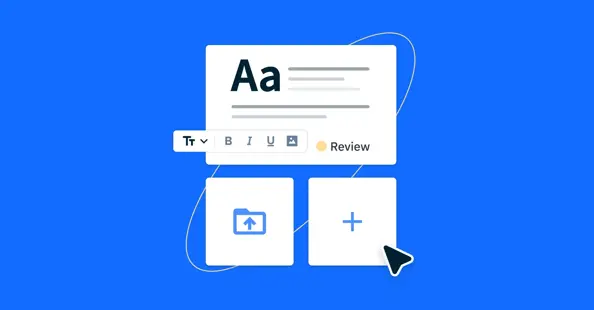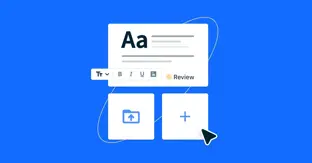 A company's content workflow can make or break its marketing. In fact, nearly every type of digital marketing campaign relies on some type of content to fuel it.
And, more often than not, that campaign will interlink with the wider content experience; encompassing all of the marketing interactions a buyer will have with that brand.
But, missed deadlines, off-topic content, and content getting stuck in the approval process can hold campaigns back from success or from even launching in the first place. Marketing and content teams face the relentless challenge of managing content volume vs content quantity, and often lack access to the right set of centralized content tools for their organization — leading to the risk of 'content chaos'.
On the other hand, a strategic and effective workflow that's clearly defined and documented makes the content creation process go smoothly. It ensures that all of the content your team creates is high-quality and delivered on time.
Let's dive into what content workflows are, and how you can develop your own for more consistent and effective content.
What are content workflows?
Content workflows are the tasks that a person or content team will need to go through to complete a piece of content. Alternatively known as a Content Governance Model, content workflows define the roles, responsibilities, and documentation of the different steps in the content creation process.
Content workflows help remove the common pitfalls when it comes to producing content. It doesn't matter how big the task is — from planning and publishing a simple social media post to a multi-channel campaign spread over numerous online channels — a strategic and effective workflow that's clearly defined and documented will help the content creation process go smoothly.
A defined content workflow helps content marketing teams ensure that:
Content is accurate, consistent, and timely
Content outcomes and deadlines are achievable
Common content problems are addressed e.g. bottlenecks and inconsistencies/errors
Employees see where they fit into the larger scheme of content creation, contributing to employee engagement
Employees with content responsibilities are clearly accountable
What's more, your company's content workflow may look different from another's. It all depends on the content types you create, what your team of content creators looks like, and other aspects of your business processes.
How to develop a content workflow
Through forums such as kick-off meetings, stakeholder interviews, and workshops, you can begin to get a real sense of your current content landscape. By understanding your existing system for content, you can also learn about any bottlenecks and current issues in good time.
This groundwork ultimately serves to help you develop a more holistic approach to content production in the business.
To develop a content workflow, look at the process, the tasks, and the people involved when it comes to content creation, publishing, and onward management.
Process: From start to finish, how does content travel through the organization, any partners, and onto the web?
Tasks: Which tasks are required to make the content useful, usable, and enjoyable for audiences?
‍People: Who is responsible for ensuring that the content is accurate, timely, on-brand, consistent, contextual, and so forth?
A content workflow is not just a 'nice to have' thing that you create when you have time. It's essential to creating quality content consistently — without wasting time or money.
In fact, there are several risks attached to working
without
a content workflow in place.
The risks of working without a content workflow
When working without a clear plan of action or defined content workflow, there's the potential for content projects to suffer or fail from the earliest stage.
This is because people and processes sit at the heart of content workflows. When you don't take both of these elements into account when creating content, things can get messy.
Without a defined workflow that includes who does which task in what order, there can't be a clear hand-off from one team member to another. For example, if your copywriter doesn't know who they need to send their draft to next, the draft will stay stuck in limbo and may not be completed in time for the publish date.
Another risk of creating content without a proper workflow is wasting time, money, and resources. Content can be expensive, and by eliminating the bottlenecks or costly problem areas with content production, publishing, or content management, workflows, you can save time, money, and resources as you reduce inefficiencies and improve consistency.
The 3 important components of a content management workflow
When creating a content management workflow, it's important to consider what's at the core of producing content. In other words, process, tasks, and people all need to be carefully considered when creating your workflow.
Process
Examine the 'entry' and 'exit' points of every piece of content. From creation, approval, publication, and optimization, we can quickly learn where content slows down in the process. This allows us to easily see where we can make changes and develop efficiencies to make the entire content process much smoother.
The quicker content can be generated and published, the more reactive and relevant it will be. If you want to create quality content quickly, you need to have a smooth and efficient process in place that's tested and well-documented.
As part of your process, be sure to consider the approval workflow. Developing a system for content approval helps ensure the quality of content and that everything published is valuable and on-brand.
Choose someone on your team to be in charge of improving all digital marketing content that goes out. This could be an editor, content manager, subject matter expert, or head of content.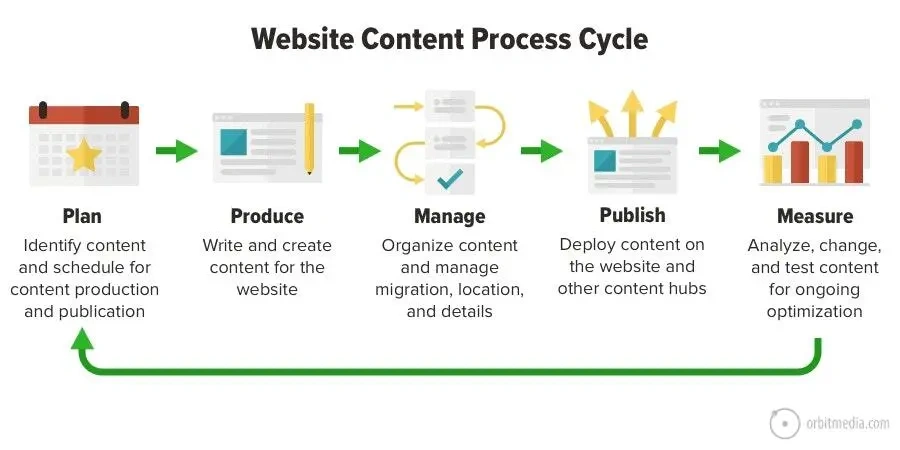 Developing a process for your website content will help to ensure every piece of content is valuable and on-brand. Image source
Tasks
The tasks that you include as part of your content workflow are also essential to creating a workflow that runs smoothly. Start by considering all of the tasks that need to be completed for a piece of content to go from ideation through to publishing.
Tasks will vary depending on the type of content that is going out. For instance, video content may require storyboarding, filming, editing, revising, getting approval, finalizing, and publishing the content. Whereas a LinkedIn post requires fewer tasks, so the workflow may look like drafting, editing, approval, and publishing.
Also, to ensure that content is useful and usable across multiple platforms, you need to reuse and repurpose content. Employing a methodology such as COPE (Create Once, Publish Everywhere) and setting up content production standards ensure that publishing across different platforms and social networks won't require any wholesale changes.
Visibility into which tasks are completed and which are still in progress is important for the team or at least the person managing the process. Using a project management tool makes it easy to track the status of all tasks as well as identify any bottlenecks. Bynder's Content Workflow takes the guesswork and chaos out of content project management by making it easy to create tasks, set due dates, and assign them to members of your team.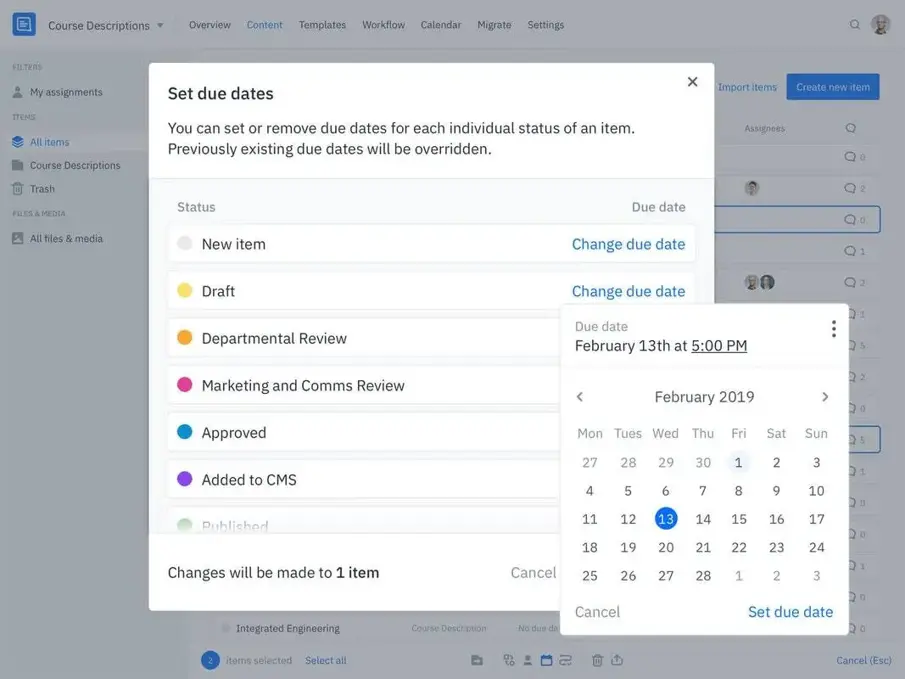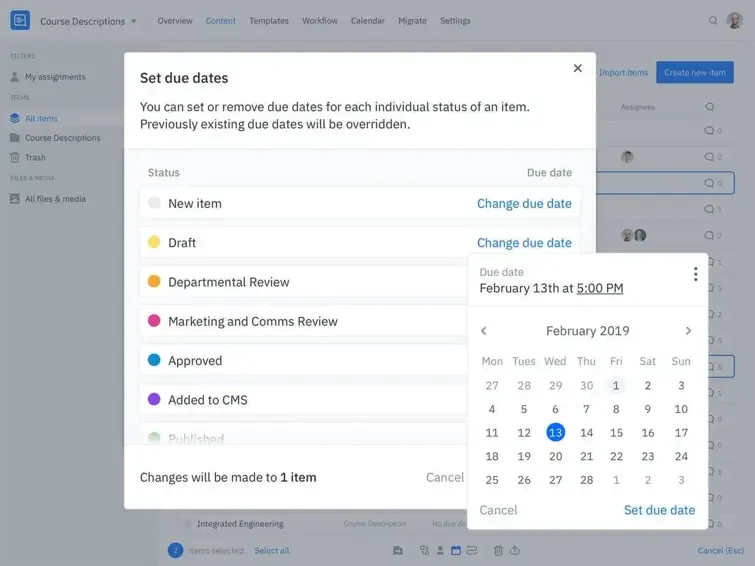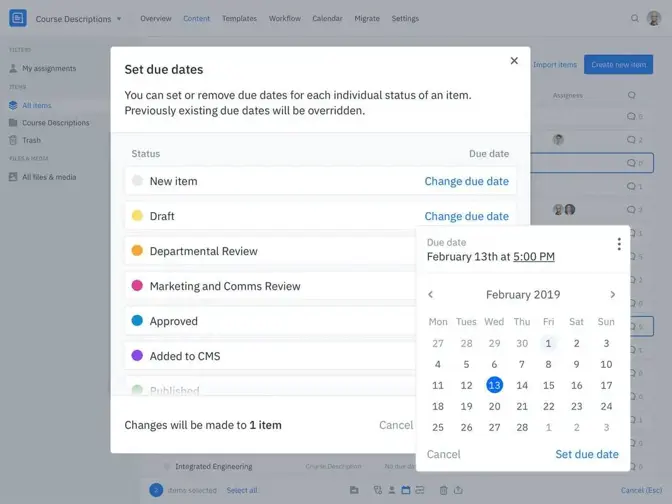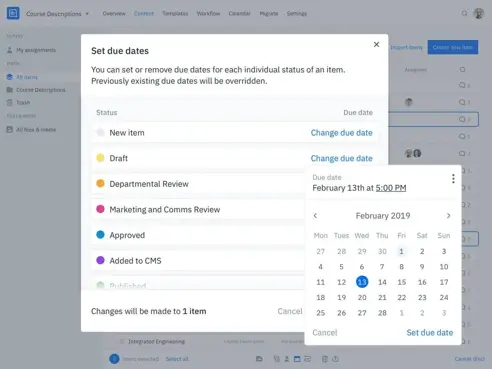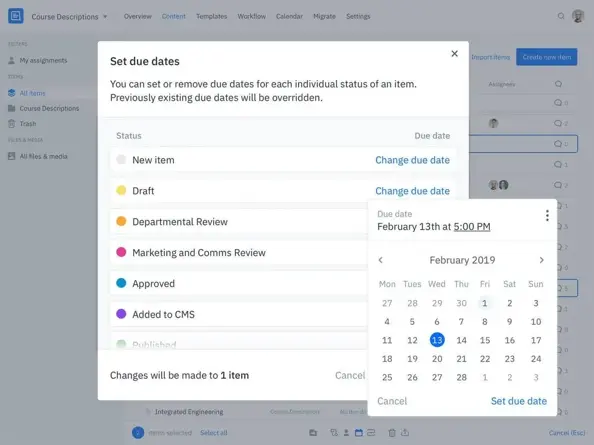 Use Content Workflow to set deadlines for each stage of your content creation process to set clear expectations and keep content moving.
People
The content marketers on your team play a significant role in how quickly and effectively each content project is completed. To keep content operations running smoothly, you'll want to make sure that each person is working in their "zone of genius" or completing tasks that make sense for their skill set, talent, and interests.
The 'people' part of the content workflow is often where the biggest changes can be made. A great deal of value can be added just by ensuring that the right content team member with the right skillset knows their responsibilities for the task they've been assigned to carry out.
To make sure the right people are focused on the right tasks, map out your newly-defined content process, and determine which individual members of staff or internal teams will own that responsibility. It often helps to consider each team member's role and strengths as it relates to creating content




A chart can be used to clearly plan and show who is responsible at each stage of the content workflow.
To keep the process moving smoothly for the whole team, you'll need a way for team members to clearly communicate with one another.
For example, if a copywriter is writing a blog post but doesn't understand one of the directions on the content brief, they should be able to quickly reach out to the content strategist to get clarification so they don't miss their deadline.
Bynder's Content Workflow offers a variety of features that ensure everyone on your team stays on the same page. You can assign tasks so people know exactly what they are responsible for and assign due dates so they know when it's due. You can also leave comments on the content during the editing process and leave notes for others working on the project so they are up-to-date with any information they need to know.
A content workflow template you can use today
Content workflows can take many different forms and include a variety of different tasks and processes. The key to creating the best content workflows for your business is taking all of the following into consideration:
How each piece of content fits into your overall content marketing strategy
What tasks your team needs to complete to create good content based on best practices
What team members are best fit for each task
What resources each team member needs (style guide, management tools, etc.)
The amount of time a person needs to complete each task
How to streamline the process by ensuring there are no overlaps or redundancies
Here is a content workflow template you can use to get started creating your own customized workflow:
Strategy
Set a goal for content.
Responsible: Content strategist or content manager
Time: 10 minutes or 1 hour in bulk
Plan content topic.
Responsible: Content strategist or content manager
Time: 10 minutes or 1 hour in bulk
Assign the topic to a writer, and set a due date.
Responsible: Content strategist or content manager
Time: 10 minutes or 1 hour in bulk
Creation
Outline the post.
Responsible: Content strategist or copywriter
Time: 20 minutes
Research the topic.
Responsible: Copywriter
Time: 1 hour
Write the first draft.
Responsible: Copywriter
Time: 3 hours
Editing
Edit content, and leave feedback.
Responsible: Editor or content manager
Time: 1 hour
Revise content with editing feedback.
Responsible: Copywriter
Time: 1 hour
Proofread final draft.
Responsible: Editor or content manager
Time: 30 minutes
Optimize for the web by creating metadata and adding links.
Responsible: SEO manager, content strategist, or content manager
Time: 30 minutes
Design
Design content graphics.
Responsible: Graphic designer
Time: 30 minutes
Design social media graphics.
Responsible: Graphic designer
Time: 1 hour
Publishing
Get final approval from the Head of Content.
Responsible: Content manager sends to Head of Content
Time: 1-2 days
Upload to WordPress or other content management system.
Responsible: Content manager
Time: 30 minutes
Promotion
Create social media posts to share.
Responsible: Social media manager
Time: 1 hour
Schedule social media posts.
Responsible: Social media manager
Time: 20 minutes
Create an email.
Responsible: Copywriter
Time: 30 minutes
Schedule email.
Responsible: Content manager
Time: 20 minutes

Be sure to adjust this template based on the type of content you are creating. If your editorial calendar typically includes video content, blog content, and social media content you'll want to make sure that you have a specific workflow for each of these types of content.
For example, content planning, creation, optimization, and publishing may be a part of every workflow. But things like storyboarding, proofreading, writing a podcast description, or repurposing into social media posts will be specific to the type of content.
You can also use this RACI template to help you when creating your content workflow to figure out who should be responsible for each stage.
Within Bynder's Content Workflow, you can create customized content creation workflows to match the steps that each type of content needs to pass through on its way to being published.
Here's an example of a workflow for blog posts in Content Workflow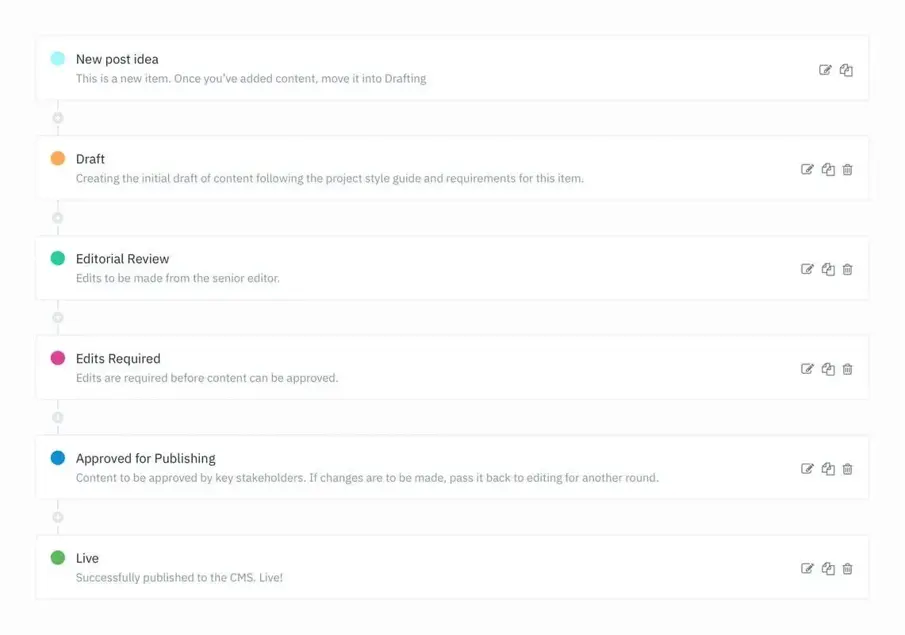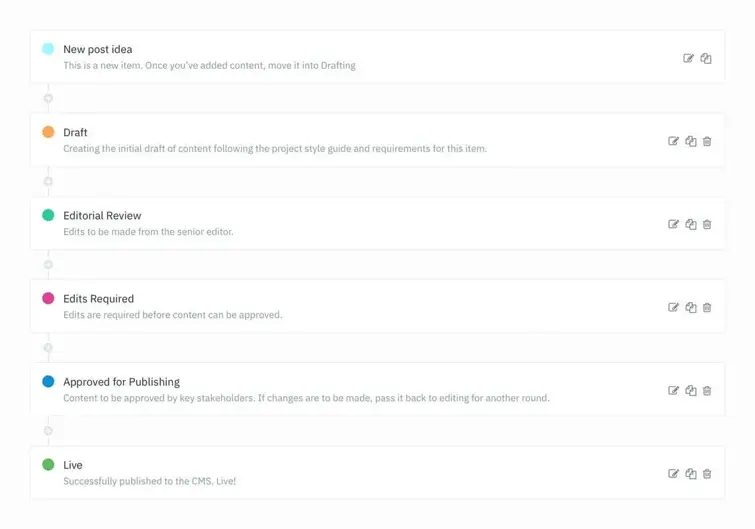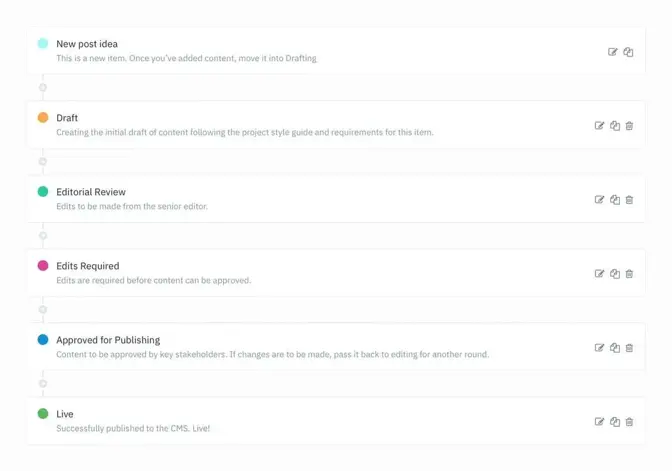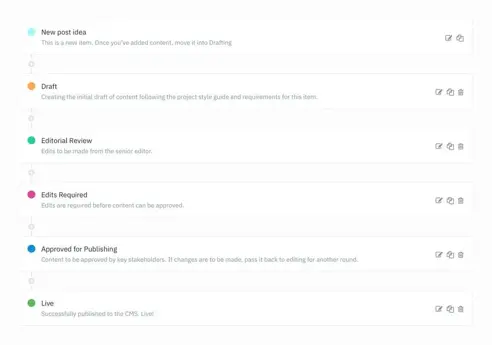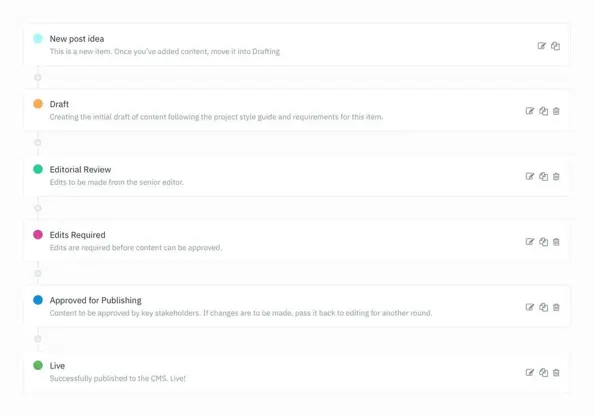 Custom content creation workflows can be set up for blog posts.
Now, let's look at a typical workflow template for case study content. Notice that it includes an extra step — 'client review' — which is unique to case studies.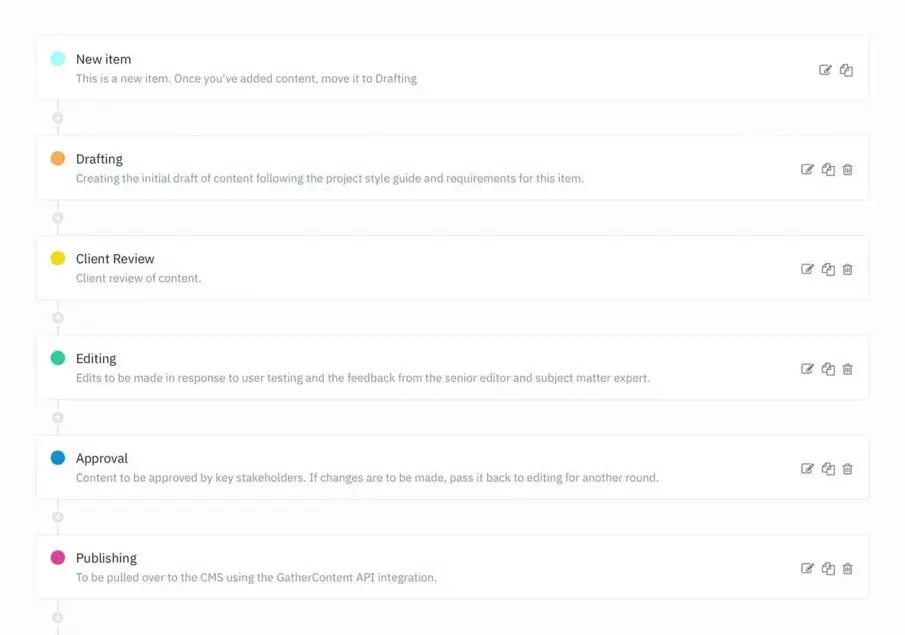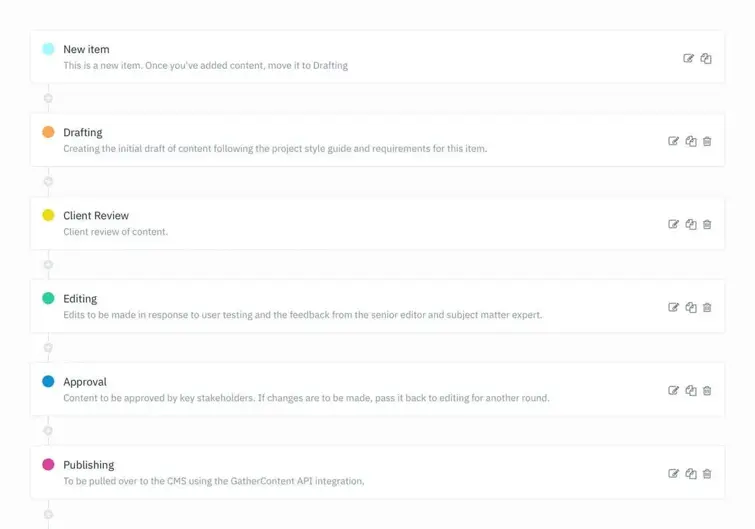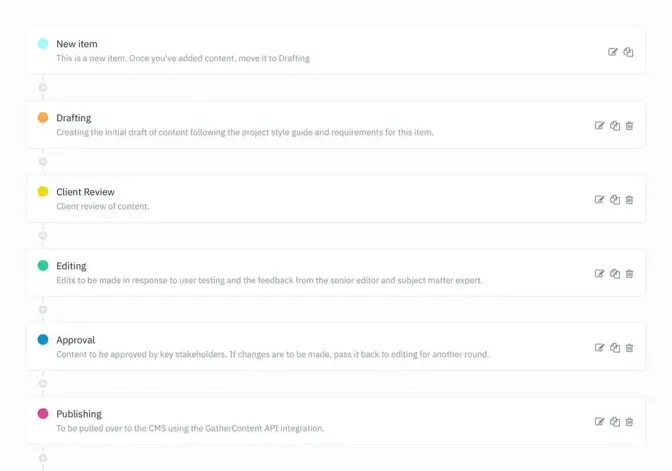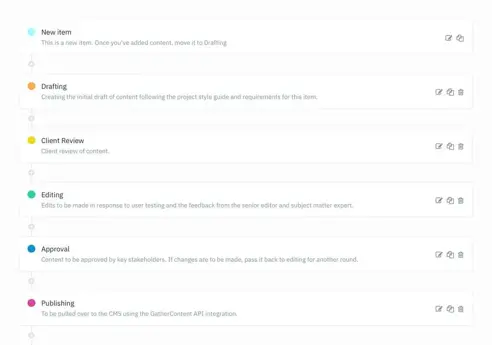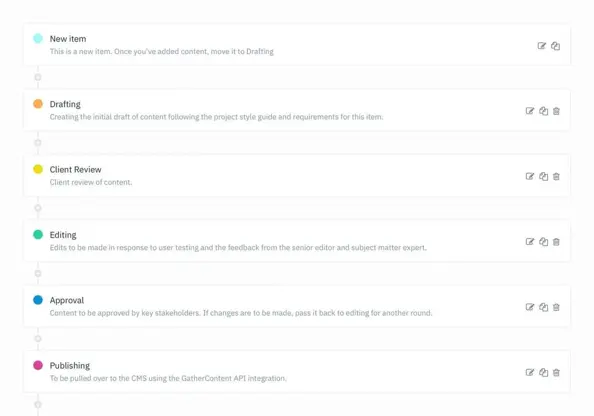 Design custom content creation workflows for a case study so that they match the exact steps content needs to go through in order to be published.
Here's an example of a content workflow that can be used for a website redesign. It includes some of the same steps as those above, but with the unique addition of a 'legal review' stage: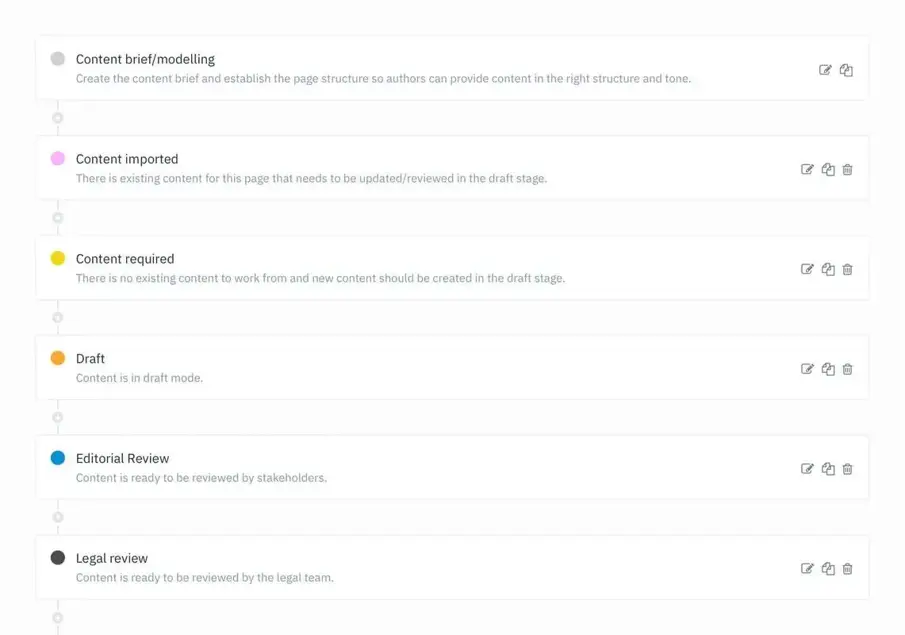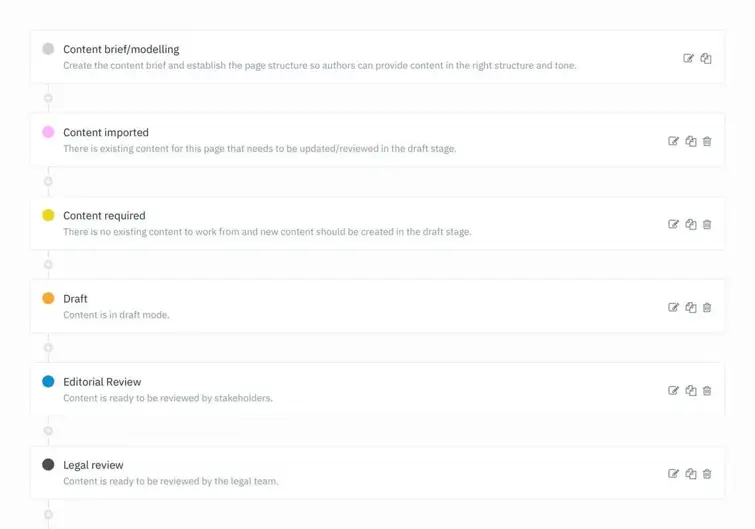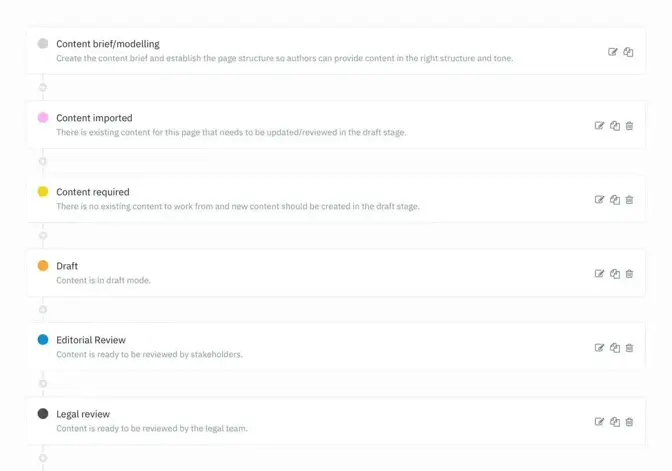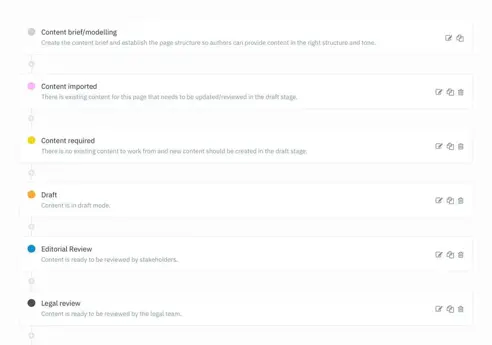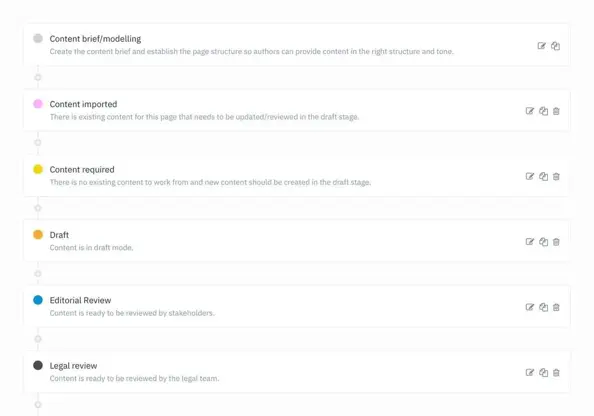 Set up a custom content creation workflow so that it follows the same real steps involved in a website redesign.
Sometimes of course, you have to come back to content and update it. When that's the case, you'll want to include it as part of the workflow — like this Content Workflow example of a help centre content workflow: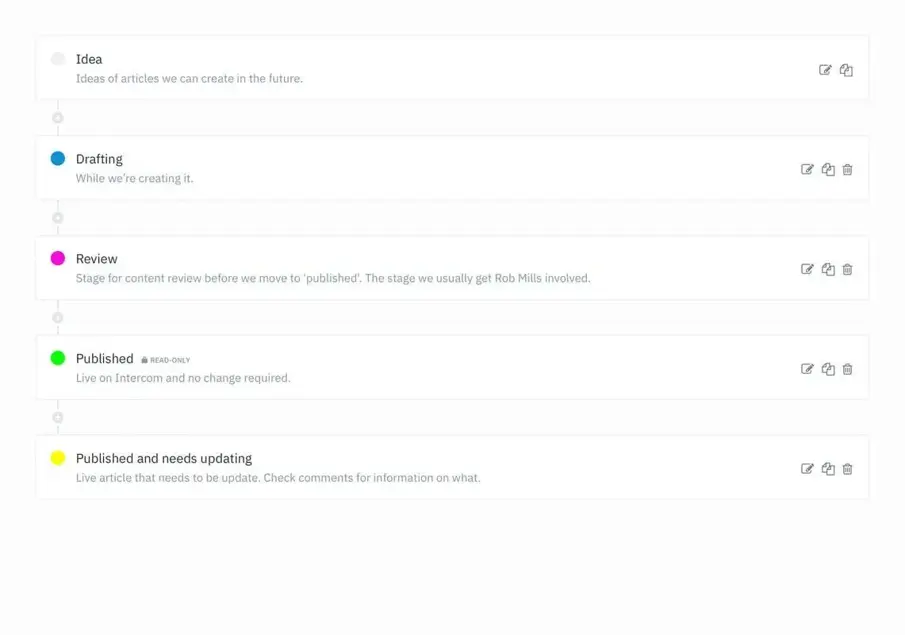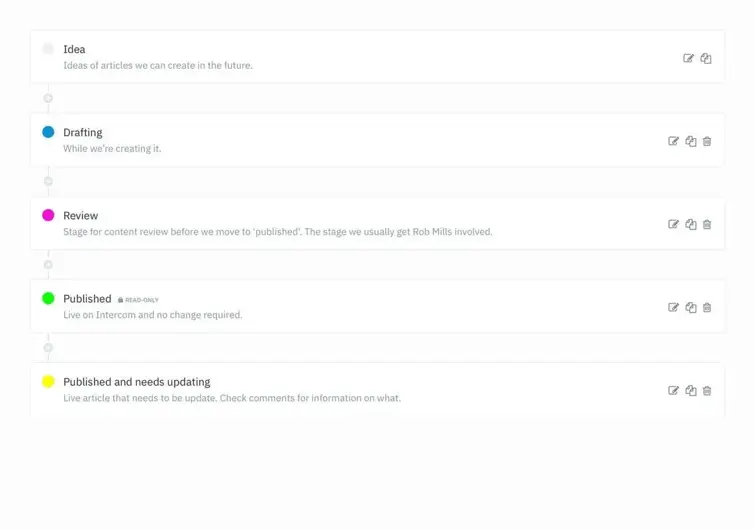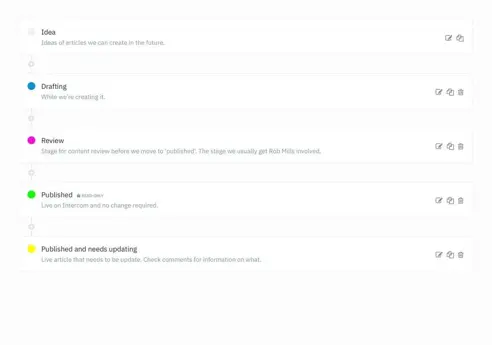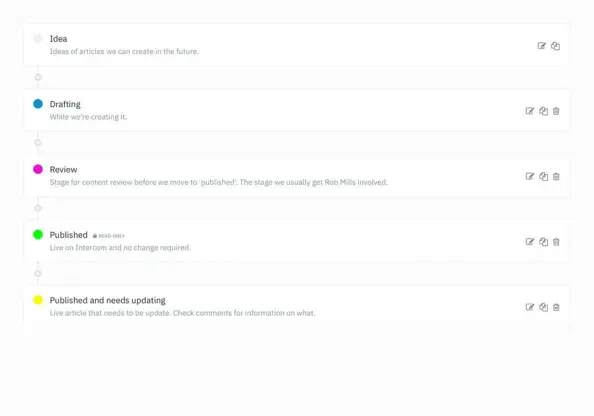 Design custom content creation workflows for a help centre, so that they match the steps content needs to pass through in order to reach the publication stage — and beyond.
Get started on building your content workflow
An organization has many different moving parts, and if those parts aren't managed effectively, the whole business can fall apart.
It's the same with content. By defining your content workflow, you stand to increase return on investment, improve efficiency and generate well-executed, useful, and usable content — all of which ultimately contribute to providing excellent content experiences for your audiences.
Bynder's Content Workflow allows you to make responsibility and actions clear to all; keeping content creation moving and content bottlenecks at bay.
Empower your team members by unlocking the feeling of ownership over the work they carry out. In fact, I know from first-hand experience that the use of Content Workflow has led to improved morale, improved attitudes, and better work ethics across many different types of roles and levels of experience within businesses.
Ready to upgrade your content processes? Explore the ultimate solution for easier content creation by starting a free trial of Content Workflow.
---

---