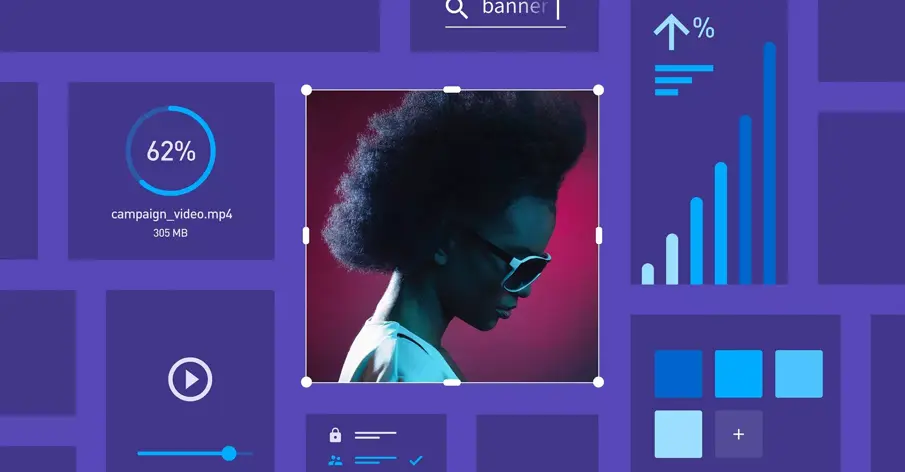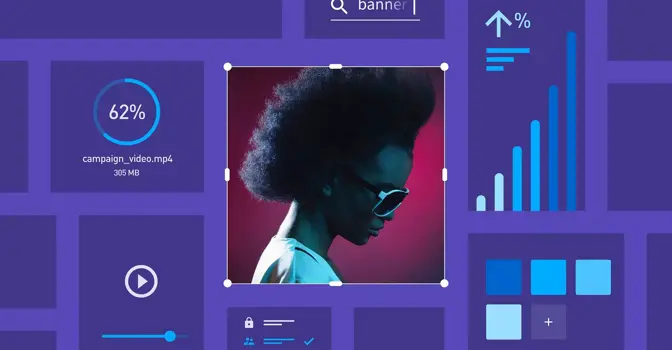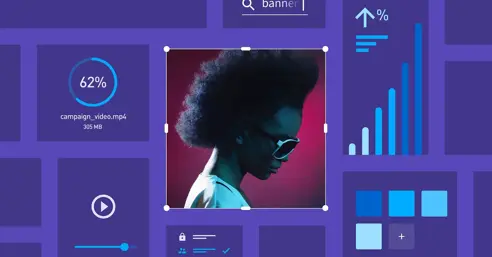 What are the benefits of a digital asset management (DAM) system?
Customer engagement and consistent brand experiences are key elements for the success of any company operating in the digital-first world. But delivering engaging content experiences consistently and at scale is no easy feat for modern marketers.

The ever-increasing number of communication touchpoints, marketing tech solutions, and specialized people involved in the communication process has increased complexities—often leading to internal inefficiencies that translate into poor brand experiences for the customer.

Choosing the right partners and tech systems—able to support your teams at present, but also as your organization grows and your needs change—is vital for brands aiming to thrive in the digital-first world.
Digital asset management (DAM) software helps busy marketers store, manage, and distribute digital assets and marketing collateral quickly and efficiently while safeguarding brand consistency. With a DAM system, companies can go to market faster, promote product launches more effectively, create engaging digital experiences, and distribute them seamlessly across all customer touchpoints. But not all DAM systems follow a one-size-fits-all model.

In this blog, we'll​​​​​​​ take a look into the world of DAM, Bynder's place in it—as well as other major vendors in the space—to help you choose the right provider for your organization. Let's begin with some tips that will help make your decision-making process more straightforward.
What are the common features of digital asset management software?
When choosing the right DAM for your company, you have several tools that can help you navigate the complex world of B2B software. Global market research companies, such as Forrester and Gartner, regularly publish reports that enable companies to better understand the state of the market in the field of technology.
The Forrester Wave report, for example, is a unique way of comparing vendors—using fully-accessible, transparent criteria to score each industry's top vendors, then displaying them according to the strength of current product offerings, strategy, and market size. Bynder received the highest scores possible across eight criteria, including usability and user interface, performance, and planned enhancements.

Download the full report to find out why.
The more familiar you get with the world of DAM, the more you realize that DAM systems tend to fall into specific categories. Without getting into the technicalities of this, we can differentiate between two main categories:
Best-of-suite vs. best-of-breed
Why go for a best-of-breed DAM solution?
Best-of-suite solutions are defined as having one complete, all-in-one solution for many business needs at the same time. One challenge with these types of solutions is that the features are not updated as frequently and lack innovation at times.

Best-of-breed solutions, on the other hand, are defined as being the best in their specific niche. Bynder's DAM falls into this category, providing industry-leading advanced features while integrating seamlessly with all the other systems you already rely on within your tech stack. Read on: 5 DAM must-haves for 2023
The case for Bynder
Far from being just one of the leading DAM providers identified by Forrester in their Wave Report, Bynder's strategic digital asset management software is also widely recognized as the strongest best-of-breed solution currently on the market. Read on: What is strategic digital asset management (DAM)?
Bynder allows companies to successfully increase efficiencies and reuse content to maximize ROI—by relying on a central system of record, powered by a robust taxonomy based on metadata.
With Bynder's industry-leading DAM, your teams benefit from many exclusive features that help to navigate the chaos of content and work more productively. Some of the most important features are:

Before you Google these words and check their meaning, you should probably know that our DAM shines brighter than the rest when it comes to ease of use—among many other things. This means you don't need to be a seasoned librarian to use our product nor know the meaning of 'taxonomy.' We pride ourselves on having some of the highest adoption rates among DAM vendors. Anyone within your organization can log into the DAM and get started straight away.
Here's what Molly Catalano, VP of Marketing and Communications at Five Guys, has to say:
International expansion really prompted us to find a better way to organize and distribute our assets. What made Bynder stand out to us was the user experience. People like the experience Bynder offers, and it makes them want to use it more.
Digital asset management is foundational tech in the fast-paced digital-first world. Discover what it can do for your company with our "Definitive guide to DAM."

Setting up a DAM system that grows with your brand
You've done your research and settled on a DAM solution. Now what?

A DAM doesn't just happen; it must be built according to your specific needs. Many vendors make this an extremely long and complicated process, while others rely on AI to automate it completely—with poor results for the end-user (you).
At Bynder, we believe in people. All that's needed to build your Bynder DAM is a handful of selected people from your organization and our award-winning team of customer advocates. Together, we'll quickly create the perfect platform based on your needs and we'll support you every step of the way as these change as you grow and scale. Check out the video below to find out more about the process.
Similar tech solution implementations I've been part of in the past were not nearly as organized and thoughtful as the experience that we had with Bynder. Our Onboarding Manager gave us so many lightbulb moments, she asked us great questions, and helped proactively to build our taxonomy.
There's more to the story than DAM
With Bynder, you not only find a DAM solution to revolutionize how you manage and use your digital assets. Bynder is the only DAM vendor that puts YOU in full control of the whole asset lifecycle—from creation to distribution.

Once your platform is launched and your assets are available, it's time to enjoy the benefits of a connected digital ecosystem and start distributing across channels and touchpoints.
Integrating a digital asset management system within your digital ecosystem ultimately enables you to:
Reduce manual, repetitive work for your teams
Automate work processes that don't require human input
Reduce the possibility of error
Deliver the right content at the right time
Reduce the costs of digital content creation and publication
Improve time-to-market with your digital content and campaigns
Enhance customer engagement with on-time, relevant, and context-specific digital content that targets the right channels and markets
The goal of integration is twofold: creating a positive customer experience and enabling your team to work more efficiently.
Danielle Giroux, Creative Director at Clio, adds:
One of the things that stood out to us was the ability for Bynder to integrate into our sales teams, workflows, the software they use, as well as into our marketing workflows and the software that we use in marketing.
Reliable and efficient integrations allow digital experiences to come to life. Curious what you can achieve by integrating the right systems? Check out our free guide "Integrations 101."


Compare digital asset management software
We get it; choosing a partner is difficult, especially when there are various options to consider.
Bynder is officially recognized as one of the best DAM systems out there, but a plethora of other vendors are available on the market. Let's take a more detailed look at the ones that, together with Bynder, made it into Forrester's exclusive leaderboard.
Aprimo
Aprimo is a best-of-suite solution that acquired its DAM product to complement its marketing resource management capabilities. It promises its digital asset management software users the ability to orchestrate the end-to-end content lifecycle while streamlining workflows and ensuring brand consistency.
Aprimo offers a range of automation features to make the creative team's lives easier. This includes a tool that suggests existing content that can be repurposed before a request is made to optimize asset reuse.
While an excellent player on the market, according to Forrester, it struggles to cater competitively to large enterprises.
Adobe Experience Manager
At first look, the Adobe Experience Manager (AEM) might seem like more of a CMS, but it has a number of DAM software features to help creative teams organize and distribute digital assets from a centralized location.
AEM, runs on a complex, hard-to-maintain infrastructure that requires copious resources (and IT expertise on the customer's side) to maintain. An excellent example of best-of-suite solution, AEM often struggles to integrate with tools beyond its own (though wide) ecosystem.
Widen
Widen is a cloud-based DAM system that enables users to find, share, upload and collaborate on visual content from any location. It also offers smart workflows, including the ability to apply default metadata and to set up repeatable review processes.
Widen integrates with a wide range of e-commerce platforms, online marketplaces, and creative applications. But since it didn't originate as a SaaS solution, its UX and UI can at times give customers a bit of a headache.

While the DAM vendors we've already mentioned form part of Forrester's DAM leaderboard along with Bynder, they are not the only vendors in the space. Companies like Brandfolder, Canto, and Sitecore also offer their customers best-of-suite DAM solutions. However, they currently lag behind when it comes to specific core DAM features and adjacent products and integrations.
Check out our DAM Comparison Guide
With so many alternatives to choose from, identifying the right DAM software for you can feel like a challenge. That's why we've put together a digital asset management software comparison guide to help you compare vendors against a number of features. Check out the full guide below to see which DAM solution is right for your business. 👇
---

---