Managing the modern content engine to build exceptional content experiences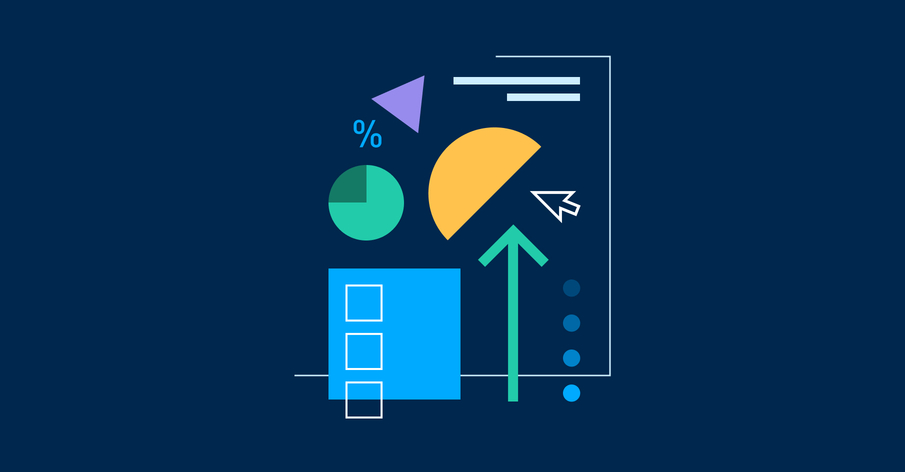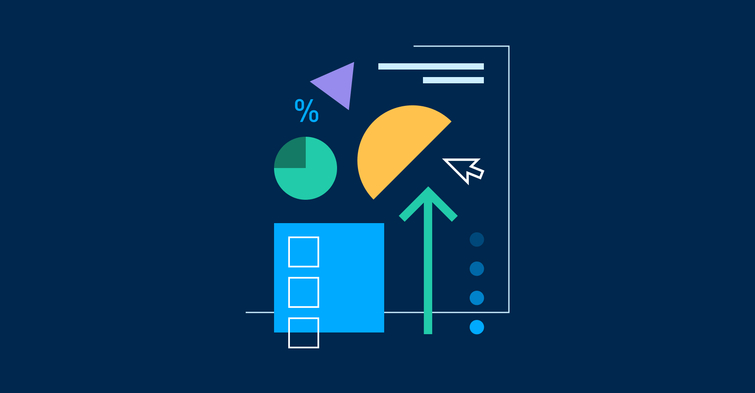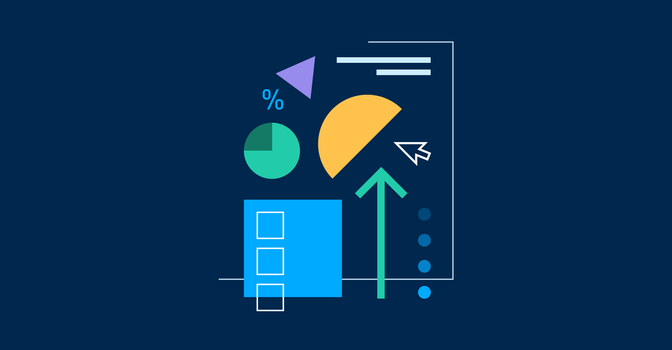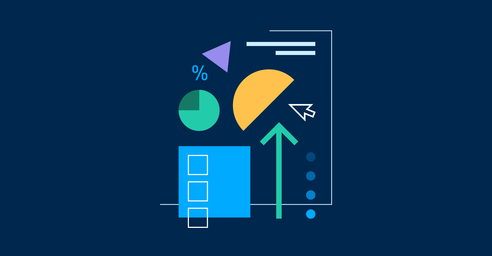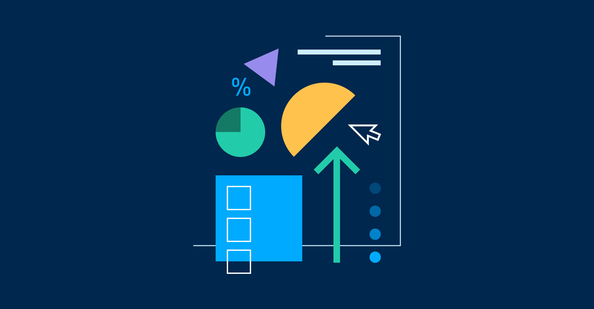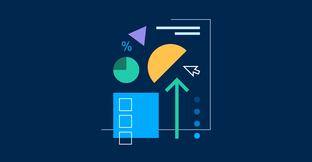 Content has evolved over the past few years and now we're in the age of the modern content engine. On our latest webinar, we sat down with Phyllis Davidson (VP and Principal Analyst at Forrester Research) to uncover:
How to establish a more efficient way to manage and govern your entire content operations lifecycle
Increase findability and utilization to support better content engagement
Understand how upstream lifecycle management ultimately impacts content performance.
We pulled together the top highlights from the webinar below. Ready to dive in?
Challenges related to content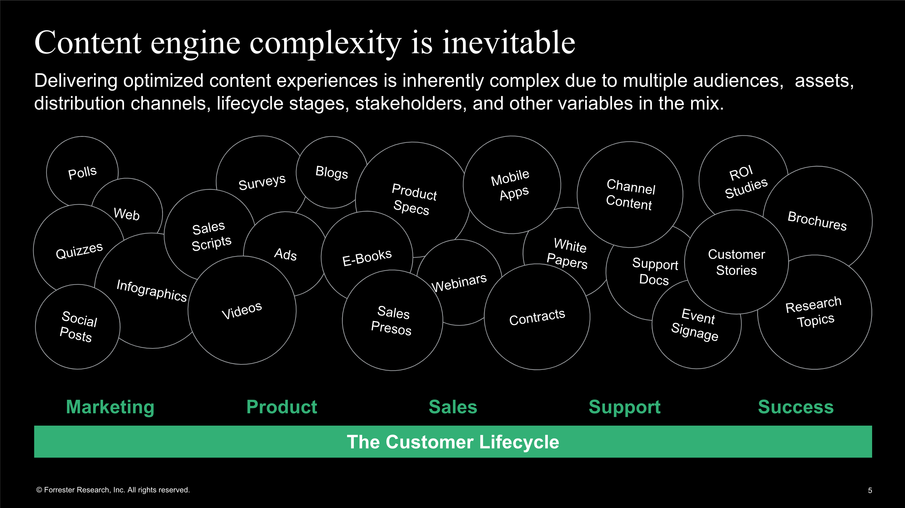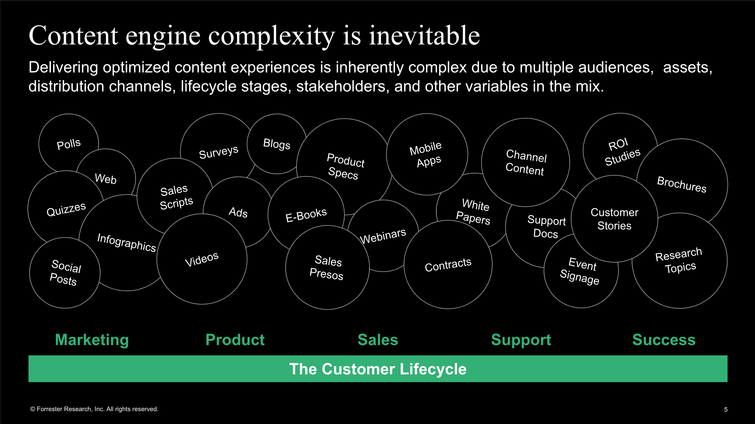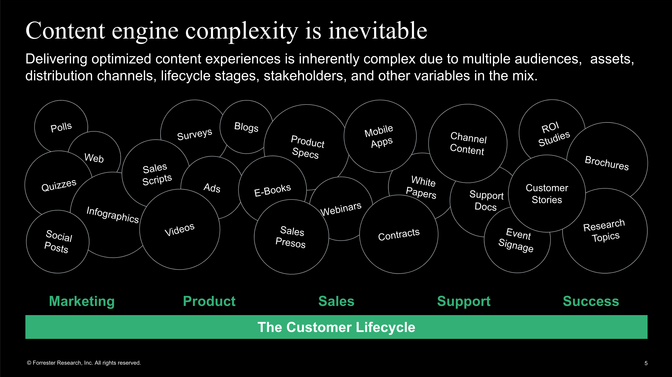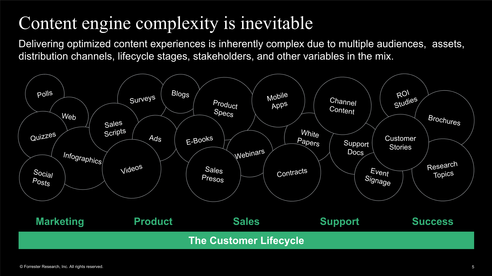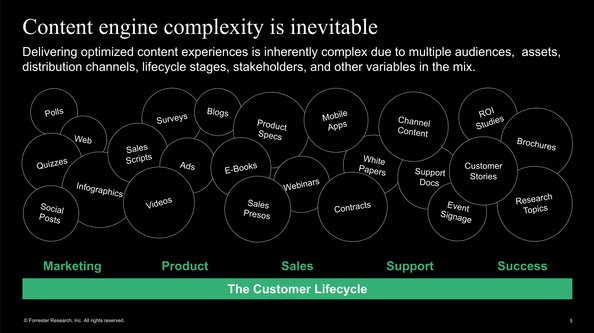 Content is more than just the assets you distribute across channels and platforms. If you're doing it right, your brand creates content experiences that help to show your buyers and customers that you know and understand them.
A marketer's job is not limited to providing a lot of content to feed audiences throughout the buyer journey. It is important to plan content across the customer lifecycle beyond the buying phases.
Inevitably, this leads to complexities. There are many different audiences, different assets, and different documents—not to mention the various distribution channels.
If you're doing it right, you're using an omnichannel approach—meaning interactions that take place through online channels as well as in-person. So orchestration of all this content is not easy.
Ultimately, a poor content engine can cause a poor customer experience. With an increasing number of channels for brands to communicate with their customers, there has been a growth in demand for content, which, coupled with a lack of centralized tools, systems, and distribution methods, has led to content chaos.
As marketers, we've spent years talking about how we need to get the right content to targeted audiences at the right place and the right time. But this isn't really what's happening.
The problem is often created upstream during the planning stage. It then makes its way across each stage from production to performance.
Expectations are outpacing content engine capabilities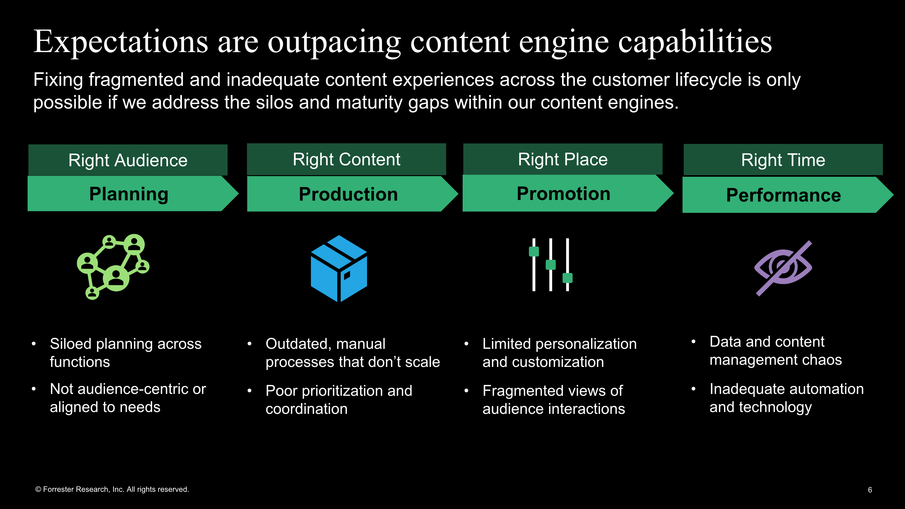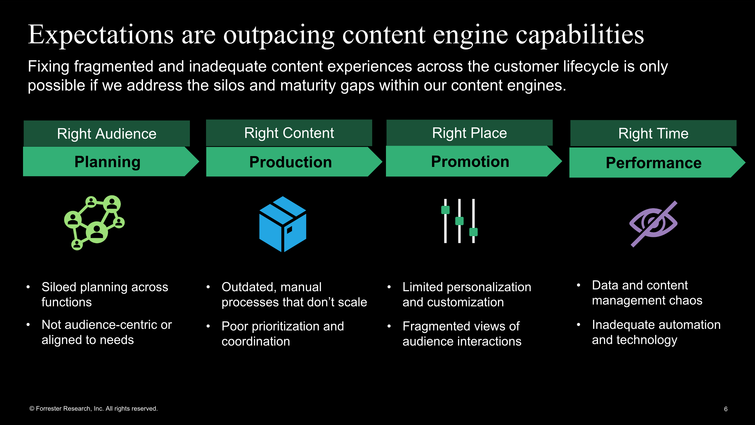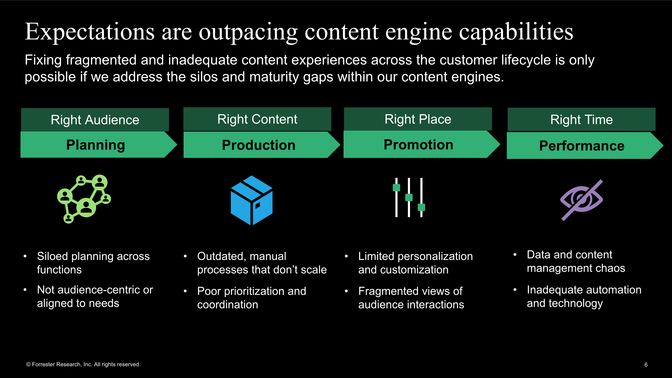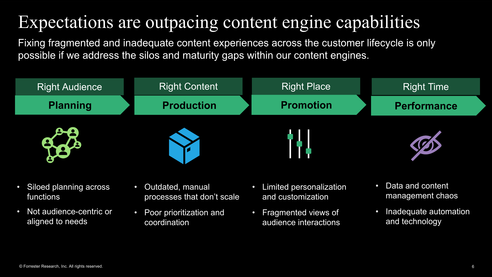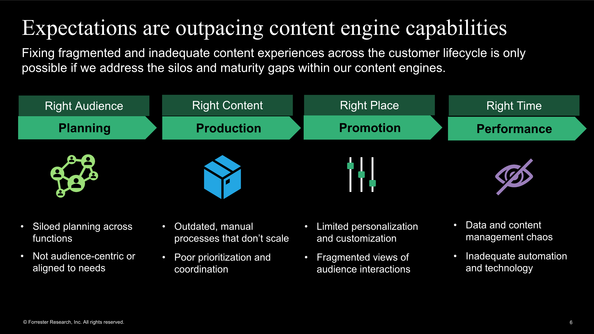 Fixing fragmented and inadequate content experiences across the customer lifecycle is only possible by addressing the silos and maturity gaps within your content engine. Let's start with an overview of each stage.
The right audience
Across the vast majority of companies producing content for their prospects and customers, the audience is what gets most often overlooked during the planning stage. Teams often operate in silos, and across functions, there is often a lack of alignment to audience needs.
The right content
Content that is planned in silos is seldom effective throughout its lifecycle and the customer journey. There's often a lack of prioritization that sets the focus away from what the most critical content for your audience is. Furthermore, once content hits the production stage, it often finds outdated manual processes and technology that doesn't scale.
The right place
What sits behind the promotion stage is the need to deliver personalized content experiences—which also falls into the other categories in terms of planning, production, and performance.
The right time
From a performance standpoint, this encompasses all of the aspects of content management. The performance stage is where you pay the price for content chaos. Content is stored in different places, and is often wasted due to findability issues, poor quality, or redundancy due to the lack of automation.
Content skills represent a key opportunity for growth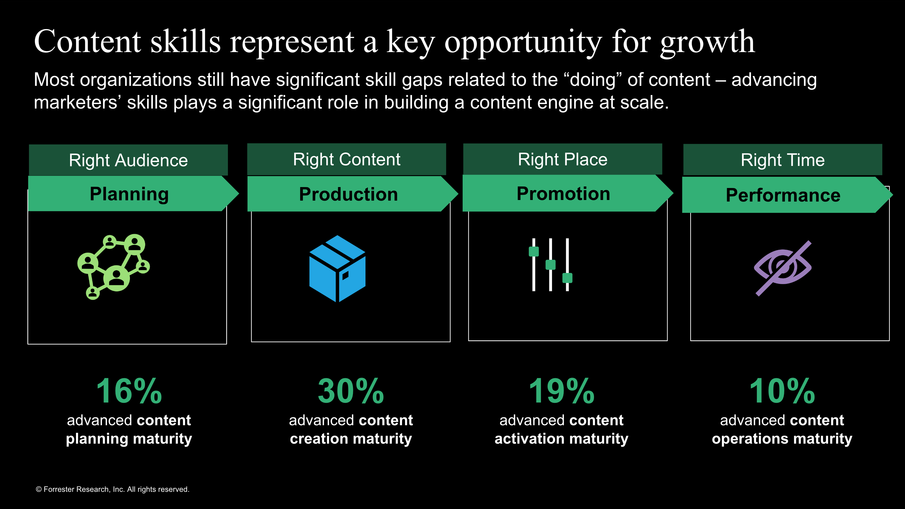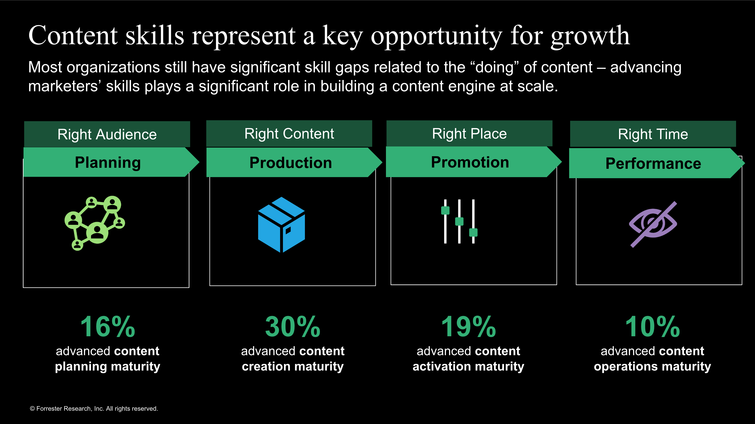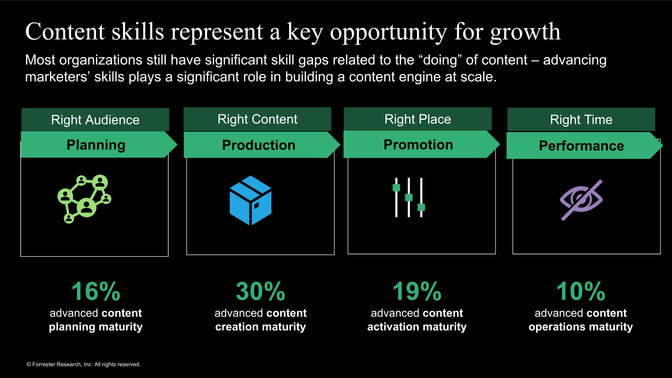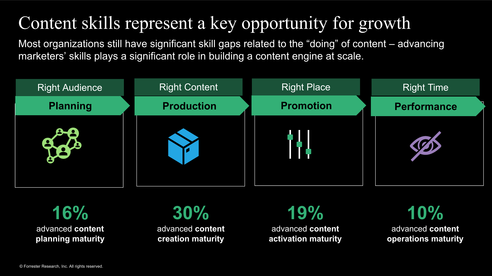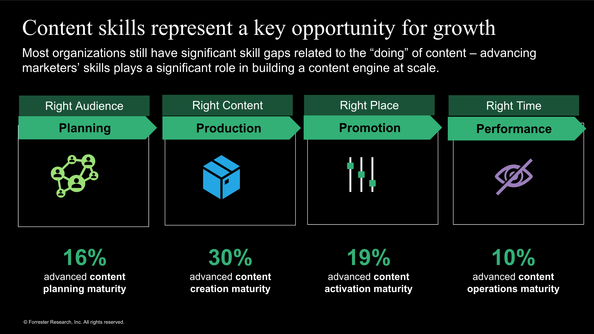 Most organizations still have significant skill gaps related to the "doing" of content—advancing marketers' skills plays an important role in building a content engine at scale.
In Forrester's State of B2B Content survey this year, marketers were asked to rate their own skills across the stages of content production. The results show that marketers still have a lot of work to do to reach a more advanced state of maturity, especially in planning and operations.
The study shows that 16% of organizations feel they have reached advanced content planning maturity, while promotion stands at 19%. In terms of performance, only 10% of organizations feel they're advanced—the focus here being content operations.
Achieving content marketing at scale starts with intention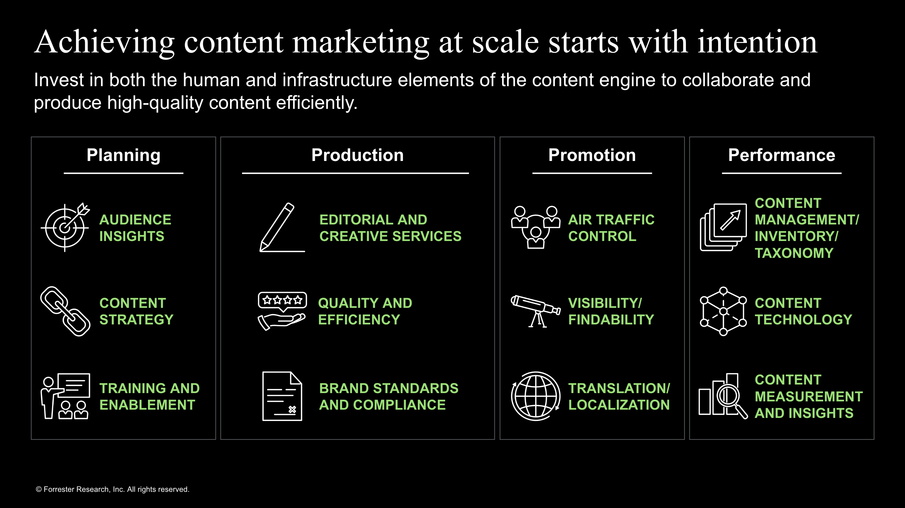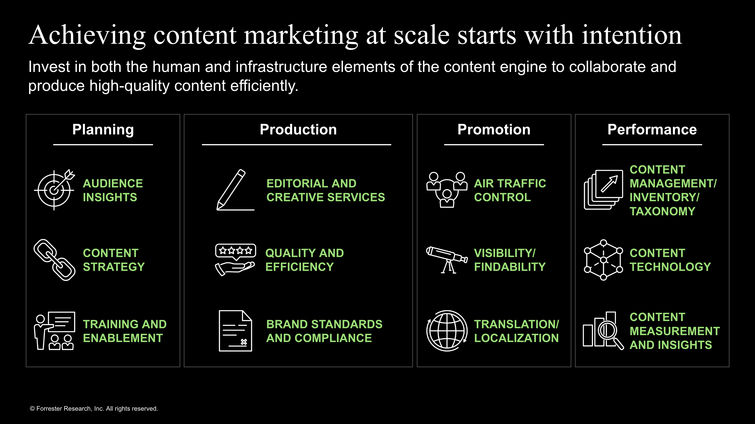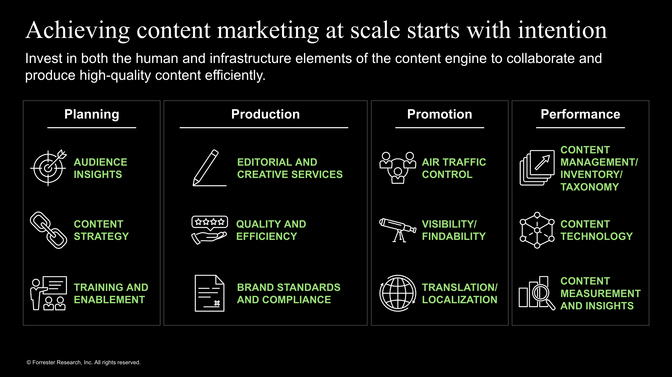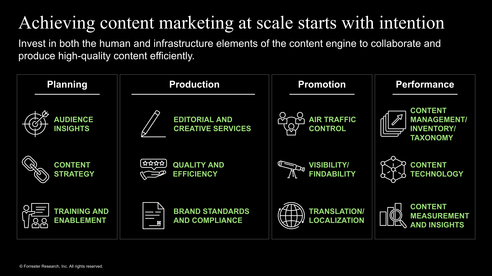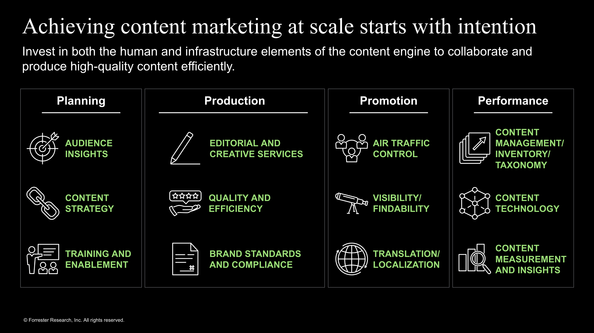 Invest in both the human and infrastructure elements of the content engine to collaborate and produce high-quality content efficiently. This means investing in the people, the processes, and the technology at the same time.
Some of the critical areas include building better collaboration while connecting the different parts of the organization and their content. Siloed content is one of the biggest issues for most organizations.
Investing in content operations means creating content efficiently, driving transparency, and understanding what works for your audiences. It allows you to keep informing your content plans and make the process iterative.
To safeguard your team's peace of mind, look at what content is already available
When planning, establish your audience journey needs and then audit your existing inventory—is there an existing asset that could be updated, repurposed, or reused? Is there an asset that could be broken down into different types of assets that can be delivered in different formats and through different channels?
Look at what you already have and be informed by the gaps. Create content that is missing for certain personas in the buying group or content that covers all stages in the customer lifecycle. Filling the gaps will guide content creation with more precision.
Content production — Key capabilities for effective content production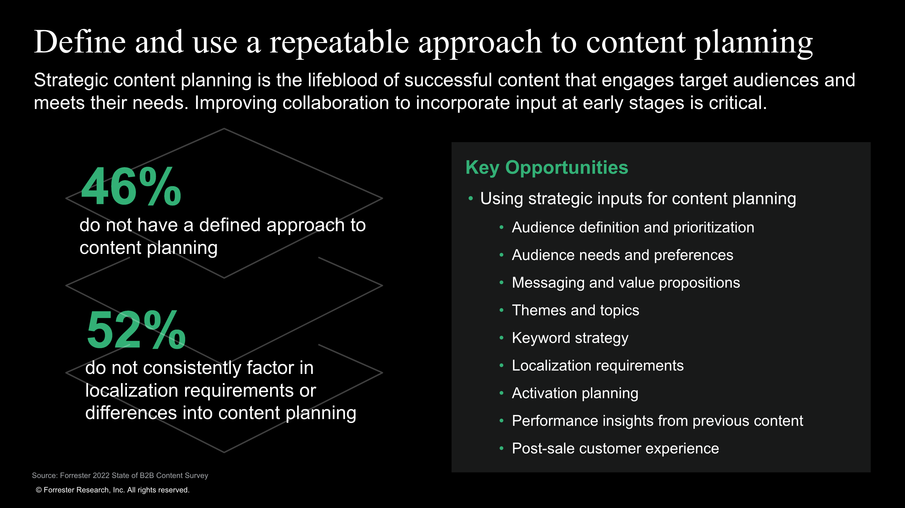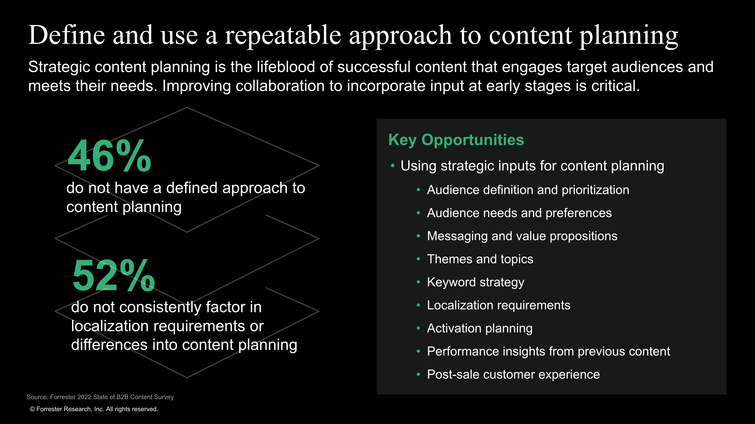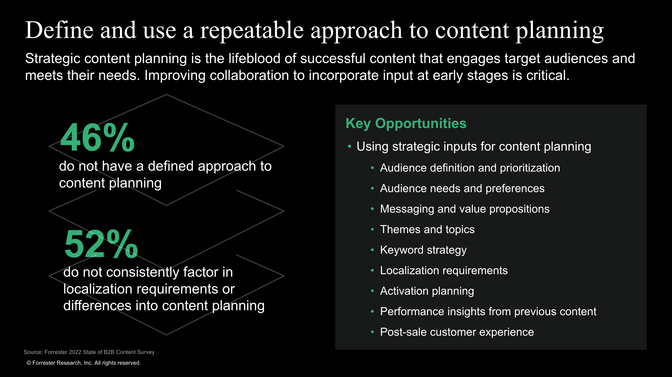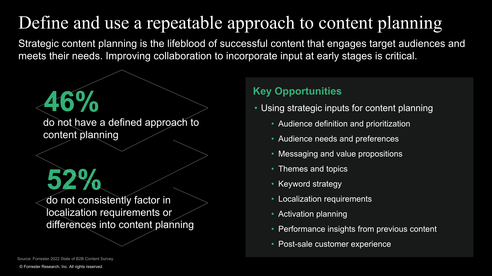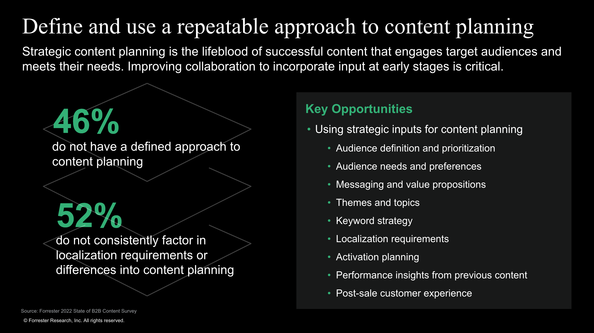 To scale the content engine as an organization, you must address gaps within and across the areas of people, process, and technology. Consider these data points:
46% of organizations say they are beginners at process KPIs, e.g., the time it takes to get approval, to translate and localize content, to get content to market—before you can measure performance, you need full control over your processes.
Almost 50% don't use modular content at all, i.e., discrete content components or "atoms" that are managed not only at the asset but at the component level.
All organizations should use content modules on their websites and ensure core content—such as product names and descriptions—is consistent, shared across pages, and easy to personalize and localize.
To evolve production capabilities, it's essential to get a handle on the content process—knowing what types of content requests are expected to come in, what content type, who it is for, and deadlines.
Your people need skills, templates, guidelines, and governance to do great work efficiently. But this can't be achieved at scale without an infrastructure that utilizes automated workflows.
Reuse content to drive efficiency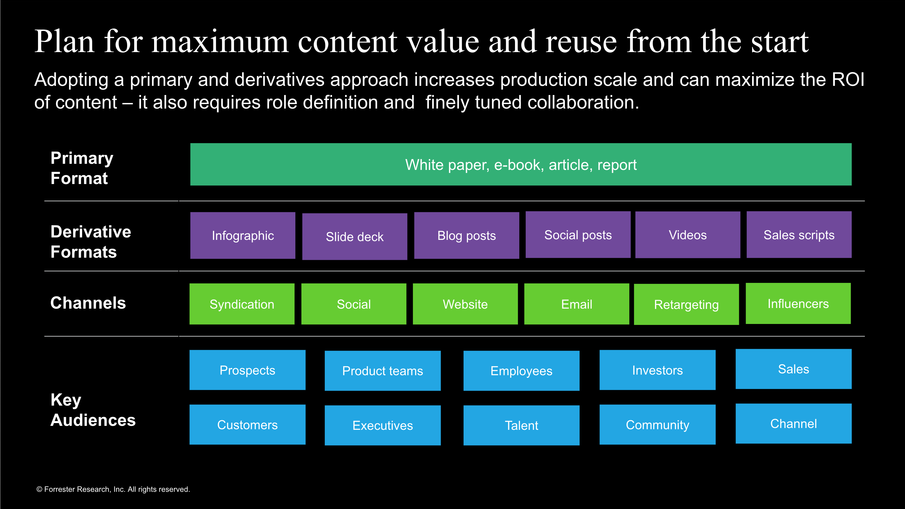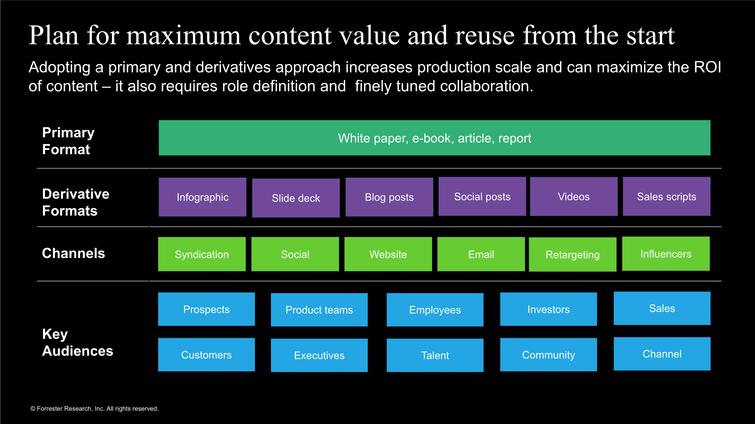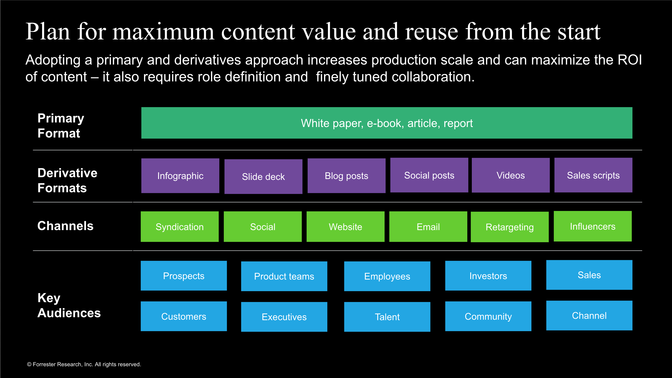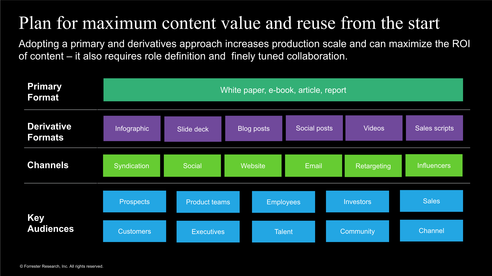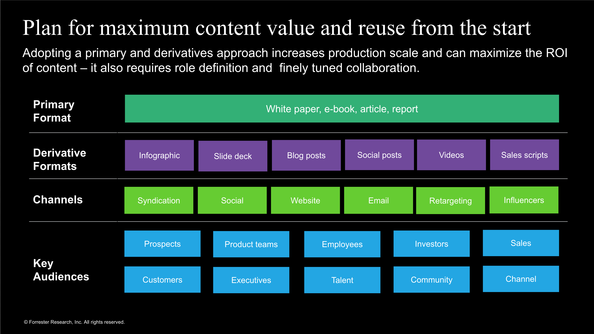 One of the ways to drive efficiency and scale is to work on content reuse from the start.
A primary-derivative asset approach is among the most efficient and one most companies tend to use.
It begins with a primary format like a report, white paper, or article—a robust asset—from which your team creates multiple derivative formats. This means getting more asset types for audiences and channels out of your initial investment.
The primary asset guides a lot of work: core content, creative treatment, and quality down to the details (data, customer examples, imagery)—when reused skillfully.
While a primary/derivatives approach may turn primary assets into individual components, the use of a modular content development and activation approach serves a different purpose, and the two approaches have little overlap.
Modular content strategy doesn't start with a primary asset. Instead, it's about creating and managing content at both/either the asset and component level. The benefit of this approach? It lets you operationalize personalized content at scale by managing the growing volume and variety of content required while maintaining cost and creative capability.
Bringing it all together — Key factors for success for scaling the content engine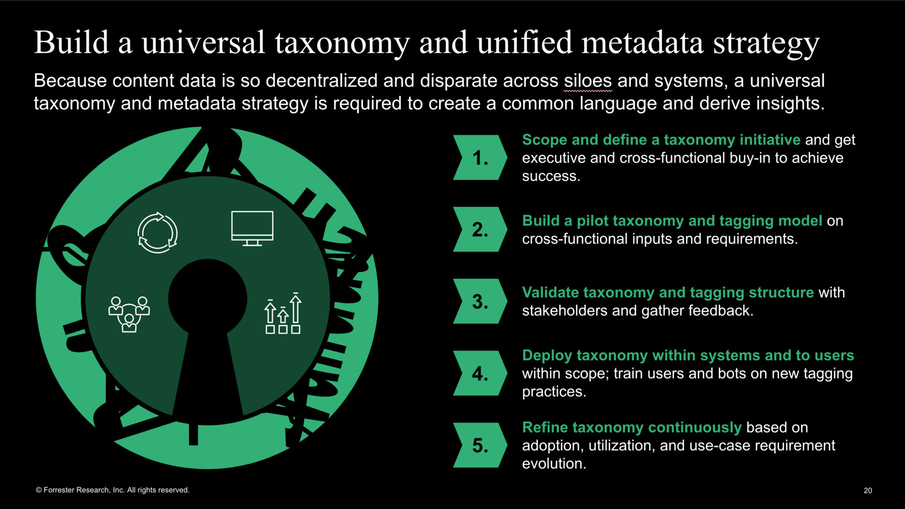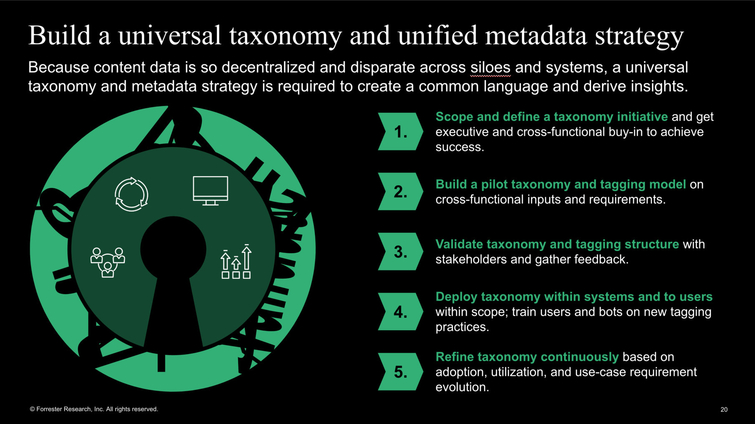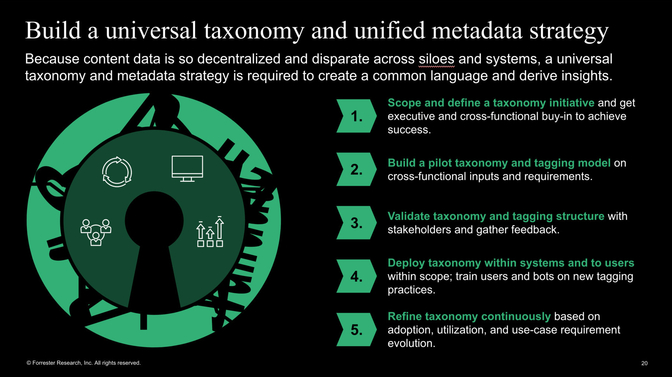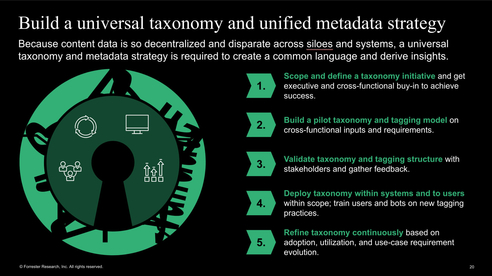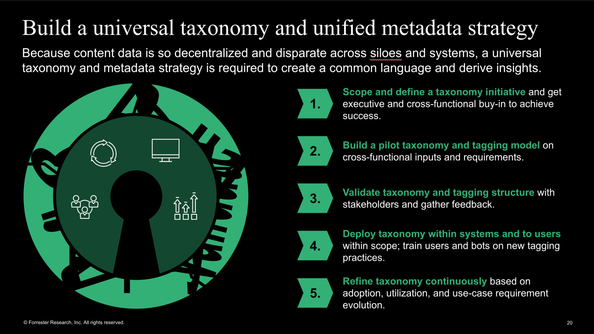 To know if you're getting the best return on the content you produce, you have to look at both the content process metrics (the efficiency of content production) and content performance metrics (are assets resonating with audiences or reaching them at the right place and time?).
The reality is that content ROI in absolute measures is out of reach for B2B organizations today. To truly "unlock" the value of your content, you need an effectively tagged inventory to see what assets are working, with whom, when, and where.
If you don't already have a robust taxonomy, think about using the methodology in the slide above. It's an iterative and cyclical model that injects rigor into the process, ensuring you've got something ready to deploy and refine.
What can you do to start scaling your content marketing today?
Assess your current state: how do different teams handle activities across the content lifecycle?
Communicate your vision and expectations for working at scale – drive some focus
Designate a team lead who will help develop a plan for scale
Know that this will take an investment in content resources and tools that can scale with your business
Over time, you'll need to review progress and prioritize new areas for improvement as teams evolve their planning and production practices. You'll also be able to accelerate efforts by incorporating stakeholder (and audience) feedback about the quality, findability, or SLAs for content into future processes.
Tapping into the power of a modern content engine will enable your teams to deliver relevant and contextualized content to the right people. By bringing it to market in a timely manner, you'll ultimately deliver engaging content experiences that make customers come back for more as your brand stands out against the competition.
Learn more about the synergy between your brand's content engine and your position as a thought leader. Click below to download our latest guide 👇.
---

---