The secrets of Coca-cola's branding and marketing strategies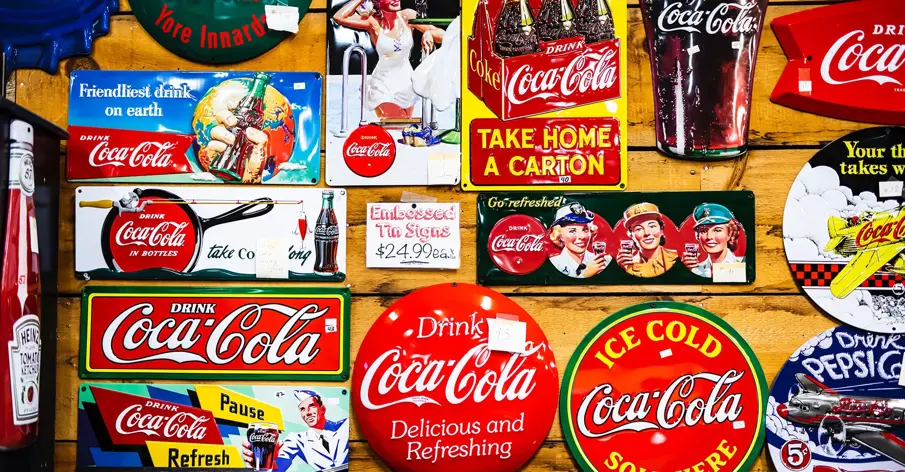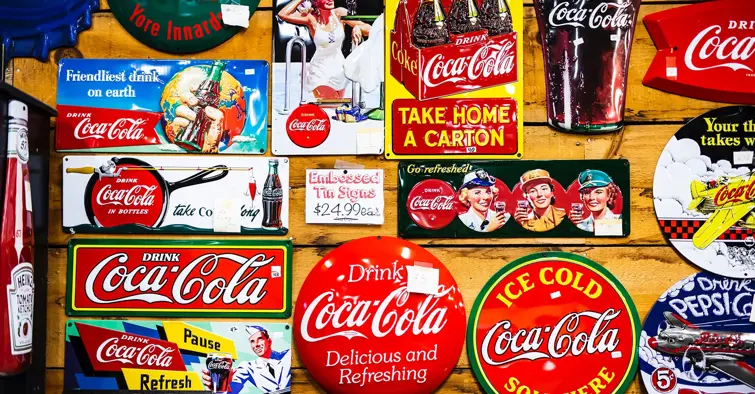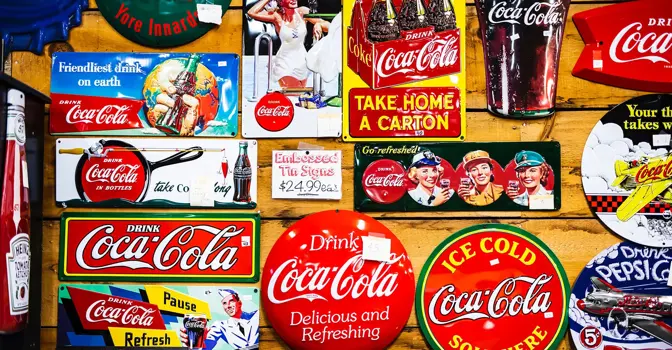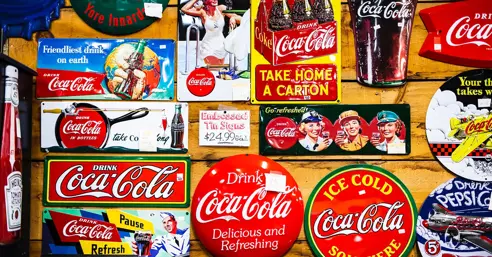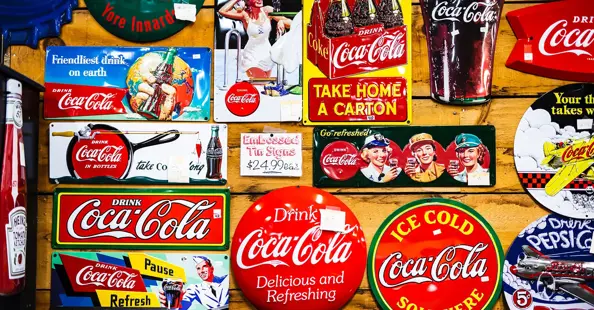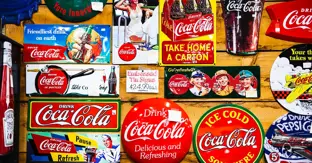 What marketers can learn from one of the world's most iconic multi-brand portfolio powerhouses
Powerade.
Dasani.
Aha.
Sprite.
Smartwater.
innocent.
Coke.
These are a tiny sampling of the name-brand products owned by The Coca-Cola Company.
33 billion dollars.
That's the annual revenue of the Coca-Cola Company from 2020.
If you could measure Coca-Cola's brand presence on an imaginary brand-awareness scale, the dial might read "omnipresent." It was the first soda to be consumed in space, and most recently, the first soda sugar-shamed? on the world stage by well-known footballer Cristiano Ronaldo.
The Coca-Cola Company is one of, if not the world's most successful FMCG (fast-moving consumer goods) brands. But it's much more than just Coke.
The beverage behemoth offers 200 brands in more than 200 countries and territories worldwide (They recently slimmed down their portfolio of brands.).
The Coca-Cola brand is not just prolific; it's highly lucrative, too. Twenty brands in the Coca-Cola umbrella are worth over a billion dollars, and more than 1.9bn servings of Coca-Cola products get poured every day.
Even if the only thing you drink is water, they've got a product for you like Aha Sparkling Water or Smartwater. This guy endorses the latter. I don't know what they were thinking (j/k, I've made bad decisions too.)
That's part of their multi-brand portfolio strategy, and each brand itself seems to come with its own unique brand presence and vibe.
But the Coca-Cola brand isn't only successful because of its products.
You don't get to enjoy over a century of fame and success on liquidy refreshments alone.
Coca-Cola's global marketing department has serious game (and yes—serious budget. 💸 ).
The brand's advertising campaigns are consistently creative—and sometimes controversial—and their brand identity instantly evokes happiness and celebration.
What are Coca-Cola's branding secrets, and what can ambitious marketers learn from them?
There are six categories of branding "secrets" that we can learn from Coke, which we'll dig further into here in a second:
Build a robust multi-sensory brand identity.
Match CSR initiatives to the world's biggest problems and help solve them.
Focus on how your product(s) makes people feel.
Remain relevant to your global audience (and your brand ambassadors), even as they change.
Always be diversifying.
Create enduring content marketing campaigns that people remember F-OR-EV-ER.
You might be wondering how an understanding of Coca-Cola's brand strategy can enhance your brand awareness activities?
If you're looking for meaty, real-world takeaways that deal with what you can learn from the Coca-Cola Company's branding strategy and not a boring, run-of-the-mill, look-at-how-great-Coke-is-at-branding article, you've come to the right place!
#1 Build a robust multi-sensory brand identity
Can you think about the Coca-Cola brand without seeing red and white in your brain? The vibrant red encourages impulse buys and is synonymous with excitement, passion, and a zest for life. And apparently, 94% of the world's population can instantly identify Coke's red and white logo, even when the name isn't present. Too often, brand identity is talked about as if it's only centered around what we can see. Visuals are essential to any brand, perhaps more than other inputs, but sight is not the only sense to consider when crafting marketing and branding messages.
Can you think about Coke without hearing the "Phhhhsst" sound of a can of Coke opening? Can you feel the coldness of the glass bottle in your hand?
Coca-Cola's brand identity is always consistent and instantly recognizable, even beyond what we can see with our eyes. And multi-sensory marketing may very well be just about the quickest way to reinforce neural connections around a brand.
How cool is multi-sensory marketing? Very.
Consider Volvo's approach to incorporating smell as part of their brand identity from the article, "Sensory marketing: the multi-sensory brand-experience concept," published in European Business Review:
"A sensorial smell strategy is applied to allow a scent to become an element of a brand's identity and image. Scents contribute to creating memory pictures, a positive atmosphere, and wellbeing among both customers and employees. Removing unpleasant smells from the interior of a car to make it more pleasant to get into and use was described in an interview with the Volvo marketing department in Gothenburg, Sweden:
We put a lot of effort into making the car smell good when one enters it. The new S80 and all of our other cars are adapted for allergenic environments. The S80 is recommended by the Swedish Asthma and Allergy Association. When the car is opened with the hand control, the air is sucked out, as there is otherwise always an accumulation of the smell of plastic. This indicates the development work in this area, which is quite enormous.
Other motives for a smell strategy are to accomplish a positive smell experience and impact on customers' emotional state and mood. A scent experience can also lend a natural connection to a brand through sensory expressions like product congruency and the intensity of a scent. Scents can also improve the recognition and recall of a brand through such sensory expressions as signature scents or a scent brand."
And just like that, maybe I now better understand others' inclinations to love the Volvo brand (I've never been inside a new Volvo to experience this lovely brand scent!) But we can all agree: New car smell is real. And when a salesperson puts a product in your hand, you start to imagine owning it.
So, what else can we learn about building a multi-sensory brand identity?
Be consistent throughout each sense so you can build better brand recall.
Consider focusing on the sense of smell. Empirical research indicates that "recall of smells remains unimpaired for as much as a year". "Sidebar: Is this why Cinnabon in the mall is so popular?"
Choose brand sensory components that complement the activities, values, and ethos of your brand.
Consider adding a senses section to your brand guidelines. What are the rules when it comes to auditory brand experiences? Do you have motion brand guidelines? What activities would fall under "Don't" for olfactory brand experiences? 💨 😂 Did you know that Starbucks has rules against employees wearing perfume or cologne while working so it doesn't interfere with the overall smell of the shop?
Explore new channels and experiences. How might your brand combine senses to create new experiences in a VR world? Can you imagine eating a soft, delectable bite of buttery scrambled eggs while viewing your-VR-self eating lobster, which you're allergic to, but secretly wish you could eat? I'll be first in line to buy the eggs "so good they taste like buttered lobster." Yes, please.
Don't underestimate the power of visual content in today's digital experiences. Are you protecting your investment in creative visual content with a future-proof and DX-ready digital asset management solution? Why not? Your brand's digital IP is what can set you apart in the sea of sameness. Content is growing, not retreating.
Don't rebrand or change your logo without a good reason. And if you do decide to rebrand, make sure you can mark your old brand assets as "archive" to everyone to encourage the use of the new logo and branding. Host your brand assets on your website from a dynamic link from your digital asset management platform. That way, if you need to update the logo, it will be updated everywhere.
Don't take it too far: learn more about the brands using sensory marketing in retail.
Questions: How might your organization incorporate the different senses into your marketing and branding activities? How would your brand easily update brand identity elements, including visuals and sounds across all of your digital properties? In the digital world, how can you use both sound and visuals to convey a multi-sensory brand message when so many people surf with the audio off?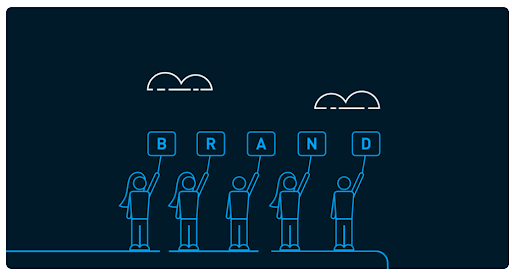 #2 Match CSR initiatives to the world's biggest problems and help solve them
What does this have to do with the brand? Everything actually. Employees want to work for organizations that are doing something good for the world. They want to work at organizations with strong corporate social responsibility programs.
Ask yourself, "What is your brand doing to combat the world's biggest problems?" How does that relate to the work you do and inspire you?
While brand purpose might have once been a nice-to-have for employees, it's now moving towards must-have when workers evaluate whether they would work for your company or not.
And big beverage itself has quite a few considerations and causes to align themselves with.
Water, for example—an essential building block of all life as we know it and a finite resource that demands protection. Water also happens to be the main ingredient in many of their products, so it naturally lends itself to a cause that they can easily align themselves with.
It's simple, really, and the Coca-Cola Company says it best themselves:
"It's central to the long-term success of our business and the health of our communities. We have a responsibility to respect and protect water resources."
But what if it's not as easy to align your company with a cause? That's what most brands struggle with: What is the one cause that organically makes sense for your brand to rally around? It can be tricky to get right. Take some inspiration from our post about brand purpose in the covid era.
Questions: How might your organization match CSR initiatives to helping solve the world's biggest problems? How can your brand partner with organizations that have shared CSR initiatives to create even more impact?
#3 Focus on how your product(s) makes people feel
The Coke brand makes people feel something. The brand exudes joy, family, good times.
These good vibes extend way beyond the festive season. Naturally, this kind of sentiment might not be appropriate for your own brand identity but making sure your brand is always recognizable from the emotional response it elicits in people is a very worthwhile goal. That might be a feeling of trust and reassurance if you work in a sector like healthcare or legal. Or it might be a feeling of momentum and motivation if you are in sports and leisure. Decide on the emotions you want your customers to experience when they think of your brand, and adapt your branding strategy accordingly.
Question: How do your products (and/or services) make people feel? Do you know? How can you find out?
#4 Remain relevant to your global audience (and your brand ambassadors), even as they change
How has Coca-cola remained relevant to such a large and diverse global audience for over a hundred years? Coca-cola traditionally advertised to everyone. In 2010, they admitted their target market was changing. There was a secondary target market group. And that group valued health and well-being over high fructose corn syrup. And in 2021, Cristiano Ronaldo, sponsored by Coke, reminded them (and the entire world.)
This one action resulted in billions lost in market value and a decrease in the share price. Did Coca-Cola get mad and start working on a sassy response for Twitter? No. Instead, they admitted quite bluntly that people like what they like, and that's their right. In the age of agile and responsive marketing, it must have been tempting to issue a more provocative response, but thankfully, they did not. (Kudos!) To understand the changing needs of their audiences and remain relevant to them, brands must listen—really listen—to their customers and adapt their tactics and strategies accordingly. Social media listening tools are great for this, as is simply talking with your customer base. (If you don't already engage directly, find ways to open channels between your brand and your customers. No one likes a brand they can't get ahold of.) Naturally, you need to keep an eye on your competitors, too—particularly new entrants to the market.
Questions: How will you remain relevant as your audience changes and as the world changes? How would your brand react if a brand influencer or ambassador publicly promoted health and well-being over one of your products?
#5 Always be diversifying
Successful brands have this in common: they diversify their investments to give themselves more paths to an opportunistic future. What do I mean by that? Disney launched a new streaming service, Disney+, mere months before the rapid shutdown brought about by the global pandemic. And they buy companies for their digital IP. Marvel is an excellent example of this. Lucas films is another. None of these choices are accidents or lucky decisions. They are intentional and future-oriented.
Coca-cola has been diversifying for a long time now. In their now-public 2010 marketing plan, Coca-Cola admitted the cold, unbubbly, truth: the public and the government are concerned about the health impacts of high-fructose drinks. They wrote, "Coca-Cola must continue to adapt to the external environmental threat of the healthy lifestyle moment through product development and marketing of healthy options available." And that's hopefully the last time you're going to see "healthy lifestyle movement" described as an environmental threat by a business. But we can clap loudly at their foresight to invest in healthy beverage brands to future-proof.
Questions: How can your brand diversify lines of business to better future-proof? How are you preparing now for the next wave of disruption?
#6 Create enduring content marketing campaigns that people remember FOR-EV-ER
While it might not be burned in your brain like the image of a Red Tesla Roadster floating through space or this scene above from the movie "The Sandlot," Coke has done a fair share of content marketing that is unforgettable, here's one that just launched to promote Coke Zero and the thirtieth anniversary of Coke being the first soda in space. The video ad makes thirty-six years ago feel like just yesterday:
And boom. They just Forrest-Gumped your recollection of the late-80s/early 90s. See how powerful marketing can be?
One of Coke's most notable and successful global marketing campaigns is the 'Share a Coke' campaign. First launched in Australia in 2011, the campaign involved adjusting the bottle wrapping to feature common first names after the tagline 'Share a Coke with…'. Is there anything better than having a keychain license plate personalized with your very own name? Not to fifth-grade me. That's part of what Coke capitalized on here.
The opportunities for social media engagement and participation here are clear. Who wouldn't want to share a picture on Instagram of themselves with their besties accompanied by their named bottles or 'their song'? (I wouldn't—but I don't have Instagram.) But, the best things about the 'Share a Coke' campaign are the personalization elements and the emphasis on creating experiences and shared moments for their customers.
Just kidding, actually, the best-best thing about the 'Share a Coke' campaign is the significant business impacts it had (the kind of stuff that gets you a promotion!)
Check them out. Scroll down to the paragraph "​​The Sweet Taste of Success."
Coke knows a few things about brand positioning and growing with its audience. Take a moment to think about how the Coca-Cola brand identity has evolved over the years and how they still create an emotional connection between customers and the brand.
Coca-Cola achieves this by listening to its customers and adapting to meet their changing needs. All with the same instantly recognizable branding at its core.
Questions: What kinds of brand experiences can you create for your customers and potential customers to leave a lasting impression and emotional experience? What kind of business impacts could you make if your brand would significantly lean into creating personalized, emotionally-driven experiences?
Looking ahead, what are the Coca-Cola Company's branding and marketing strategies for 2021 and 2022?
The world's most successful FMCG brand is doing the same thing we're all trying to do (but maybe they're doing it on a slightly bigger scale): improve processes and squeeze more out of every dollar. While we're no insiders into the secret branding strategy of Coke, there are plenty of breadcrumbs available online to take inspiration from. Marketing Dive reports that the company is laying the foundations for always-on marketing programs and auditing their media agency relationships across the globe in 2021.
In The Coca-Cola Company's 2021 marketing innovation portfolio strategy, they write:
"We have a global, creative and media agency review underway, which will improve processes, eliminate duplication and drive efficiency to fuel reinvestment in our brands."
They'll also focus on re-using marketing assets (hey—we happen to know a lot about re-using digital assets! 😉 ).
"A more rigorous focus on resource allocation will boost the impact of "fewer, bigger" integrated campaigns and fuel brand reinvestment by consolidating media planning, streamlining agency rosters, and reusing marketing assets aligned with passion points like music and gaming.
The global pandemic has undoubtedly expedited the shift to a digital world, and we are structuring the organization around this opportunity. We've been digitizing the enterprise for several years and have stepped up our evolution into an organization that can skillfully execute marketing, commercial, sales, and distribution, both offline and online.
Coca-Cola Company Q4 2020 Earnings Statement
Questions: How can your brand improve processes, eliminate duplication of effort and drive efficiencies? How might your brand further digitize your processes to support the shift to the always-on digital world? How can your brand better re-use marketing assets to squeeze every drop of value out of each creative content piece?
---

---