What are the 6 types of short-form video templates every brand should use?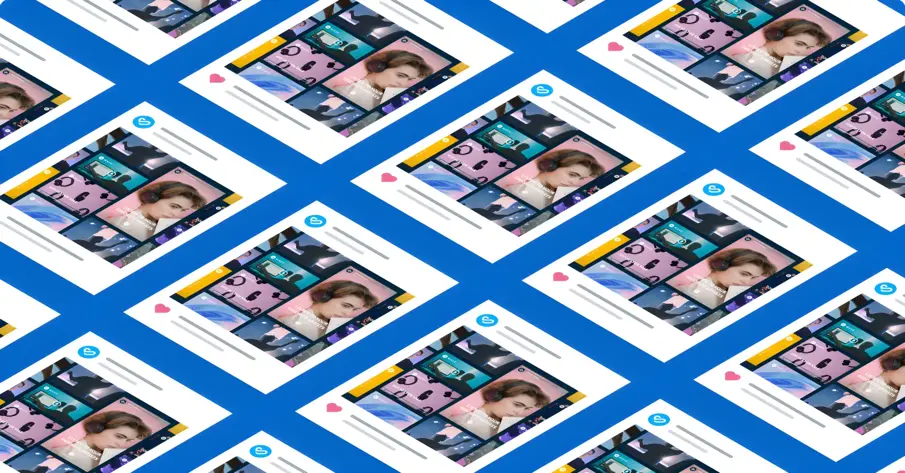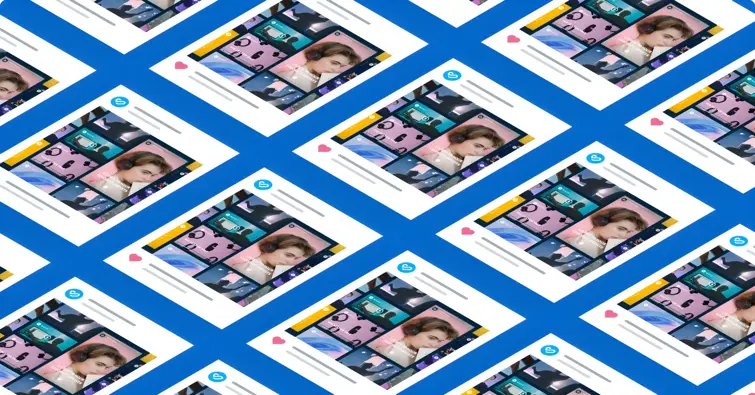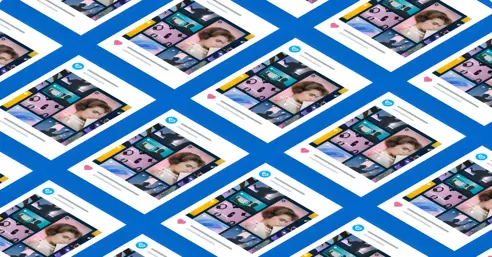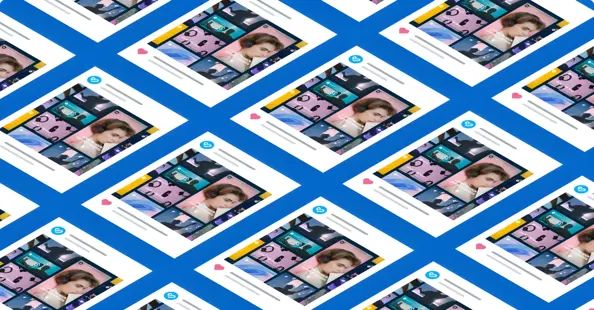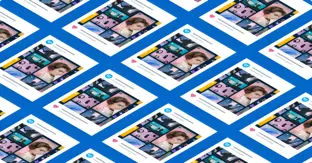 Video is scary.
Scaling branded video content production?
Even scarier. 😱
But also…Video can be sexy.
Scaling branded video content production?
Even sexier! 😍
I've gone back and forth on these two polar-opposite feelings since the arrival of Studio, a video creation tool that we've added to the Bynder platform. And it's because, like many of you, we wrapped up our marketing planning for this year and set some pretty intimidating production output goals. Not just because we wanted to set the bar high just for the sake of putting it high, but because we feel like it's achievable now, albeit aggressive.
We plan to make at least 500 videos this year.
That's a lot of video content to produce!
There's that feeling again. 😱
Why is "doing more video" so scary for marketers? And how do you scale video content production efficiently?
Video content production can be slightly more tricky than other types of content. There are more moving parts (pun intended). You need more processing power to output all the various sizes and formats fit to each channel. And, you may not have considered creating these types of videos entirely in-house either. Even if video is complex, marketers can agree on one thing: We want to do more video.
To get in the right headspace to scale your video output, repeat after me:
Not every video has to be a high-quality feature film-like production. 👏
Not every video has to be created by your creative team. 👏
Not every video has to be outsourced. 👏
Not every video has to be super long. 👏
But the video content you produce does have to be high-quality. And it does have to be consistent with your brand. Doing more video could be as simple as picking a type of video to focus on and creating a plan to scale it. The secret to making more video could be as simple as... using a template!
Branded video templates help you scale your video output. Think about it. It doesn't matter if it's a campaign brief template, a blog template, or even a video script template. Templates help you scale content production because they provide a repeatable format and structure, and you don't have to start from scratch every time you make a new piece of content.
For this post, we'll focus on quick, short-form video advertisements for use on social media channels like YouTube, Facebook, Instagram, LinkedIn, and more. And we'll give you some ideas on how best to use these types of short-form video templates, no matter what industry you're in.
The 6 video templates every brand should have
The average social media user's attention span is probably impossible to record accurately; it's really that small. When it comes to clinging on to that slither of attention for longer than your competitors, video content is king. Move over still image. Video is top of the content pile now!
In our marketing planning for this year, we identified six video templates that we think every brand should have to scale their short-form video content production for YouTube, Instagram, Facebook, LinkedIn, etc. They are:
Partner announcement video template

Content promotion video template

Seasonal video template

New feature or product launch video template

Statistic or quote video template

Event announcement video template
#1 Partner announcement video template
We created this video template to let our customers and the world know when we have new partnerships and/or integrations with brands like Salesforce and Contentful. These video templates are some of the easiest ones to set up, so it's a solid jumping-off point if you're just getting into using video templates. They're easy because they follow the same type of repetitive pattern and don't require any video footage. You can make these simply from animated visuals. You could even use this type of video template to pitch to new partners!
We're in the SaaS tech space, so maybe it doesn't seem like this would be the perfect video template for everyone, but hear me out:
For a beauty brand, it could be the perfect template for announcing a new influencer partnership. Or for a beverage brand, it could be the ideal template for advertising a joint sustainability initiative with another brand to reduce carbon footprints by planting a tree for every product sold.
We use these types of partner announcement videos mainly on social media platforms like LinkedIn, Facebook, and Instagram. Here's an example:
#2 Content promotion video template
"Build it, and they will come" is not a strategy for success when it comes to marketing content. You can't simply create great content and then wait for your audience to stumble upon it or even seek it out directly. That's why a video template to promote your content is another template every marketer should have in their digital tool belt. We created this content promotion video template to promote our guides, blogs, and more to get the most out of each marketing piece and maximize our re-promotion efforts.
Because we have a large library of marketing content, and we may need to swap out what content we're promoting in each campaign, it made sense to offer an easier way for our marketing team to select the content they want to promote in each market, add their localized copy and then leverage the videos across digital and social channels.
Before we onboarded Studio, we were already using a module called Digital Brand Templates to make digital banners and ads for social and paid media. Because of this prior experience with using Digital Brand Templates, our field marketers were already up to speed with the process and could jump into making videos quite easily. Using these kinds of content creation templates means we're able to create ad variations across four languages, produce the final assets in-house AND all without our creative team having to manually make each video.
When you add up the cost of external copywriter freelancers (or agencies) for localization PLUS the cost of design resources to input the copy into each format, the price for this content gets high very quickly.
For a multinational company, this kind of branded video template could be used to promote videos across geographies and languages and bring content in-house while simultaneously reducing costs and increasing consistency. We're not saying you won't ever need an agency or freelancer again, but rather, you can use those external resources for more creative projects instead of manual production efforts. And the same applies if you're doing it all in-house - you're freeing up more time for creativity because you're automating parts of the content production process.
Here's an example of a content promotion video template:
#3 Seasonal video template
Seasonal or holiday video content might be the one type of video template you're not super excited about. Because it takes so much time to produce seasonal content and the shelf life is so short, seasonal content is actually the perfect candidate for a template. You'll thank yourself for making this template next year when the holiday inevitably comes around again.
Getting the seasonal template on point can be a bit tricky, but these offer more freedom when it comes to topics, so they can help you reach a wider audience given the window gap of a specific season
Adria Berrocal Forcada
Video Producer at Bynder
The seasonal video template was the video template we started with for our 2020 seasonal holiday campaign. It provided the proof in the pudding for us to make other generic video templates to use in our marketing programs this year and beyond. Bringing in a whopping $62,000 in savings that we would have otherwise spent with a video production agency felt like a nice Q4 present to ourselves.
#4 New feature or product launch video template
For software companies working on a continuous development basis, this is the perfect type of video template because new features are coming out all the time!
The marketing department gets a chance to show prospects and customers the latest releases on the platform via a short video, which saves time for people who may not have time to attend a training webinar or dig into a lengthy article or email about it.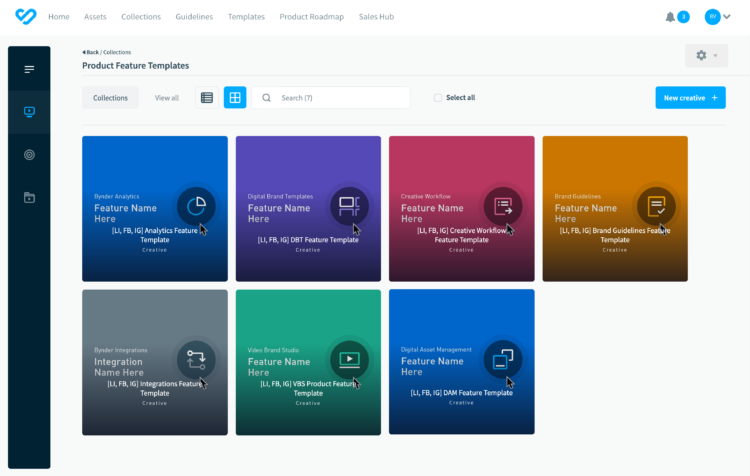 So this type of template readily applies to those in the tech space, but what about other industries? Maybe you're in the consumer electronics space. Think about how much more content you could create for upcoming product releases or promotions. Instead of making ads for only one variation of your product, you could quickly scale to produce the same ad for each color variation or even every product model.
#5 Statistic or quote video template
Every year, we produce the State of Branding report that surveys thousands of marketers worldwide to take the pulse on the latest in branding, marketing, and technology. With this research, we get a ton of statistics, trends, and short "sound bites" to promote the report. We re-use these trends and statistics in other content like blogs and guides, but also to promote the report itself.
Not in the business of publishing reports or research? Think about using this type of template to highlight customer testimonials or trends your customers care about.
#6 Event announcement video template
You can also use an event announcement video template to spin up a quick promotion for digital events like webinars or even in-person events when those become more common. To support our on-going webinar program, we use this short form video template for social media sites like LinkedIn. Dennis Wright spoke to me a little about how he liked the process of using VBS for this purpose:
The turnaround time was extremely brief, and even with extensive iMovie skills, it would have taken me 7-8 hours to get the same level of detail - for a 35 second video!
Dennis Wright
US Demand Gen Strategist at Bynder
And this was only the production time-savings for ONE video. Post engagement for this promo was 3x the average post engagement in the same time frame.
Customers in the food and beverage industry can use this type of short-form video template as advertisements for longer, more in-depth video content like instructional or tutorial videos covering how to use new products.
Think your team can produce 10 videos a week?
I thought making 500 videos this year would put a significant strain on our creative team. But we've already made almost 100 videos to date. That's 10 videos a week since we started using Studio. We're even using Studio to promote Studio:
If you're serious about creating more video this year, we'd love to talk more about video templates!
---

---