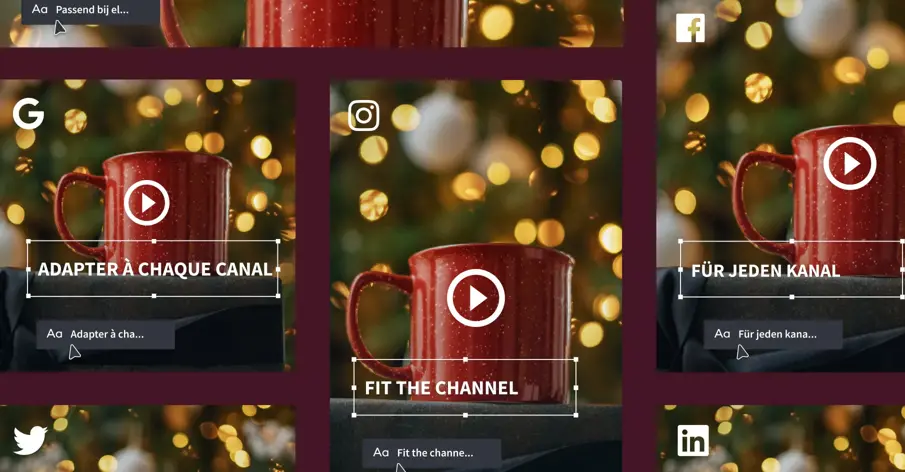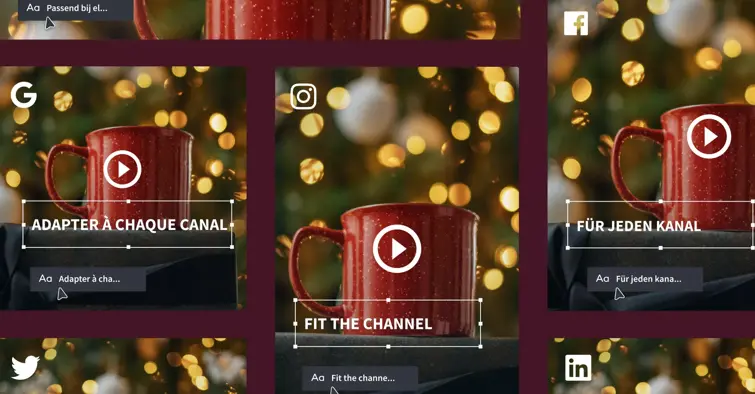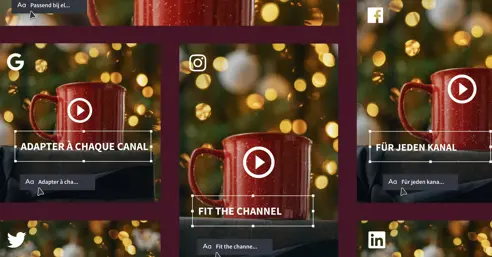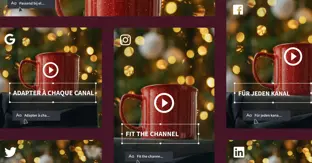 Does executing your brand's seasonal marketing campaigns feel more frantic than festive? You're not alone.
There's a lot of pressure for today's brands to tap into the holiday buzz and end the year on a high. As MarketingWeek notes, 50-80% of total annual revenues are generated in the last few weeks of the year for many companies, particularly those in the e-commerce sphere.
It's no surprise then if a well-timed, well-executed creative brand campaign might be on the top of your CMO's Christmas wishlist during December. Yet when timing is of the essence, competitive noise is at its highest, and your consumers are looking for a little more than a fluffy "Happy Holidays!" social post to get their attention, we understand if planning festive marketing campaigns often leaves your team grumbling like the Grinch.
So how can marketers grab their audience's attention and ensure they're delivering festive content experiences that are on time, channel-specific, and reflecting their unique brand identity? From quicker content creation with Studio to smoother distribution and publishing with DAM integrations, see how Bynder can solve your team's seasonal campaign stresses below.
Seasonal marketing challenges and how Bynder solves them
Challenge 1: "We don't have the creative resources to deliver a holiday marketing campaign on top of everything else we have to do!"
We get it, you don't want to sacrifice the tried-and-tested marketing strategies proven to work for a one-time holiday campaign that requires a lot of creative firepower and a whole lot of new content which has a short sell-by date.

After all, most marketing teams rely on just a handful of creative professionals (i.e. designers, copywriters, videographers) to do the bulk of the work in creating ads, social posts, and all the other assets required for your typical holiday marketing campaign. Yet ask your average designer about how much of this actual work is "creative," and you'll find most of the time is spent on work that is anything but. Instead, they're creating endless variations of more-or-less-the-same assets for different markets and channels, making sure they're in the hands of the right people, checking for brand consistency, and all the other low-skilled administrative tasks associated with content creation.

It's a common operational problem with creative teams not being used for what they were hired for, and what they're good at: being creative.
Solution: Enable marketers to take on more of the creative workload (without sacrificing brand consistency)
These days, the right marketing technology can help brands do more with less, particularly when it comes to high-volume content creation with tight turnarounds, i.e. your holiday campaign.
Let's say you've launched a new product during the holidays. You want to launch a supporting ad campaign across multiple channels and markets, and all the creative assets will need similar branding elements. Yet, the messaging, product imagery, as well as sizing and format will need to be adapted depending on the audience and channel.
Instead of getting your already overburdened creative team (or costly agencies) to create every asset from scratch and spending a lot of time chasing and receiving feedback from their marketing colleagues, Bynder Studio's creative templating functionality ensures these assets can be created quickly and in high volume, without sacrificing brand consistency and quality.
Studio ultimately allows creative professionals to create on-brand, reusable, and editable image and video templates that can then be used by non-creatives, i.e. marketers requesting the content, to personalize and batch-create multiple assets without having to reinvent the wheel for every single campaign asset.
Result: By automating much of the admin associated with content creation and reducing the demands on creative professionals, scaling and meeting the high-volume, time-sensitive content demands of your average seasonal marketing campaign is a lot more manageable.
To prove we're not all talk when it comes to the merits of Studio, here at Bynder we even use it for our own holiday campaigns: How we saved $62K on the creation of 52 video assets for our social media Christmas campaign.
Challenge 2: "Seasonal campaigns need to be delivered fast, but localizing every asset for every market really slows us down"
In our increasingly globalized world, localization is becoming more important than ever to ensure your brand can authentically connect with regional audiences – 82% of shoppers are more likely to make a purchase if promotional material is in their own language, according to Google.
Creating country-specific content is standard policy within the content operations of many global brands, yet localization can end up being a costly and time-intensive procedure. Typical localization processes such as outsourcing production to local agencies and keeping regional distributors happy adds extra steps that often jeopardize agile and flexible content creation—which is exactly what you need for seasonal campaigns.
So if you're launching the same holiday campaign in multiple markets, how is it possible to create a huge number of content deliverables without requiring lengthy forward planning and a huge drain on creative resources?
Solution: Enable regional marketers to create localized content in minutes
A big reason why many brands choose not to localize their marketing campaigns is because of the sheer volume of assets that need to be created. Bynder Studio can lend a helping hand to your creative team and better scale the creation of all those localized images, ads, and videos.
With localization a largely collaborative effort, a centralized content production process is also critical to ensuring both your team and external stakeholders can brief, create, review and share assets in a timely manner. Bynder's Content Workflow is the go-to solution for managing your brand's content creation lifecycle and supporting localization efforts, helping to reduce production time and foster real-time collaboration.
Result: Localized and on-brand seasonal campaign assets created in mere minutes, not hours.
Learn more: Think globally, act locally – Localizing content with Bynder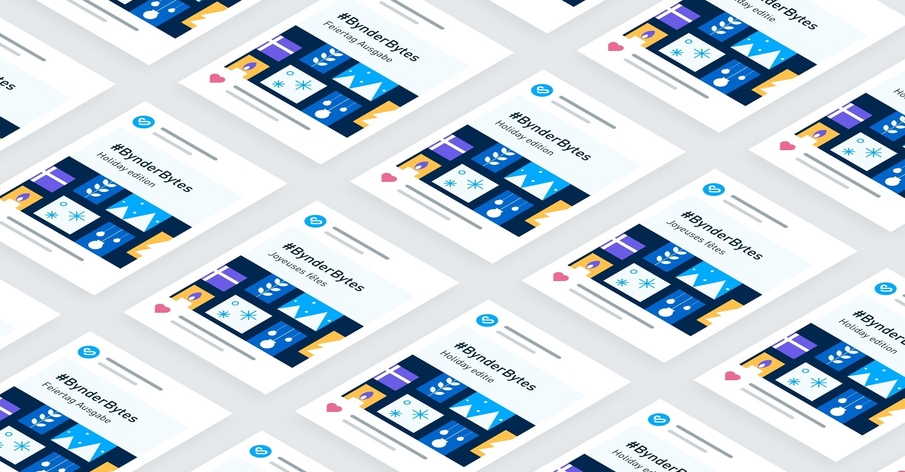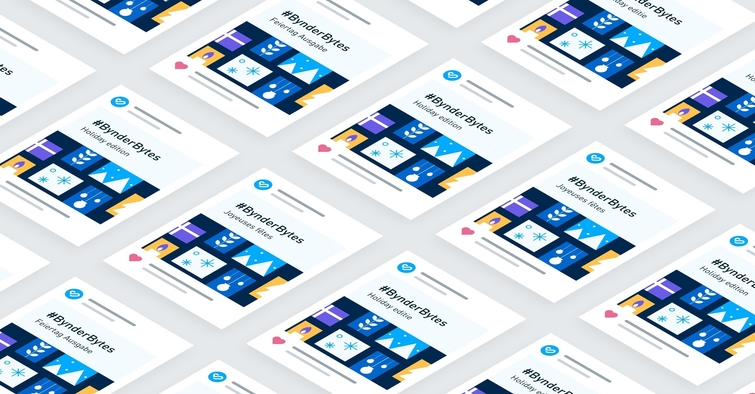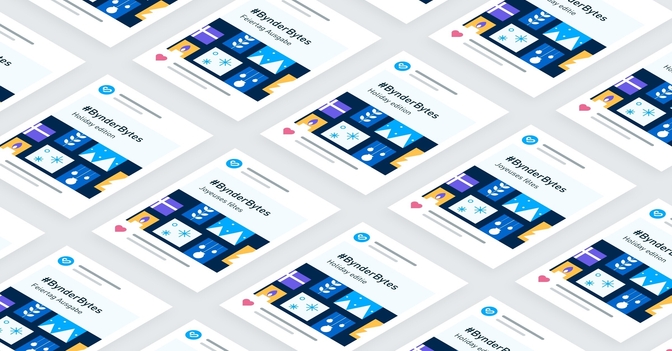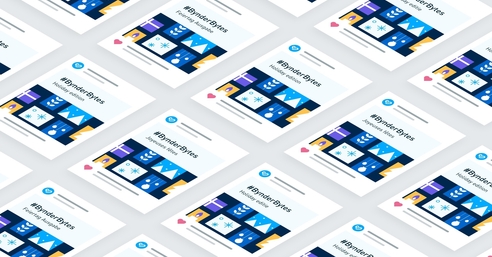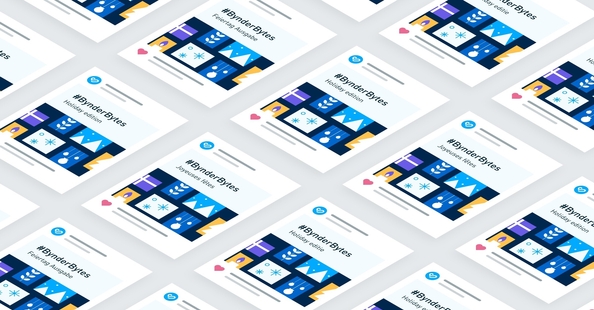 Challenge 3: "Coordinating the launch of our holiday campaigns often requires a lot of manual planning and too often it gets delayed."
So you've poured all your time, resources, and festive cheer into creating holiday campaign assets your team can be proud of. But along the way, assets go missing, colleagues need chasing, and the coordination required to ensure every channel you're planning to publish on has the right asset, in the right size – to be scheduled at the right time – leaves your head spinning.
Getting assets from A-B at each stage of your content lifecycle should be the easy part, but team and technology siloes all too often create obstacles that prevent you from going to market quickly, and/or posting unfinished/poorly-formatted assets that don't fit the channel.
Solution: "An interconnected DAM ecosystem for distributing campaign assets quickly"
From your CMS and marketing automation tools to Adobe Creative suites and social media plug-ins, a well-integrated DAM platform enables a seamless, automated flow of data and assets across your content lifecycle—from execution to publishing.
So how does that help with your holiday campaign planning? By using DAM as the central source for all your digital assets, integrations help you to ensure that only finalized, approved, on-brand content is delivered to the right channels, in the right format, and at the right time. That benefits your team with less uploading/downloading between systems, reducing manual errors, and the ability to optimize and enrich your content experiences.
In fact, our recent study with Aberdeen Strategy & Research revealed 75% of those leveraging a well-connected DAM found it extremely or very important for digital experience success.
Of course, the benefits of DAM integrations differ from one to the next, given there are so many possibilities. Check out a handy overview of Bynder's current DAM integrations.
Result: Faster go-to-market of your holiday campaigns due to smoother asset distribution
Ensuring images are correctly sized, formatted, and optimized for each channel a particular struggle for your team? Bynder's Dynamic Asset Transformation (DAT) allows you to automatically generate responsive images that are optimized for each channel and visitor to create powerful content experiences at every interaction. Watch the explainer video below to learn more about its benefits.
Learn more: Dynamic Asset Transformation – 3 Brand-Boosting Benefits
Challenge 4: "Brand consistency and recognition is important to us, but the chaotic rush of holiday campaign planning often leads to off-brand, poorly-designed content being published"
While the festive season should give you room to be a little more playful with your brand communications, your holiday content should still be recognizably "you" in order to deliver a strong, unified message to your audience.
Yet when you're up against the clock and half your creative team is already on leave for the holidays, it's all too easy for an omnichannel holiday campaign to get watered down and stray from your brand guidelines.
When planning your seasonal campaigns, it's crucial that all stakeholders involved know exactly how to create and use campaign assets, so everyone is singing from the same (brand) song sheet—whether that's on social media, emailing customers, or briefing agencies.
Solution: Accessible, self-serving Brand Guidelines to ensure better brand consistency
Your creative team can't be everywhere at once, creating and approving every single holiday ad or seasonal sales brochure. Much like the aforementioned Bynder Studio, Bynder's Brand Guidelines is all about reducing the dependence on creative professionals and empowering marketers or external partners to be more self-sufficient during campaign planning and execution.
The Brand Guidelines module has really encouraged a spirit of self-sufficiency for the Nordea team and external parties; there's minimal management needed. We know everything is up-to-date, clearly communicated, and has all you need to create content that's always consistent with our brand identity.
Patrik von Berlepsch
Marketing Partner at
Nordea
Web-based, configurable, and accessible for everyone, Bynder's Brand Guidelines provide marketers with a single source of truth on how to create and use branded content.
Result: Whether it's your social media specialist or a local distributor, your internal and external teams have quick and easy access to the latest brand and content guidelines, ensuring campaign deliverables are created and communicated consistently.
Already a Bynder user? Tell us how your team uses Bynder during the holidays
Whether it's creating content at scale with our templating tools, integrating with your CMS, PIM, or e-commerce platform to automate content distribution, or using DAT to optimize your assets for delivery across channels, we'd love to hear how your team uses Bydner for its holiday campaign. Or maybe you need a little more guidance for next year? Share your thoughts with the Bynder community here.
---

---