 Most people will concur that brand guidelines are the most important and yet most overlooked aspect of any brand. They are essential to presenting your brand consistently and creating successful digital experiences across all customer touchpoints—from websites to e-markets and social media.
In fact, try asking anyone within your organization about the importance of guidelines, and they will describe them as nothing short of vital for the brand's success. But ask them where to access these guidelines instead and enjoy the look on their faces as they try to get out of this one.
The truth is that not everyone in your teams will be equally pedantic about guidelines, especially when these have to be shared manually via a PDF. And while some teams (think designers and writers) go to great lengths to apply these guidelines to everything they do, others will inevitably be laxer in how they approach the matter.
Do you really expect people to eventually start looking for that PDF file someone sent them two years ago? That's some good optimism!
It's essential to make sure you communicate brand guidelines in a way that drives adoption and safeguards consistency. And no PDF has ever done that. I actually still remember the last PDF someone told me to refer to in the future. In fact, what I remember the most about that PDF is not opening it.
But Bynder's Brand Guidelines is a flexible, dynamic tool. Designed to support teams and give them an easy and effective way to put guidelines in front of users, its ability to support brands in achieving this is only surpassed by the creativity of the teams using it.
That's why we are sharing below some of our customers' insightful, inspiring, and creative use cases. But first, let's take a closer look at the Brand Guidelines module.
What is Bynder's Brand Guidelines?
The Brand Guidelines module has really encouraged a spirit of self-sufficiency for the Nordea team and external parties; there's minimal management needed. We know everything is up-to-date, clearly communicated, and has all you need to create content that's always consistent with our brand identity.
Rikke Mai Kristensen
Senior Marketing Partner at
Nordea
Think of Bynder's Brand Guidelines as a customized brand portal that centralizes your guidelines (along with anything else you want to communicate about your brand and its processes); intuitive, always accessible, easy to update and share with the right stakeholders.

Imagine not having to look for hard-to-locate, impossibly-named PDFs in a folder that was not-so-conveniently named "folder". Picture instead: opening your browser and quickly accessing your brand portal with a simple click. Everything looks slick and on-brand; you navigate the portal skillfully because it looks just like the rest of your branded environments.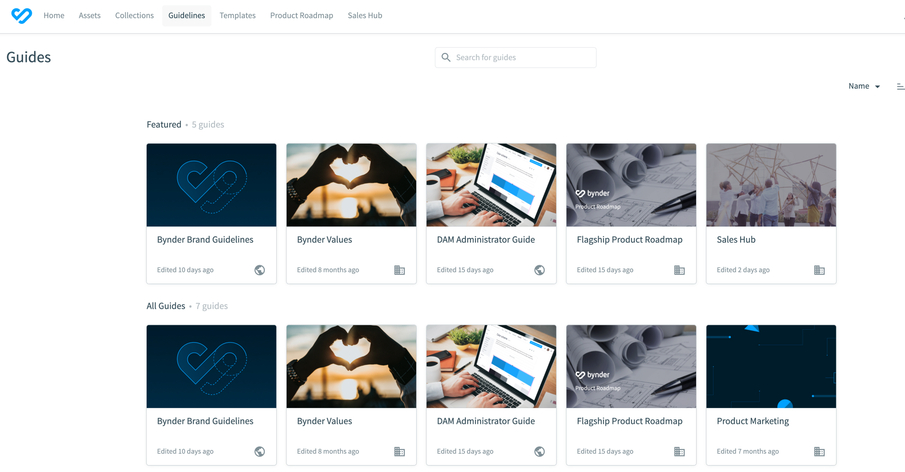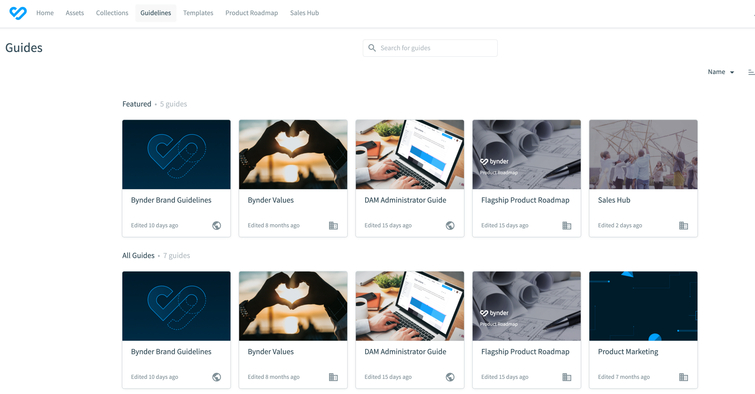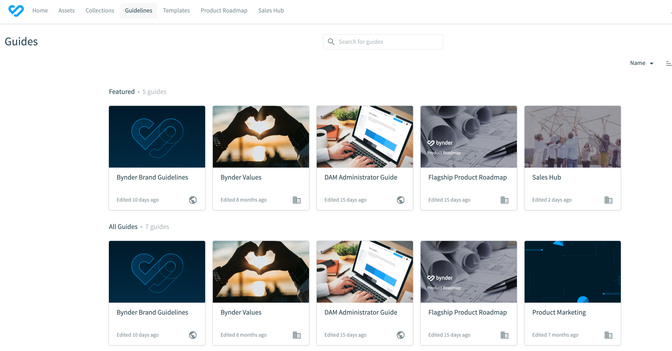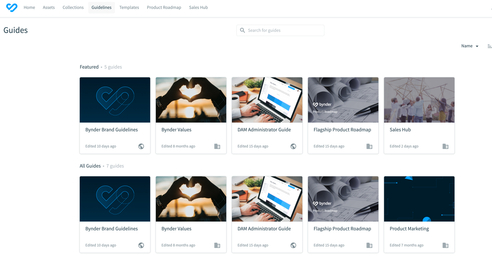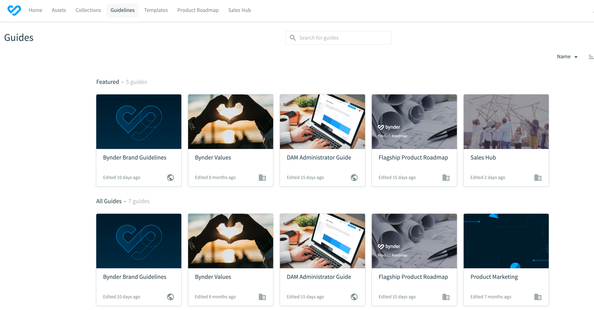 Brand Guidelines integrates seamlessly with Bynder's Digital Asset Management system and creative automation tools, so you can enjoy the peace of mind that from creation to distribution your assets will always be brand-consistent.
And in terms of digital rights? You can choose to make your guidelines public or private so that only the right people can lay eyes on them. At Bynder, for example, we like to keep our brand guidelines public and easily share them with external stakeholders.
The various guides available to your organization are conveniently grouped in a collection, supported by a convenient vertical menu that lets you navigate the dynamic pages easily as you look for that particular piece of information that's been eluding you (driving the designers around you to despair). Links, images, and videos can be added and embedded to your guides for extra clarity and effectiveness, and because, let's face it, you don't really get it unless you see it!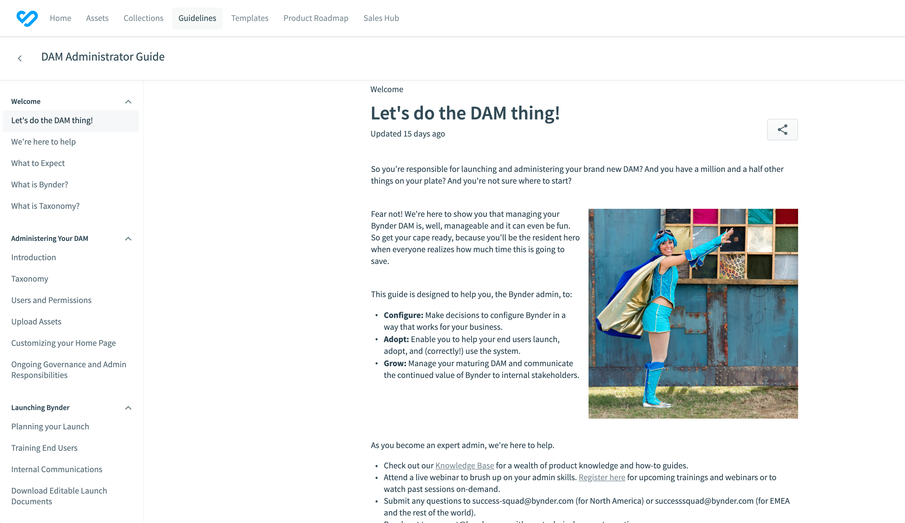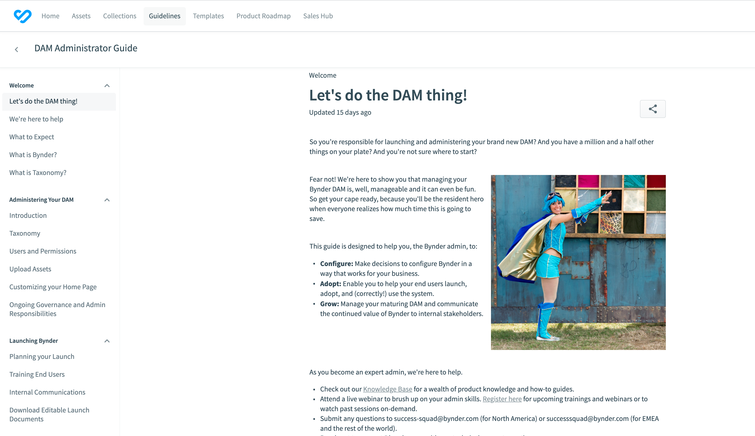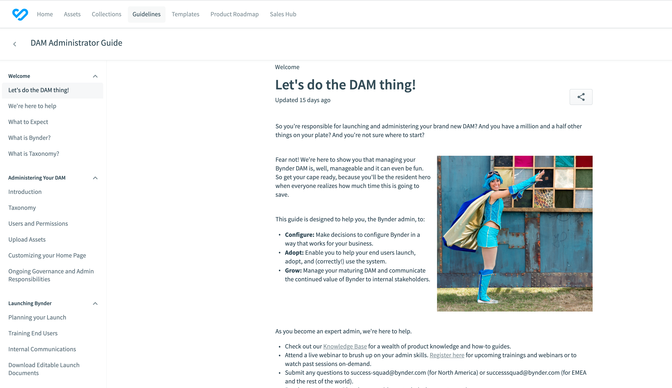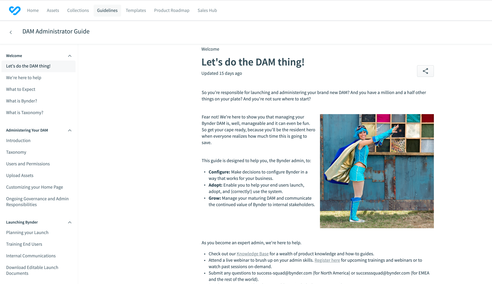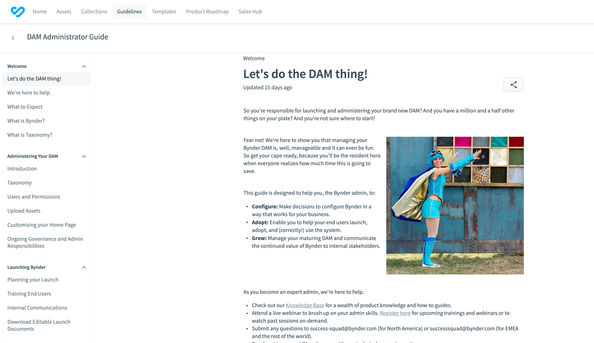 But our customers have gone above and beyond as they let their creative juices flow to find even more ways to benefit from Brand Guidelines.
Brand Guidelines
One module, unlimited possibilities
1 - Enable your partners
Partner marketing involves any strategic collaboration between two businesses to accomplish mutual goals. It can effectively increase brand awareness, reach new audiences, improve lead generation, and grow your brand's customer base.
But project roadblocks, delays, and outrage are always around the corner when partners lack access to the right resources—and guides on how to use them effectively. Sharing PDFs with partners hinders strategic collaboration and sets you back from achieving the goals you had set out.
Our clients have used Bynder's Brand Guidelines module to empower partners to be self-sufficient with fast and easy access to files and guidelines conveniently stored in one central Partner Enablement portal.
2 - Equip your dealers with what they need
Large dealer networks are hard to coordinate and equip with relevant materials. Do you ever have the feeling that dealers in your network didn't open the PDF with guidelines you attached to one of the 17 emails you sent them in a 48-hour period?
In the stone-age of digitalization (think 1993), PDFs were to our user experience what the invention of the printing press was to scribes in the middle ages. And while PDFs remain an integral part of our experience in many contexts, sharing guidelines is definitely not their superstar use case.
Some of our clients had the same feeling. That's why they created a Dealer Toolkit using Brand Guidelines where dealers have easy, anytime access to region-specific, ready-to-use, localized materials such as product and brand kits.
3 - Fire up your Sales team
It's hard to close deals with no overview of what's available to support the sales cycle. Sure, people claim that their ability to organize their digital files would make Marie Kondo reconsider her career choices as she folds socks and hugs old clothes goodbye.
But PDFs like to live in impossible-to-find folders hidden within long-forgotten drives. Don't even think about using the search function to locate them because we all know you didn't bother to change the file name from "027dhsg65jsgs6" to anything better than that.
At Bynder, we have our very own use case for Brand Guidelines to support our sales department. We have created a Sales Hub with decks, commercial agreements, competitive information, and customer references to give sales executives fast access to what they need.
4 - Streamline Campaign & Product releases
Patchy collaboration and out-of-reach files hinder your go-to-market efforts. Your teams have spent weeks working on assets for that big, upcoming release. It was a coordinated effort; its only aim was to be ready for a successful launch.
But some of these assets were created chasing the goals and success metrics used for a similar campaign the previous year. Someone was looking at the wrong PDF, and now they wish they hadn't.
Some of our clients have found in Brand Guidelines an effective way to speed up their go-to-market by organizing assets, strategy, goals, stakeholders, success metrics, and target audiences into Campaign & Product Kits.
5 - Improve internal communication
Internal policies, FAQs, and instructions on how to create materials tend to get lost and go unread: attached to an email you received three years ago; hidden in a folder you probably deleted last month when you decided to spring clean your hard disk; or patiently waiting to be found by a brave marketer willing to venture into some dark hidey-hole within your company's intranet.
Even if you do take the time to find that PDF, you will most likely find that it was created in 2016. Remarkably, that PDF has survived one full rebrand and a merger; meanwhile, brand managers and CMOs have come and gone—just like the possibility of using that PDF ever again.
Set up Internal Education pages instead to display and distribute information across your organization effectively and effortlessly.
The drive towards digital transformation was recently accelerated by the pandemic. Consumers hang out more in digital rather than physical spaces and the importance of digital experiences has increased dramatically, but so has the need for every brand to develop a presence in areas where this presence never used to be necessary.
As we head towards omnichannel experiences, these individual journeys must be consistent, recognizable, and reliable across every new touchpoint, market, and channel regardless of what device consumers use. Bynder Brand Guidelines supports every business, small and big, in empowering everyone within the organization to achieve exactly this.
Whether you want to showcase your guidelines internally to employees, empower partners and dealers, support your sales team, manage new hires onboarding, or simply communicate smoothly with freelancers, Brand Guidelines helps you achieve this in a way that works for your company.
Why not see the many other ways Brand Guidelines can benefit your company with the help of one of our experts? Click below to book a free demo👇.
---

---