Brand guidelines, also known as brand guides or style guides, are essential to establishing the unique identity and character of your business. Your style guide helps ensure that your company's leaders, partners, employees, and associates are aware of your brand assets and understand how they should be applied. Below, you'll find helpful information you can use to create brand guidelines for optimal effectiveness in representing your brand, its identity, and its values.
What are brand guidelines?
Brand guidelines are clearly defined rules and standards that communicate how your brand should be represented to the world. Brand guidelines help businesses ensure brand consistency and demonstrate what the company is, what it does, and what it stands for. Think of it like a brand 'rulebook' that centralizes the overall look and feel of your brand identity.
These specifications enable everyone involved in promoting your business to communicate consistently about its mission, principles, and personality. Your branding guidelines consolidate the elements that you want all of your stakeholders to use in representing your brand's image.
What should brand guidelines include?
There are common elements that brand guidelines should include to help you and your team ensure consistency throughout your marketing efforts. Here are some of the most important pieces of information to highlight in your brand guidelines:
Company information: Details of your brand's history, mission, values, and vision.
Imagery: Icons, image design elements, and photo types that are to be used.
Logo design and use: Guidelines on logo usage, including color palette, file format(s), minimum and maximum sizes, contexts, spacing, and usage permissions, such as where images should and shouldn't appear.
Tone and grammar: Instructions on tone of voice and grammar rules.
Cards and letterheads: Template for business card and letterhead designs.
Fonts: Font styles and text sizes for both print and digital media.
Color palette: Color palette information, including CMYK and RGB codes.
Effective brand guidelines are those that can be shared and understood easily by anyone involved in communicating your brand—both internally and externally.
That's why it's advisable that they should be concise, easy to read, and digitally accessible.
How do you create a style guide?
While there are different ways to image brand guidelines, all organizations should ensure certain information is provided in their guidelines or style guide. For branding guidelines to be effective, they require consistency in their application throughout your organization. When creating your style guide, it must be easy to access, read, and apply, as well as include links to the other digital branding assets its users need.
Here are the basic steps to creating an effective set of brand guidelines for your business:
1. Define your brand identity
When you start drafting your brand guidelines, it's important to define your brand's identity. Defining your brand's identity can be done by outlining your organization's mission, vision, values, character, voice, and market. As you curate your brand's image, emphasize what sets your company apart from the rest and how you want to be perceived by your audience.
2. Include your brand's logo
Visual elements are a defining feature when it comes to branding. In your brand guidelines, include your logo design. When designing your logo, there are a few best practices to follow, such as keeping the design simple to ensure it's timeless, memorable, and scalable. You should also specify logo usage, as well as variations, minimum size, and clear space. Additionally, your logo should look professional and identifiable when copied in black and white in the event colored ink is not available when producing paper-based materials.
3. Establish your brand's color palette
Choosing a color palette that aligns with your brand's personality and values is crucial when creating your brand guidelines. In fact, studies found that brands that use a signature color can increase recognition by 80%, highlighting the importance color plays when it comes to your audience identifying your brand.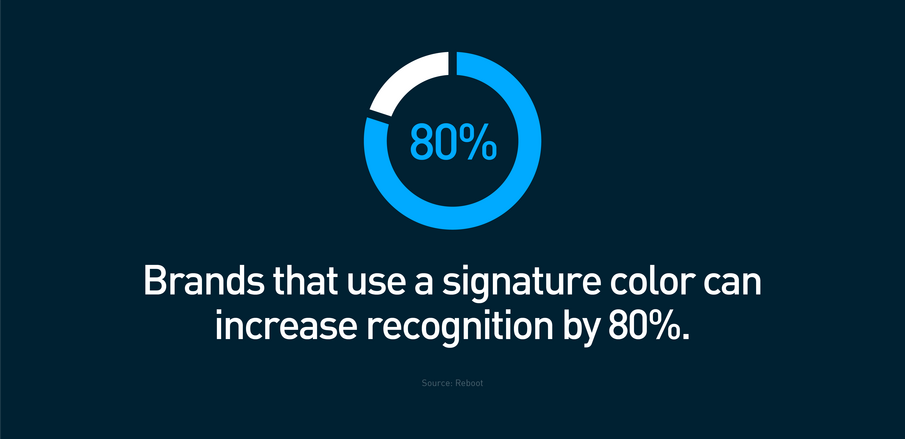 Source: Reboot
You want to choose the colors you want your audience to associate with your brand, including primary, secondary, and accent colors. In your style guide, it's important to include the RGB, HEX, and CMYK codes to help ensure accuracy, as well as to outline any restrictions or special considerations that apply to color usage.
4. Determine typography
Typography is another key element found in style guides and refers to the fonts, font sizes, spacing, and other elements of the written language found in your brand's digital and paper materials. In your style guide, list the styles, sizes, and forms of particular fonts, arrangements of lettering, and other stylizations you want to use in written materials to set apart your brand. This section of your style guide should provide information on font families, weights, sizes, and styles for headings, captions, body text, and other applications.
5. Establish brand tone and voice
Your brand's voice and tone showcase your brand's personality. In your style guide, explain how your brand wants to be projected in its communications with its market and the general public. This can be done by defining the language, vocabulary, and writing style used in written materials that best represent your brand.
For example, if your brand is looking to be friendly and conversational, your brand voice might be casual and approachable with a warm, welcoming tone. Or, if you're looking to be professional and authoritative, your brand voice might be knowledgeable and trustworthy with a confident, formal tone.
6. Set imagery guidelines
Style guides should also include imagery guidelines that define the limits of the visual imagery you want to complement your company's brand voice and tone. Your brand guidelines should specify parameters for photography, illustrations, icons, and other visual elements, including tone, color treatment, and composition, to ensure the overall aesthetic of images are consistent throughout your branding.
7. Provide usage guidelines
It's also important to clearly establish the contexts in which some or all of the brand assets and/or guidelines may or may not be automatically allowed for use without additional expressed permission. Your style guide should set specifications for print materials, social media, digital platforms, advertising, packaging, and other touchpoints that are part of your brand.
8. Update and evolve
Styles guides should grow as your brand grows, meaning your brand guidelines will be a living document that can adapt and evolve over time. To ensure your brand guidelines update and evolve, revisit the document periodically to incorporate any changes in messaging, communication strategies, or visual elements.
What are the benefits of brand guidelines?
Brand guidelines help ensure good content marketing and offer several benefits to organizations, allowing employees across departments to follow a set of rules that align with an organization's vision, mission, and values. Some of the key benefits of brand guidelines include:
Consistency: Brand guidelines help ensure consistency across organizations across various platforms, materials, and touchpoints. With a style guide, companies can create a set of rules and standards that maintain visual, tonal, and written consistency, which helps build brand recognition and trust among the target audience.
Brand recognition: A well-thought style guide helps organizations create a recognizable brand identity that stands out in the market. Through consistent visuals and copy, organizations can reinforce brand recognition and recall.
Efficiency: When designers, marketers, and other stakeholders have access to brand guidelines, they can work more efficiently when creating brand assets and communication materials.
Risk mitigation: Brand guidelines can also serve as a protective measure, ensuring a brand's identity and assets are used correctly and consistently. With guidelines on typography, logo usage, and other visual elements, organizations can prevent the misuse of their brand.
What are the benefits of digital brand guidelines compared to a PDF?
With marketing evolving so quickly and the need for brands to keep up, it's important that brand guidelines are easy to update and can accurately represent your brand identity as it evolves over time.
PDFs are often used as a way to communicate brand guidelines, but there are obvious limitations: they are static documents that are difficult to update and therefore usually outdated. Likewise, they're not always accessible to the people who need them most, often buried in unused marketing folders.
Instead, digital brand guidelines are easy to update on the fly, can embed visual brand elements, and shareable via a simple hyperlink.
To learn more about the functionality and benefits of digital brand guidelines, check out our guide: Brand Guidelines reinvented.
What is the purpose of brand guidelines?
The purpose of brand guidelines is to help ensure your brand is communicated correctly internally, and presented consistently to your audience. By strictly adhering to brand guidelines, you can promote a uniquely recognizable brand identity to stand out from competitors, and remain memorable in the minds of consumers.
Brand guidelines should be shared and understood throughout the business. Even one incorrectly used logo can damage a brand's reputation for quality and professionalism. Collating all the brand information in a brand book is a good idea. This could include more in-depth information such as website templates, advertising and editorial guidelines, and guidance on social media branding and tone of voice.
Wondering how to make your brand guidelines more effective? Check out our brand guidelines checklist.
Sharing brand guidelines and getting staff buy-in throughout your business is vital for maintaining control of your image and the values you are communicating to the public. It's not always easy for team members who aren't marketing or design-oriented to understand how to use images or typefaces, or adhere to tone of voice and style guidelines. By producing and sharing clear and comprehensive brand guidelines that can be easily understood, your internal team and external suppliers can be confident that they are promoting your brand's image and values in a positive, professional manner.
Building a brand image takes time, and maintaining a great brand image needs to be a company-wide effort. Brand guidelines can help make sure your brand identity is globally recognizable, cohesive, consistent and the highest quality possible.
If you're looking to improve your own set of brand guidelines, check out our article: Nobody using your brand guidelines? Here's why.
What are brand guideline examples?
Brand guidelines are not all the same, but you can take inspiration from what other brands are doing. Here are our brand guidelines, which include sections on design principles, logo usage, typography, colors, layout, and even motion brand guidelines.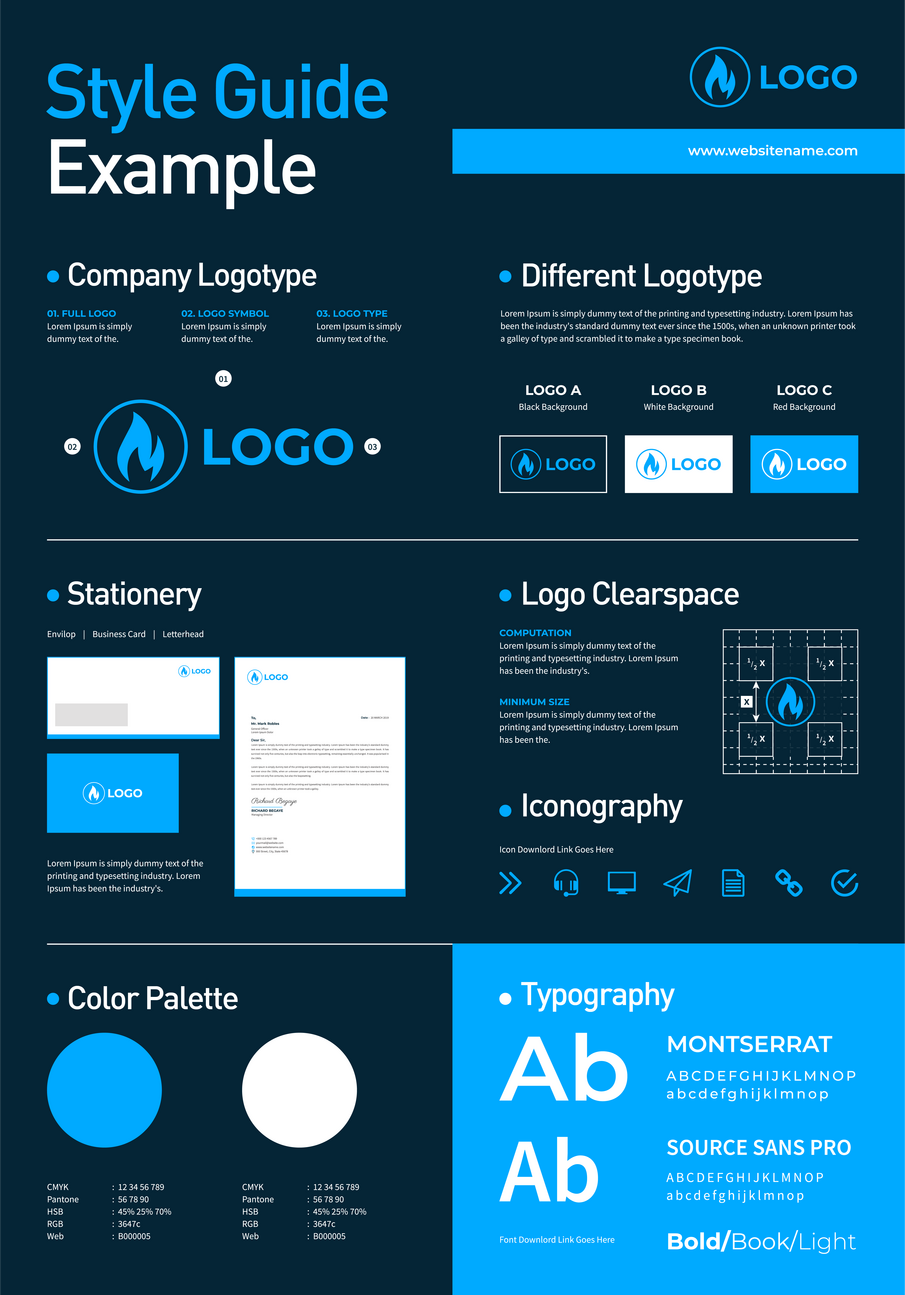 Additionally, you can draw inspiration from some of our customer success stories, including DraftKings and Keune.
DraftKings Brand Guidelines Example
As a multi-channel NFL, NBA, NASCAR, and PGA sports gaming and betting entertainment technologies provider in 17 countries, DraftKings accommodates competitive sports fans, primarily on mobile. When DraftKings prepared to scale, controlling its marketing and branding assets became a struggle. With many diverse partners and channels in their marketing strategy, they needed an efficient way to centralize branding. Bynder's DAM platform featuring Brand Guidelines provides a single source of access that has coalesced the DraftKings identity for all stakeholders and ensured branding content consistency.
Keune Brand Guidelines Example
International haircare products producer Keune operates 4 distinct revenue channels. "Bynder helps us to use and distribute our brand assets consistently and collaborate globally in a more efficient way." Keune's products are distributed in over 80 countries. Bynder has organized Keune's systems for consistent global branding, which involved digitally updating its brand assets for on-demand access and using Bynder's Brand Guidelines to ensure consistency across the organization.
Key takeaways: Brand guidelines
A set of clear brand guidelines can help ensure that your company's unique identity and character are recognizable to your target audience. A detailed style guide is the premiere tool for maintaining cohesiveness in your branding by allowing all stakeholders the ability to ensure consistency in all realms of your organization.
It's important to choose style guidelines that fit the way you want your company to be recognized in your market. With Bynder's digital asset management software, you can gain access to print brand templates, Bynder's content creation module, Studio, and more, allowing you to strengthen your company's reputation, recognizability, and scalability.
---
---