Launching a brand allows you to create a unique identity for your business—one that customers will recognize and trust. The process of crafting a brand is both rewarding and labor-intensive. When your brand is managed well, your customers will understand the energy of your business, your mission, and what they can expect from your company.
Here, we'll explore everything you need to know to begin getting your brand off the ground through effective brand management.
What is brand management?
Brand management is a broad term used to describe marketing strategies to maintain, improve and bring awareness to the wider value and reputation of a brand and its products over time.
A strong brand management strategy helps to build and nurture closer relationships with its audience. By building a loyal customer base, a brand's reputation and associated products will be perceived more positively, subsequently driving higher revenue and better brand equity.
Modern-day branding often requires digital brand management, allowing you to curate the image you want your company to present online. The brand management definition has changed over the years, and it's important that companies stay on top of the latest trends in marketing to continually implement best practices.
Inevitably, today's most iconic and recognizable brands are experts in online brand management strategy, recognizing what marketing tactics need to be employed in order to increase the value of the brand and maintain a good relationship with its customers.
What is a brand manager?
A brand manager works to develop strategies that make a company stand out to its target market among competitors. When a brand manager can successfully market a company, they create a feeling of trust and familiarity between customers and the brand.
A solid understanding of marketing principles is key to successful brand management. Digital marketing, social media marketing, design, content marketing, and market research all play a role in successful branding.
Brand managers may be responsible for:
Using software to push a company's branding strategy forward
Analyzing market data for insights to drive brand development
Managing brand-related budgets
Conducting market research
Rebranding, especially in cases of brand management mistakes
Typically, brand manager positions require both experience in marketing and a higher education degree. Many professionals move into brand management after spending time in marketing.
Successful brand managers often have a combination of hard and soft skills that allow them to use data to make branding decisions and enthusiastically lead teams. Writing and communication skills are imperative for brand managers. Professionals in this role also need to be capable of understanding how to use data-driven tools to drive strategy.
While people in this position need to be able to speak to the company's target market effectively, they also need to be able to communicate well with others in the company. Personnel management is vital in creating brand buy-in from marketing teams. Finally, brand managers need to be adaptable. Marketing practices are ever-changing, and one of the most important brand manager skills is being able to move with the flow of successful branding trends. Being able to walk the line between following brand marketing best practices and staying true to the brand is key to success as a brand manager.
What are brand management strategies?
Before the always-on, hyper-connected world of the digital age, branding was a little easier to control. Today's brand management is ever-evolving. While this can create challenges for those in the branding space, there's good news—branding strategy in the digital age is highly measurable. From measuring ad campaign success to hearing immediate feedback from your target audience, it's easier than ever to know whether what you're doing is working.
Yet, with a growing number of digital channels and technologies to stamp your brand presence on and reach today's content-hungry consumers, it's critical that your brand identity is unique, relevant to the times, and brand-consistent across all the various customer touchpoints—both online and offline.
Here are some key points to consider when thinking about an effective brand management strategy in your own organization:
Define your brand identity
There are several strategic brand elements that must be documented, centralized, and communicated to all stakeholders involved in brand management. This typically includes:
Mission statement: A high-quality mission statement provides a driving force for brand consistency. Marketing and advertising departments need to be able to refer back to a simple guiding force. A cohesive mission statement can help a company develop effective branding.
Visual elements: Think about the logo for Coca-Cola, Google, or Netflix. Almost instantly, these logos, including their typefaces, colors, and styles, come to mind. When you see branded content from these companies, it's easy to recognize. Creating a consistent look and feel of your visual elements, such as in your logo, fonts, colors, and typeface, can help your marketing teams and other consumer-facing teams put out content, packaging, and advertising that works.
Tone of voice and personality: Your brand's tone of voice should align with its personality. For example, is your brand's personality playful and quirky? If so, your branding materials might use language and imagery that's witty, humorous, and creative. Or, if your brand's personality is elegant, language and imagery might be sophisticated and refined.
Target audience: Your target audience is who you're selling to, and keeping your customers in mind is essential in brand management, as it helps you differentiate your brand from other competitors in the market, stay relevant to your audience, and communicate effectively why your brand resonates with them.
Some parts of branding guidelines, such as a brand's personality, are more challenging to define than others. Providing marketing teams with examples of on-brand and off-brand copy and imaging can be a smart way to help them understand what you're looking for to support your new branding image.
Digital brand guidelines and and digital and video templates—such as those available within Bynder's content creation module, Studio—are also an effective way to ensure everyone knows how to use brand assets, and communicate your brand consistently. If your company is going through a branding overhaul, it's important that you hold trainings to ensure that your team is on the same page. You'll also need to have a watchful eye during the first few months of a new branding rollout. Old habits die hard, and many employees will need gentle reminders to make the switch from old branding to new.
Create a compelling brand story
Fast-casual hamburger and fries chain Five Guys is known for their hand-formed burgers and fresh-cut fries. Created by Arlington natives Jerry and Janie Murrell and their five sons, the company's name became synonymous with fresh, high-quality burgers. The company got its start in 2003 and skyrocketed. Today, there are 1,500 Five Guys restaurants across 19 countries, showing the effectiveness of their brand story.
Humans are hard-wired to respond to stories. Being real and up-front with your brand story helps customers understand that the people behind your brand are just that--people. The more relatable your story, the more personal and positive your brand will likely feel to your target market.
Everyone understands a true narrative with a beginning, middle, and end, so creating an authentic brand story will help foster an emotional connection with your audience and ensure your brand is relatable, driving more positive associations with your brand.
Recognize the personal connection
Branding relies on all sorts of intangible elements—some you can control, some you can't. When a typical customer determines what a brand means to them, it's made up of memories, interactions, and a lot more that's happening at a subconscious level. In fact, 88% of consumers say authenticity is an important indicator when deciding what brands they like and support.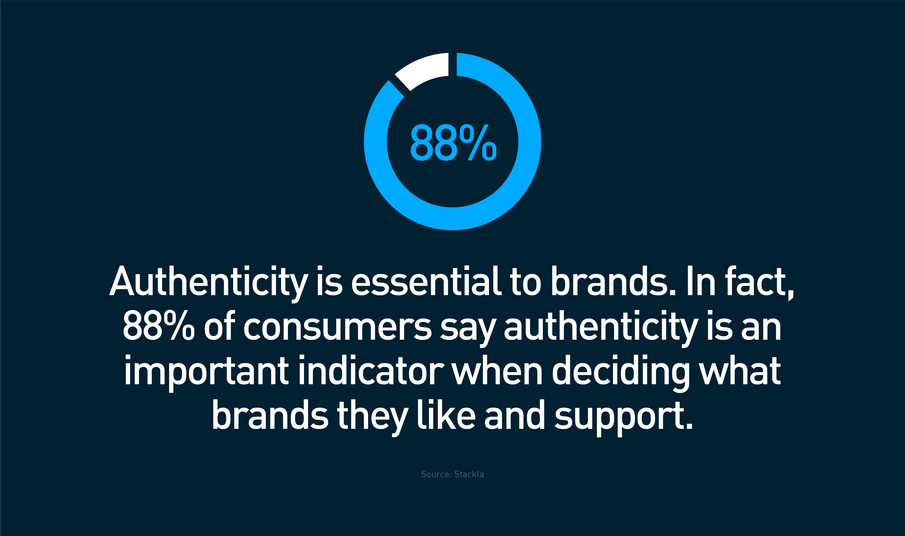 Source: Stackla
The impact of social media can be used to a brand's advantage. Highlighting stories and content from customers who align with your brand's message and mission can be an excellent way to help your brand resonate with real people. The more you can draw actual customers and stories into your brand, the better. When people can see themselves in your customer base, they can see themselves using your products or services.
You may control how the product looks, but they decide what that actually means. Understanding and tapping into the importance of a personal connection can make all the difference in beating off the competition and driving customer loyalty.
Create brand guidelines
Whether you're starting from scratch or going through the rebranding process, it can be overwhelming to create new brand guidelines. Taking it one step at a time can make it a bit easier to get through the process.
Some tips to get things started:
Develop your story: As we mentioned, a great brand story can drive the rest of your branding guidelines. If possible, talking with the founders of the company, or those who have been around the longest, can help. If you're working at a startup, having conversations about how the company got its start can help you decide how to begin the process of crafting your brand's story.
Create a logo: It's common for logos to change over time. Whether you're due for a refresh or you're developing a brand for the first time, your logo will be one of the most recognizable parts of your branding. Take your time, create a few different options, and consider your options carefully.
Use your logo to drive your stylistic choices: From your color palette to your typography choices, your stylistic choices will give your branded materials the defining quality that lets your market easily recognize your brand. Using your logo to inform your color and font choices can help create a cohesive look and feel.
Find your voice: Your brand has a personality, even if you don't know it yet. Create examples of tone and how your brand speaks vs. ways your brand doesn't speak. The imagery that you use is a part of your voice, too. You'll want to consider illustrations vs. images, shadows, white space, focal points, etc.
Take advantage of DAM for brand management
Technology has transformed how marketers and brand managers develop, manage, and promote a brand. Digital asset management is a tech solution for organizations to centralize their brand management activities, content, and messaging.
Simply put, DAM software is a marketing tool that allows companies to develop, maintain, and control their brand. DAM software serves as a single place where companies can store their branding tools for employees to use.
Using DAM software is one of the most common habits of successful brand managers. Offering employees up-to-date branding tools and removing out-of-date branding tools can help prevent missteps by well-meaning employees. DAM software is one of the best ways to push a rebrand forward, as employees will simply no longer have access to old branding materials.
What are benefits of brand management?
There are several important reasons why brand management is essential for organizations of all sizes. Some of the top benefits of brand management include:

Brand equity: One of the primary benefits of brand management is enhancing brand equity, which is the overall value and perception that are associated with your brand. The ROI of building brand equity can be significant, leading to increased customer loyalty and the ability to set premium pricing.
Consistency: Brand management also makes it easy for organizations to remain consistent throughout their marketing efforts by ensuring coherent branding across all channels and touchpoints. Consistency can be achieved through brand guidelines, which can help build familiarity and brand recognition.
Customer loyalty: Another key benefit of brand management is building customer loyalty. Consistent brand experiences can foster trust and emotional connections with your target audience, which can help increase customer retention and referrals, leading to more business.
Risk management: Brand management can also help organizations mitigate and recover from crises by having more resources and expertise to handle negative events or public relations challenges.
Employee engagement: Employees can become more engaged with a brand's values, vision, and goals through brand management, as they can better understand and embody the brand's identity.
Market expansion: Effective brand management makes it possible for organizations to expand on their product and service offerings, as loyal customers are often more receptive to new product extensions from a brand they trust.
Key takeaways: Brand management
When you're developing a brand, your story is king. Once you've developed your brand story and mission statement, you can use these seeds to form the other aspects of your brand.
Be sure to continually monitor your brand's growth along the way, and don't be surprised if it takes time for your employees to get on board with changes. Remember, you don't have to try to figure out brand management alone. At Bynder, we're here to help with all of your digital asset management needs. Reach out to us today to learn more.
---
---